Moth & Cobweb 5: City of Corpses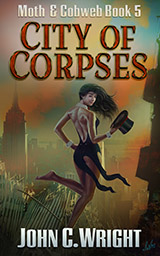 Yumiko Moth has discovered her name, but she still does not know who, or what, she is. What she has learned is that her mother is dead, her master has disowned her, and her beloved has vanished. And she also knows that the Day world is a very dangerous place for a Twilight girl, especially when the dark forces of Night are hunting her.

To discover the truth she seeks, she must infiltrate the enemy's citadel. In New York City, that is The Cobbler's Club, home to the world-famous Peach Cobbler Girls. But how can a girl who stalks the shadows hide herself in the bright lights of the stage? CITY OF CORPSES is the fifth book of MOTH & COBWEB, an astonishing new series about magical worlds of Day, Night, and Twilight by John C. Wright.

John C. Wright is one of the living grandmasters of science fiction and the author of THE GOLDEN AGE, AWAKE IN THE NIGHT LAND, and IRON CHAMBER OF MEMORY, to name just three of his exceptional books. He has been nominated for both the Nebula and Hugo Awards, and his novel SOMEWHITHER won the 2016 Dragon Award for Best Science Fiction Novel at Dragoncon.

EPUB and Kindle formats. DRM-free. Also available on Amazon.