Retreat Hell (The Empire's Corps 8)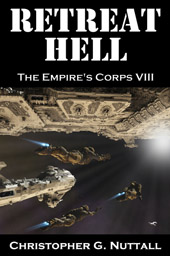 After the disastrous mission to Lakshmibai, the very existence of the Commonwealth is called into question by politicians on Avalon. But as the political firestorm mounts, a call for help arrives from Thule, a highly-developed world facing a major insurgency in the wake of the Empire's collapse. Reluctantly, the Commonwealth deploys the Commonwealth Expeditionary Force to Thule.

But all is not as it seems. The insurgents are receiving support from off-world powers, while bare light years across the border, Wolfbane – another successor state to the vanished Empire – is preparing for war … and an old enemy plots her revenge. As the countdown to war begins, the CEF finds itself sinking in a quagmire of bitter hatred … and nothing more than pawns in a very deadly game.

Retreat Hell is the eighth book in the bestselling nine-volume series, The Empire's Corps. Christopher G. Nuttall is one of science fiction's bestselling authors and a leading author of military science fiction. For more information about Christopher G. Nuttall, visit The Chrishanger.

EPUB or MOBI Format. No DRM. 478 pages.