The Thin Blue Line (The Empire's Corps 9)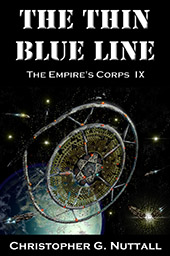 Earth has fallen … and humanity is holding its breath, waiting for the next blow to fall.  On Terra Nova, Earth's oldest colony world, chaos and anarchy are threatening to break out, with total collapse only one disaster away. In a desperate attempt to save the rest of the Empire, the planet's Governor has summoned the leaders of the Core Worlds to Terra Nova, in hopes of sharing power and preventing civil war. But dark forces are on the move, intent on ensuring that the conference fails.

As the first strands of a deadly plot are uncovered, Imperial Marshal Glen Cheal finds himself fighting to uncover the plot before it is too late. Meanwhile, on her own mission to save the last best hope for peace, Specialist Belinda Lawson of the Terran Marine Corps is plunged into a nightmare where she can no longer trust her own mind, while her decisions will save or damn the Empire.

Failure isn't an option. But success may not be either …

The Thin Blue Line is the ninth book in the bestselling nine-volume series, The Empire's Corps. Christopher G. Nuttall is one of science fiction's best selling authors and a leading author of military science fiction. For more information about Christopher G. Nuttall, visit The Chrishanger.

EPUB or MOBI Format. No DRM. 463 pages.