Awake in the Night Land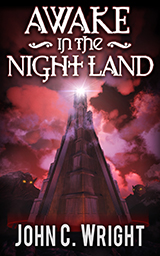 AWAKE IN THE NIGHT LAND is an epic collection of four of John C. Wright's brilliant forays into the dark fantasy world of William Hope Hodgson's 1912 novel, The Night Land. Part novel, part anthology, the book consists of four related novellas, "Awake in the Night", "The Cry of the Night-Hound", "Silence of the Night", and "The Last of All Suns", which collectively tell the haunting tale of the Last Redoubt of Man and the end of the human race. Widely considered to be the finest tribute to Hodgson ever written, the first novella, "Awake in the Night", was previously published in 2004 in The Year's Best Science Fiction: Twenty-First Annual Collection. AWAKE IN THE NIGHT LAND marks the first time all four novellas have been gathered into a single volume.

John C. Wright has been described by reviewers as one of the most important and audacious authors in science fiction today. In a recent poll of more than 1,000 science fiction readers, he was chosen as the sixth-greatest living science fiction writer.

EPUB or MOBI format. No DRM. 313 pages.

Also available in Kindle or hardcover from Amazon.