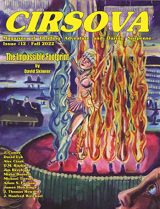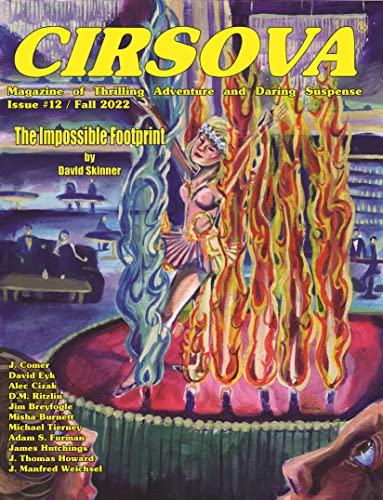 Cirsova Magazine of Thrilling Adventure and Daring Suspense #12 – edited by P. Alexander
Daredevil Dylal O'Lal desires the impossible: to put his footprint on the surface of the sun! Though most insist it cannot be done, the existence of a young woman who proves to be wholly impervious to flames suggests his ultimate feat is achievable!
Ripped by magic from the frozen world of the primitive cavemen, Vran finds himself in even stranger environs! Can he track down the foul wizard Foad Misjak within the halls of a giant castle that is teeming with cannibals and magically animated statues!?
The Strickland Line has a bug problem! Journalist Harv Wallender is accosted by a nasty critter… Quite the inconvenience! But then the critter starts to grow…!
..and more!
---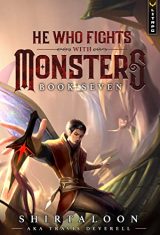 He Who Fights with Monsters #7 – Travis Deverell as Shirtaloon
Jason arrives at a kingdom in peril and he's surprised to discover that it's not his job to save it.
With the authorities fulfilling their responsibilities (for once), he looks forward to some quiet time to rest and recuperate.
The locals might not find ceaseless monster onslaughts and an inter-dimensional invasion relaxing, but Jason has had a rough few years. He's doing his best to let go of his anger.
While his team is caught up in duty, Jason has no shortage of people looking to interfere with his rest. Enemies–old and new–are circling, and even would-be allies are trouble. A princess finds him inconveniently alive, an ancient king arrives at his barbecue, and the local Church of Fertility are uncomfortably enthusiastic about including him in their practices. As his friends strive to reach him from the far side of the world, they are all frustrated by obstacles.
Jason is finally back in the world he longed for, but he is not the same man he was when he left. As the pressure on him mounts, allies and enemies alike will find that out the hard way.
---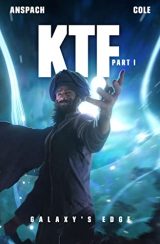 KTF: Part One (Galaxy's Edge #17) – Jason Anspach and Nick Cole
The Savage Wars never ended.
As Kill Team Victory and General Chhun take control of the cities on Kima, a war every bit as spiritual as it is physical rages in the deepest parts of galaxy's edge. The Legion, and the Republic military at large, struggle to deal with a sudden multitude of planetary invasions and uprisings — with rumors of mysterious ships breaking the peace achieved by Article Nineteen.
Meanwhile Captain Aeson Keel continues his search for Prisma, aided by friends from both his past and present. But only mankind's oldest ally can hold back the tide of ultimate destruction. For an unknown darkness is closing in, and the Republic once again stands on the threshold of galactic war.
---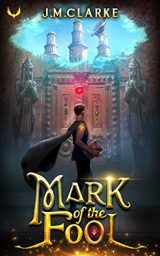 Mark of the Fool – J. M. Clarke
The gods chose him. He said no.
After his parents died, Alex Roth had one desire: become a wizard. Through hard work, he was accepted into the University of Generasi, the world's greatest academy of wizardry…
Fate, however, had other plans.
On his eighteenth birthday, he is Marked by prophecy as one of his kingdom's five Heroes, chosen to fight the Ravener, his land's great enemy. But his brand is 'The Fool'. Worst of the marks.
Rather than die or serve other Heroes like past Fools, he takes a stand, rejects divine decree…and leaves. With his little sister, his childhood friend, and her cerberus, Alex flees for the university, hoping to research the mystery of the Ravener. He'll make lifelong friends, learn magic from mad wizards, practice alchemy, fight mana vampires and try to pay tuition.
There's one small problem. The Mark insists on preventing the Fool from learning and casting spells, while enhancing skills outside of divinity, combat, and spellcraft…
…that is, unless he learns to exploit the hell out of it. Read More