Every week, the Castalia House Blog spotlights some of the many new releases in independent, pulp, and web novel-influenced science fiction and fantasy.
---
Dragon Lands (The Shadow's Dragon #2) – Dustin Porta and D. K. Holmberg
Treylen never thought he'd be hunting his own people. Least of all, family.
In the mines of Wetherdin, a foul plot is unfolding. Someone's stealing dragon eggs for the Jaul, and it's up to Treylen, Aaron, and their dragons to infiltrate and root out the traitor.
This time he's ready. His spycraft is stronger, his bond with Rime is better than ever, and his mentor has come along for the mission. Under the guise of visiting nobility, they'll have all the comforts of a cozy mountain lodge while untangling the mystery at their leisure.
But when Marziel disappears on the night of a murder, and his own family gets caught up in the intrigue, a dire deadline is set. Treylen is faced with a choice that the abbey never prepared him for. And the solution will take him deeper into the caves of the Dragon Lands than he'd ever imagined.
---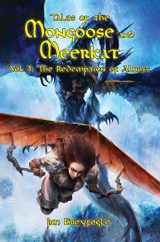 The Redemption of Alness (Tales of the Mongoose and Meerkat #3) – Jim Breyfogle
Two years have passed since the fall of Alness. And two years have passed since the brash young sellsword Mangos teamed up with Kat, the mysterious Alnessi rogue. Together, they have made a name for themselves as the Mongoose and Meerkat!
The northlands still smolder as Rhygir holds Alness in an iron grip. Rumors swirl that an Alnessi royal may have survived, but Rhygir is intent on hunting down any resistance that might rally to a rogue prince who escaped the slaughter.
Though Rhygir has been consolidating power in Alness, the Mongoose and Meerkat have been hard at work, gathering resources and making alliances in Alomar and abroad. But can the new allies and old friends overcome the army of Rhygir before it can be bolstered by elite mercenaries?
All of the pieces of the King's Game are in place!
---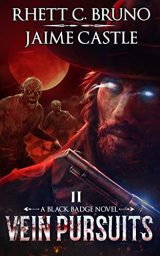 Vein Pursuits (Black Badge #2) – Rhett C. Bruno and Jaime Castle
The path to Heaven runs through miles of icy Hell …
James Crowley has ridden the road to Crescent City before, but never with companions like these. Never with a woman whose very presence jeopardizes everything he's fought for over the past two decades.
The swamps are a brutal, nasty place filled with creatures most people think only exist in nightmares and fever dreams. When Crowley, along with Rosa, Bram Stoker, Harker, and Irish stumble upon such a creature, and one of their party finds themselves mortally wounded, they must find help in the most unlikely of places.
But that wasn't James Crowley's mission. As a Black Badge, a Hand of God, he's been tasked with hunting down the worst Hell has to offer, and at Shargrafein's beckoning, he must suss out the Betrayer—a mysterious being about whom no information is given.
What he finds is something he never could have guessed. The city is overrun with vampires, werewolves, and worse, including an old acquaintance with nothing good in mind.
Meanwhile, Rosa has continued her pursuit to reconnect with her dead husband, Willy Massey. With the help of a Voodoo Queen, she must do the unthinkable. Only Crowley stands between her and a choice that would forever scar her soul. But will he be able to escape the clutches of Hell in order to keep her from destroying everything and everyone in her path?
---
We Dare: Old Age and Treachery – Jamie Ibson
Fifteen outstanding authors. Fifteen stories about people who have been there before!
Never underestimate an old man in a business where men die young.
War is a young man's game, and one where failure usually leads to your death. There's a reason some people survive when others don't—they're faster, stronger, smarter, and usually luckier than everybody else—and you antagonize them at your own peril!
From knowing how to judge the intelligence data to understanding how to play "the long game," or just having the experience from past operations to be able to tell when things are about to go wrong, these old men and women know what they're doing… and woe betide the new recruits who don't listen. Be careful, because that old timer sitting next to you—the one who doesn't say much—may have a skill or maybe even a robot that's going to kick your butt!
For, as the old-timers know, an ounce of experience is worth a pound of youthful exuberance!