Between Light and Shadow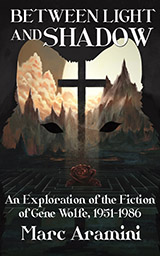 Between Light and Shadow: An Exploration of the Fiction of Gene Wolfe, 1951 to 1986  is the first book in a two-volume analysis of Gene Wolf's literary works and takes a comprehensive look at Wolfe's astonishing body of work from 1951 to 1986. Wolfe is famous for creating labyrinthine and complicated stories full of allusions that are not always easily understood; Between Light and Shadow explores every short story and novel that Wolfe composed in the first half of his career.

Between Light and Shadow is not only a holistic illustration of Wolfe's work, but attempts to solve many of the narrative mysteries that have eluded readers for decades. From focused essays interpreting masterpieces such as "The Fifth Head of Cerberus" and "Peace" to complete story analyses which not only delineate allusions and themes but also take a rigorous, logical approach to reading Wolfe, the book is above all an enormous commitment to understanding the work of one of modern literature's most unique and challenging figures.

Written by dedicated Wolfe scholar Marc Aramini, Between Light and Shadow presents the thesis that objective closure is possible in even Wolfe's most complicated cosmological and metaphysical narratives, and reveals that the mysteries behind the ideas and images inspiring Wolfe are ultimately comprehensible.

828 pages. EPUB and Kindle formats. No DRM.

Also available on Amazon.