Squadron Strike collection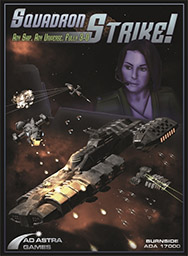 Any Ship, Any Universe.
If you can imagine it, you can build it in Squadron Strike! Squadron Strike uses a streamlined, whole-turn-movement variation of the 3D game engine pioneered in Attack Vector: Tactical, and puts it on the most comprehensive ship- and weapon-design system ever made for space combat games.
You have your chose in movement modes, from simple to cinematic to fully Newtonian, your choice of five different types of static defenses, and the ability to make over over a septillion unique weapon systems with the provided tools. The same tools that are used by Ad Astra Games to print ship system displays (SSDs) are made available to players – you can make SSDs that look as good as ours, and you can export them as 2D or 3D variants.
This is the digital edition of the revised and expanded rulebook plus associated game books. The download is a 50MB zipfile and contains the following files in PDF format:
Squadron Strike rulebok (Revised and Expanded)
Squadron Strike Ship Book
Squadron Strike Diaspora Setting
Russian Master Weapons Chart

Russian Fighters
Kiev
Kirov
Minks
Moskva
Slava

British Master Weapons Chart

British Fighters
Hermes
Invincible
Trafalgar
Valiant

Japanese Master Weapons Chart

Japanese Fighters
Fubuki
Matsu
Nagato
Ryujo
Yamato