The Altar of Hate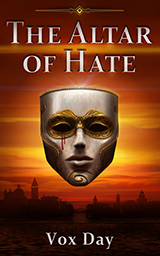 THE ALTAR OF HATE is a collection of 10 short works of fiction by Vox Day, the Hugo-nominated author of QUANTUM MORTIS and THE ARTS OF DARK AND LIGHT. From the fantasy novella "The Lesser Evil" to the Maupassant-inspired techno-horror of "The Logfile" and the military science fiction of "Medal for a Marine", THE ALTAR OF HATE demonstrates Day's eclectic range as well as the deeply esoteric nature of his interests.

FROM AMAZON: "Each offering contained in The Altar of Hate tickles or provokes the mind with salacious 'what ifs' and glances behind the veil of reality. The stories move along, but one feels the uneasy eyes of the abyss staring back as you progress, as it were, through a darkened ancient forest. Only an author of the first rank could achieve this."

EPUB or MOBI format. No DRM. 118 pages.

Also available from Amazon.