Brainstorm June 2015 transcript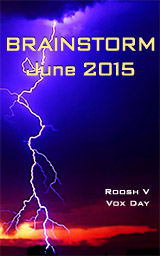 The transcript of the June Brainstorm event featuring Roosh V being interviewed by Vox Day about his upcoming World Tour. Subjects discussed include neomasculinity, age and the paradox of hedonism, the decline of Western women, and the timing of a prospective cultural bottoming-out across the West.

Exclusively available at Castalia House.