Lou Cameron's THE FIRST BLOOD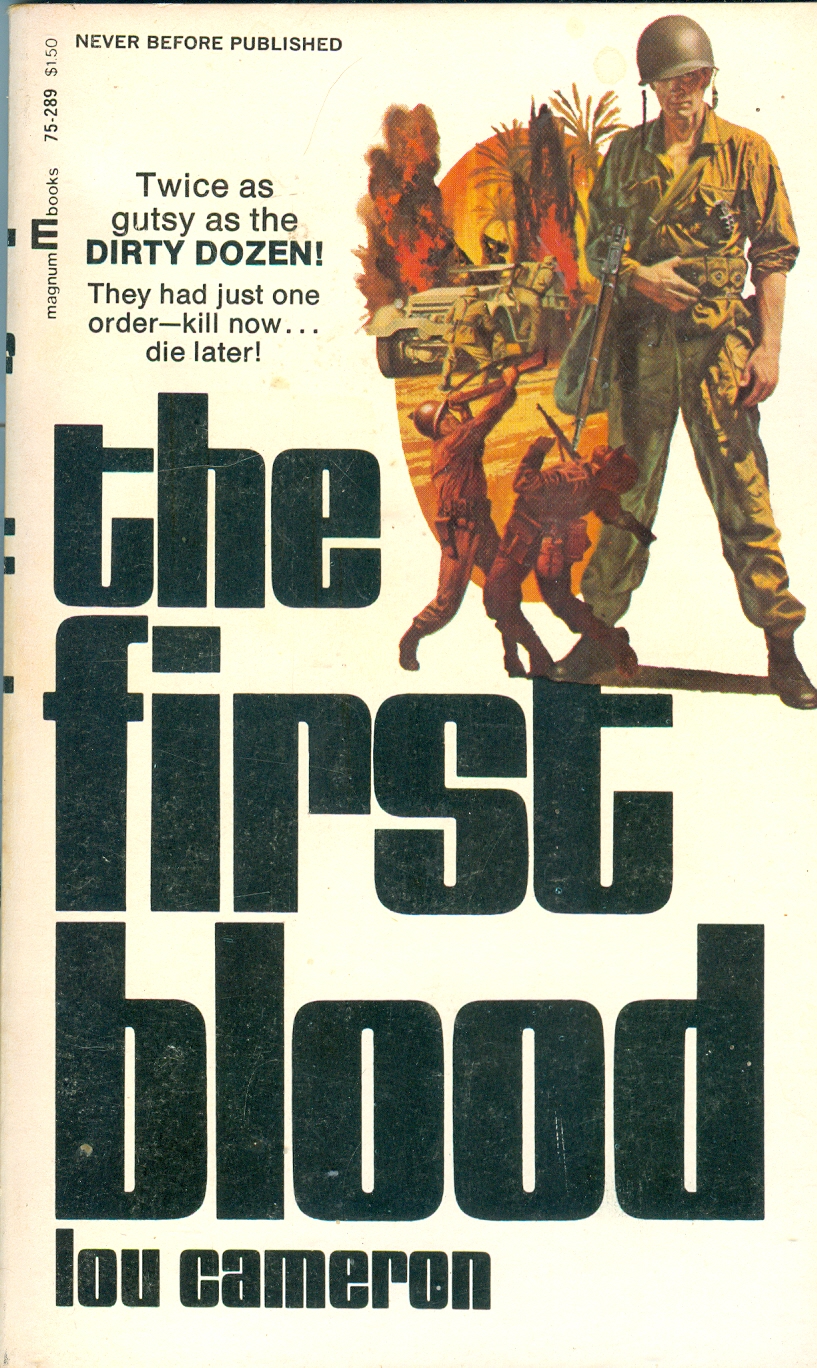 One of the stalwarts of the men's adventure paperback genre from the 1960s through the early 1990s was Lou Cameron. Cameron (1924-2010) started out as an artist. For whatever reason, he turned to writing cranking out dozens of paperbacks in genres including westerns, crime/detective, and war. He won the Western Writers of America Spur Award for his novel The Spirit Horses.
The First Blood is my first Cameron novel. Magnum Books 1971, 160 pages. Set in December 1942 in North Africa, the Tall General sends a platoon of paratroopers from the 82nd Airborne on a suicide mission. Their job is to take a fortress held by the French Foreign Legion with allegiance to Vichy before the Germans can get there.
Cameron has an ADHD writing style that moves along to say the least. Things go wrong when the platoon is dropped right on top of an Italian motorized battalion. A few do manage to fight their way out.
Action does not stop with getting the French to come over to the Allies. The leader, Lt. Sean Fitzgerald is a psychopath hopped up on speedballs.
There is a siege of the fort by Italians and some German as Americans and French Foreign Legion band together. North Africa is always a great setting either for an adventure or war novel.
Cameron's dialogue is colloquial. His non-coms like using the word "cocksucker" quite a bit. He knew how to write action. He also knows his weapons having served in the 2nd Armored Division in WW2.
The Tall General shows up again in the novel Drop into Hell. So, he might be a recurring character in Cameron's other WW2 novels.
Cameron is alongside Robert E. Howard and Norvell Page for adrenaline driving pace. I need to check out his Captain Gringo/Renegade series written under the pseudonym "Ramsay Thorne."
I have a growing appreciation for the paperback writers who would produce six books a year under various names and genres. The First Blood would make a great movie.