The streaming service Tubi has a sword-and-sorcery movie section. Some of the movies I have never heard of. Others were prominent in the old video rental stores that sprang up in the middle and late 1980s. I have been watching some that I never caught the first time around while I get on the hamster wheel (i.e. Nordic Track).
Some of the movies have little to recommend themselves but many had great movie posters. I decided to put together a little figurative slide show of early and mid 1980s sword-and-sorcery movies. No doubt there will one or two that I forgot or someone will say you forgot this or that movie. Going by memory here.
The Pyschotronic Encyclopedia of Film says of Hawk the Slayer: "A sword-and-sorcery feature released too early to cash in on the craze, which didn't get off the ground for another two years." IMDB has a release date of December 1980. I don't remember any advertisement for it at all. Flash Gordon is the movie that got all the buzz at this time. I do remember catching it on T.V. in 1982 on I think CBS' late movie.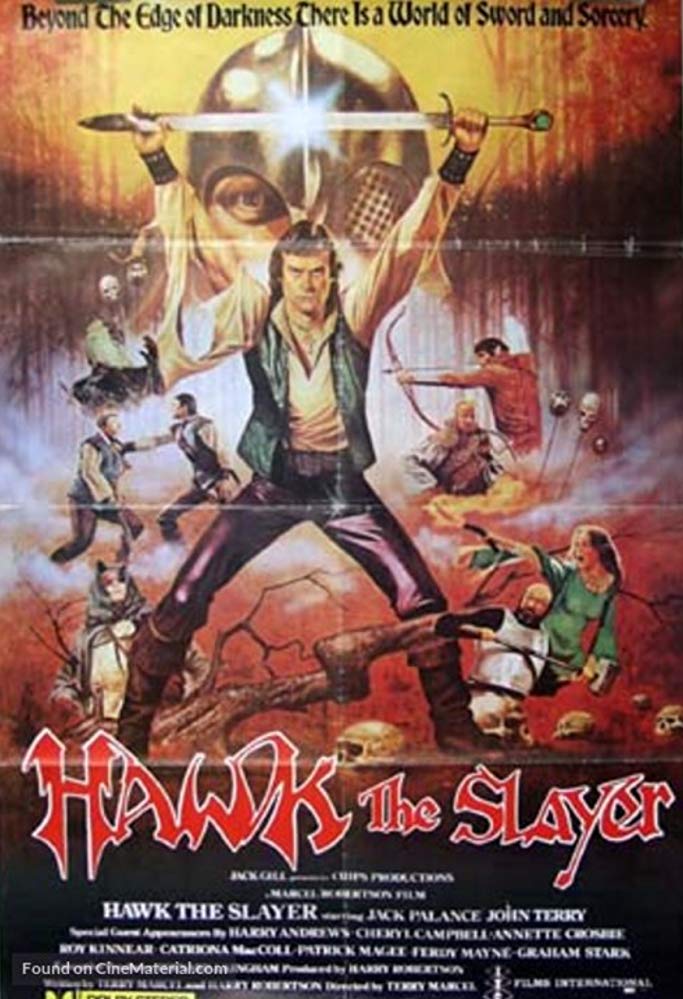 Excalibur came out next for the summer movie season in 1981. I caught it in college in winter 1982. A great looking movie. High fantasy or sword-and-sorcery? Either way, very unique in its look.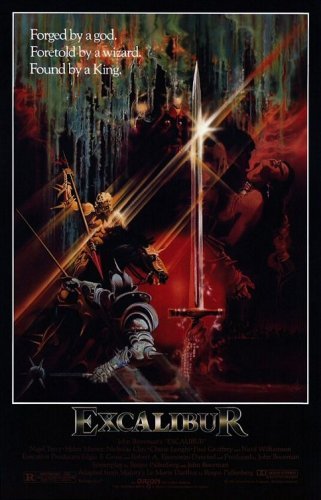 Dragonslayer is another movie from the summer of 1981. The movie has a certain cynical quality to it. And this poster is by Jeff Jones.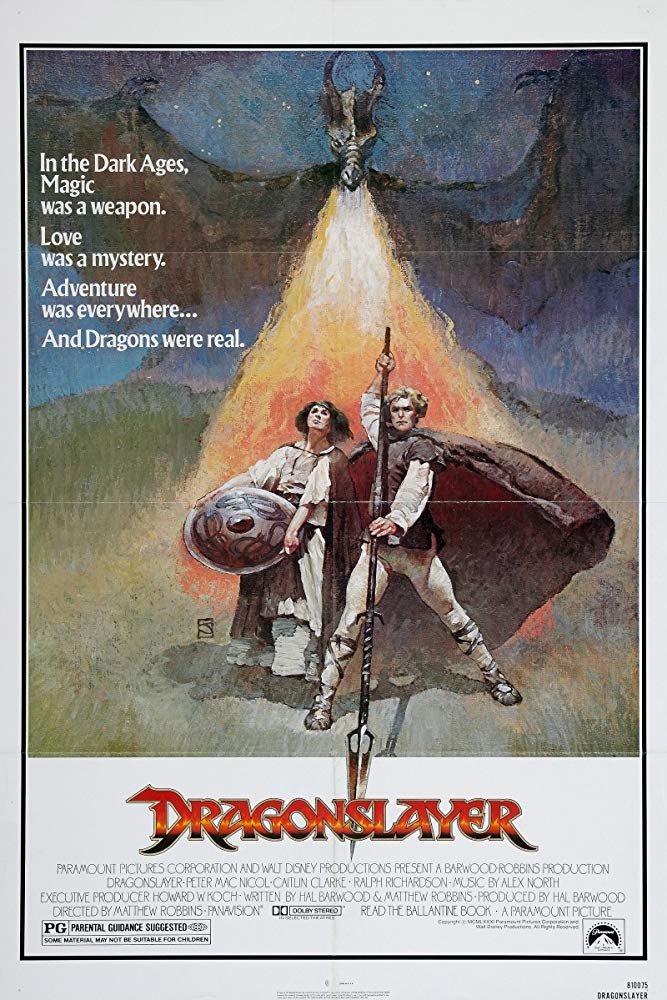 The movie that is the keystone to the whole 80s sword-and-sorcery movie era. This movie made Chip Rommel a star.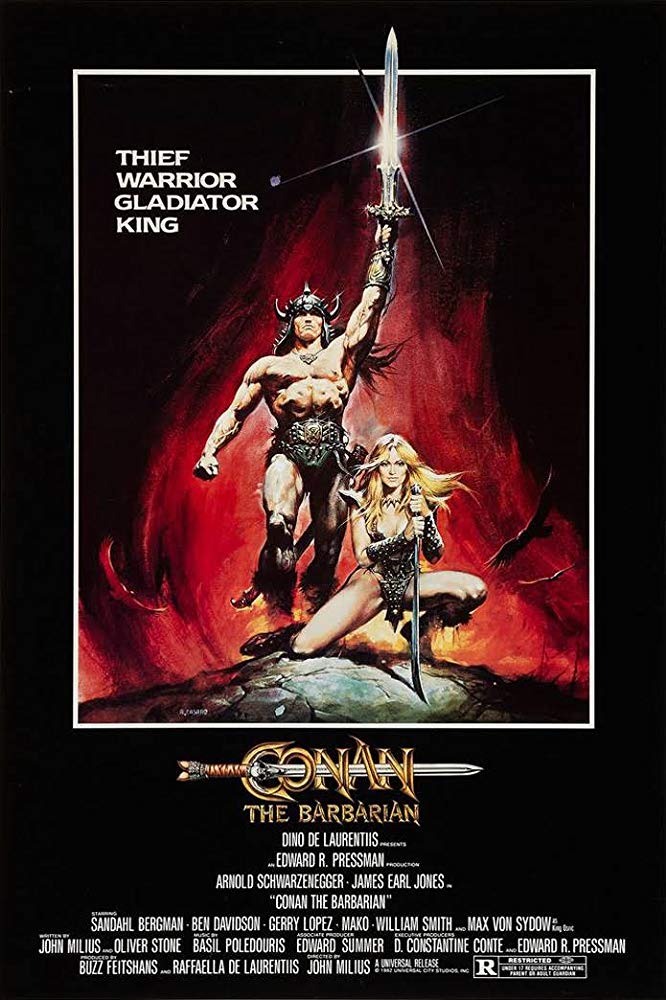 I reviewed the novelization last year. I know some who consider this to be more of a Robert E. Howard influenced movie than Conan the Barbarian.  This movie was contemporaneous at Conan the Barbarian in May 1982.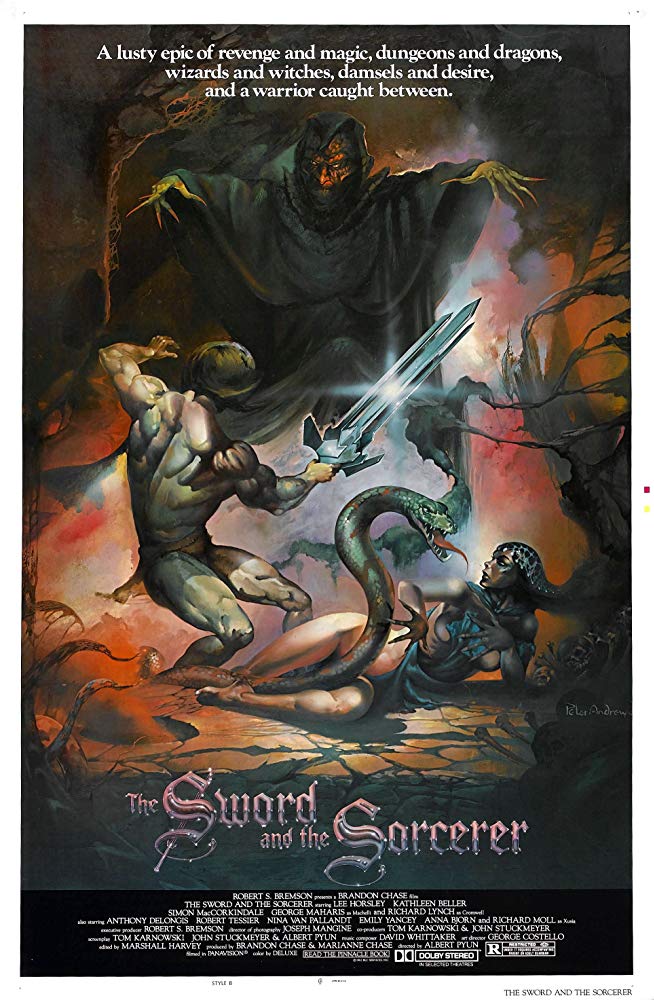 This movie got some publicity. I remember Tanya Roberts did a pictorial spread in Playboy magazine. Very loosely based on the novel by Andre Norton of the same name whose name is not on the poster. This movie was dumped on the market at the end of August 1982.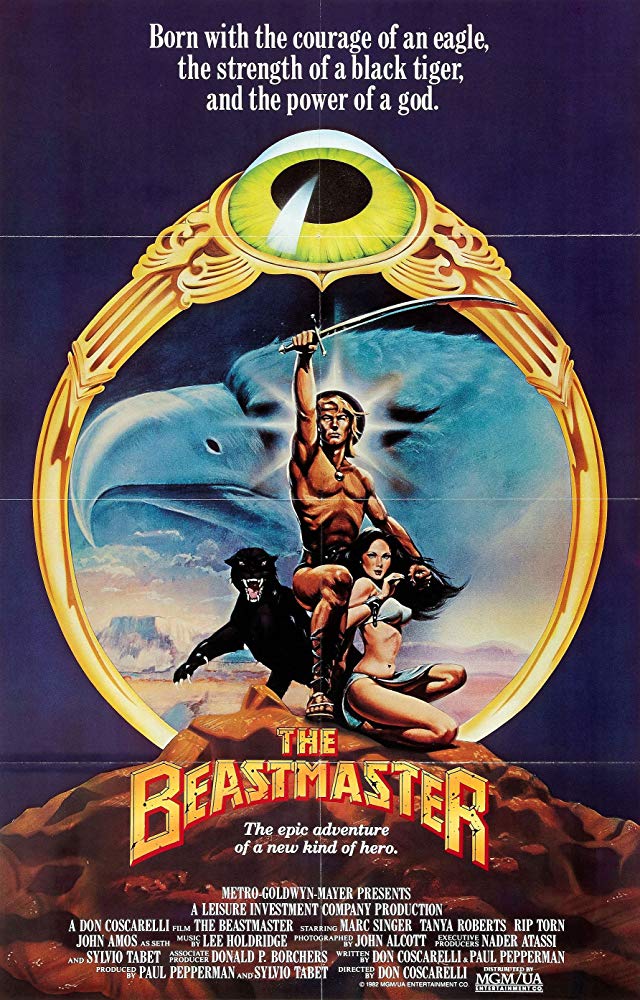 Now we get to 1983. I missed out on Fire and Ice as I went back to college right when it came out at the end of August. I just watched it again on Tubi last week. Possibly the greatest sword-and-sorcery movie ever made with characters by Frank Frazetta and story by Roy Thomas and Gerry Conway. Poster by the great Frank Frazetta.
Deathstalker is incredibly bad in sets, costumes, acting, and fight choreography. It does have gratuitous nudity and violence. How did they get Boris Vallejo for the movie poster? IMDB said this movie was released in September 1983. I missed on this one but remember it well at the video rental stores.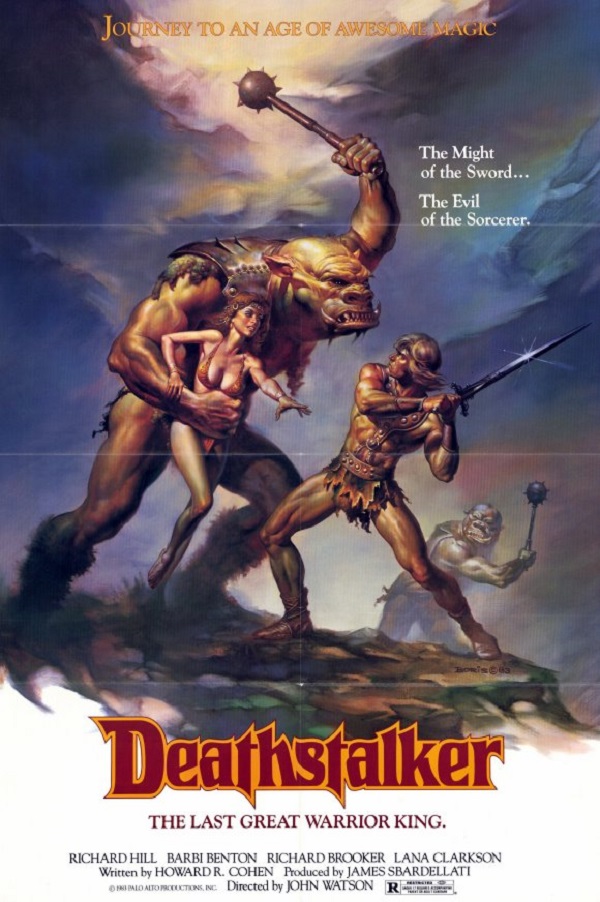 Now we leapfrog to 1985. Conan the Destroyer from 1984 had a poster with a photograph of a buff, oiled Chip Rommel with his trademark shaved chest. No great movie art. His follow up, Red Sonja from summer 1985 had a return to the movie posters that were not far off from the typical paperback cover of the time.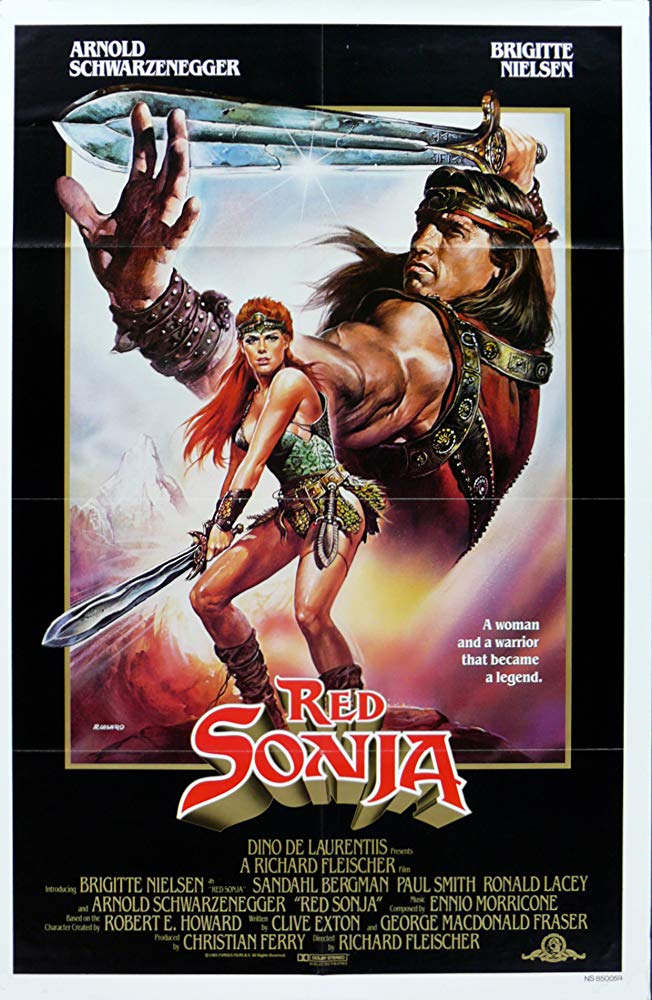 I missed out on Deathstalker II from September 1987. More Boris art converted as movie poster. I remember seeing this on T.V. in the early 90s and liking the campiness of it.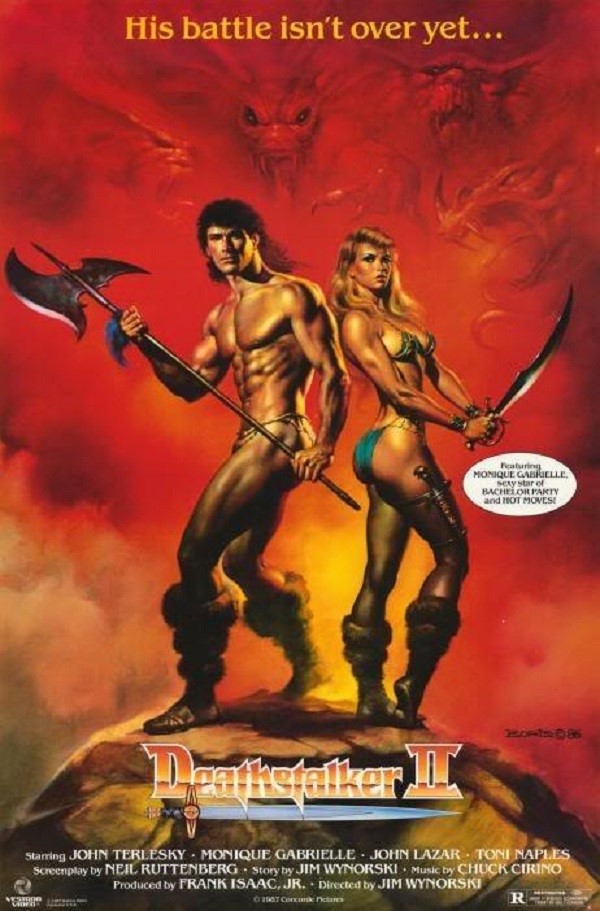 I have not seen Deathstalker III which was released in June 1989. The big movie that about to be released was Tim Burton's Batman. There was also the third Indiana Jones movie at that same time. Boris art yet again which appears to be the most consistent thing with the franchise.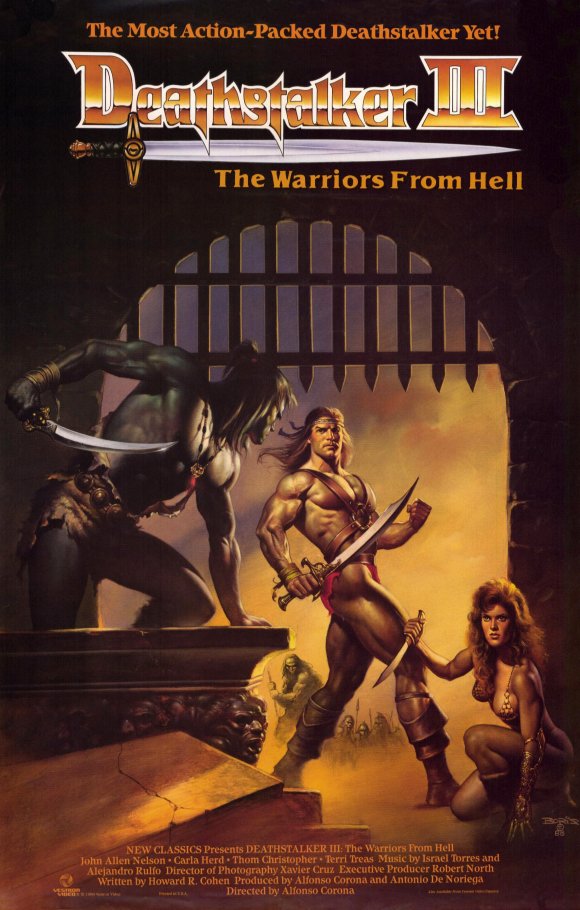 There is some great art on some of these posters. Frazetta, Jones, and Boris got in on the action. Interestingly, no Rowena or Ken Kelly. By the time Red Sonja came out in 1985, the sword-and-sorcery movie craze was in rapid decline. Action movies were on the horizon and would replace the the genre. The sad part is the movies helped take down the genre in publishing which almost went extinct in 1985.