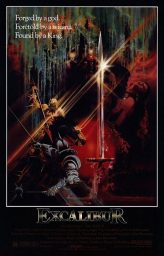 Excalibur is a 1981 British film directed and co-written by John Boorman, known for the bizarre cult classic Zardoz and the iconic hillbilly horror movie Deliverance.
Excalibur is something extraordinary: a faithful adaptation of the King Arthur legend. It's more faithful than Peter Jackson's Lord of the Rings, which is visually spectacular, but adulterates many aspects of the source material. Ironically, some of the imagery and set designs in Excalibur were originally created for Boorman's shelved adaptation of Tolkien's epic.
The primary source is Le Morte d'Arthur by Thomas Malory, and the script is faithful to the style and mood of the source material. The screenwriters added depth to the story by drawing on scholarly mythographic works: From Ritual to Romance for the tension between paganism and Christianity, and The Golden Bough for the cycle of death and rebirth, and the mystical connection between the life of the King and the forces of nature. What Star Wars achieved by accident, Excalibur achieved deliberately. Contemporary critics, steeped in the "realistic" films of the 70's, praised the visuals but panned the writing. They didn't know what to make of a movie that took the Arthur myth seriously.
This is a film that never could have been made by Hollywood, today or in any other decade. It's not a historical epic, it's not a reimagining, it's not a gritty reboot, it's not an action movie with CGI monsters, it's not a Chinese co-production, it doesn't have a diverse cast, and it's not a Disney cartoon with cutesy sidekicks, celebrity voices, and songs by Elton John. In fact, it's not a kids' movie at all. It deals with adult themes such as lust, betrayal, and retribution. It has the seriousness of a Shakespeare play. Compare this to the endless superhero films coming out ot Hollywood, whose visual spectacle and witty dialogue can't rescue the threadbare plots and trite character motivations. When they try to be serious, they only come across as pretentious.
The cast includes Nigel Terry as Arthur, Nicol Williamson as Merlin, Nicholas Clay as Lancelot, Cherie Lunghi as Guenevere, Helen Mirren as Morgana, Liam Neeson as Gawain, Corin Redgrave as Cornwall, Patrick Stewart as Leodegrance, and the director's daughter Katrine as Arthur's young mother. All the faces are British; there is no jarringly incongruous casting to appeal to ethnic audiences. After all, this is one of the founding legends of British culture (although Tolkien considered it not British enough, and decided to create his own).
Nigel Terry is believable and all-too-human as King Arthur. But the real star is Nicol Williamson, who brings Merlin to life with subtle wit and intelligence, and fire and thunder when necessary. The scenes with Merlin and Morgana are enhanced by the real-life enmity between Williamson and Helen Mirren, who has never looked more ravishing.
The score is unapologetically classical and Germanic, featuring the music of Richard Wagner and Carl Orff, along with an original score by Trevor Jones. The mood is completed by the ornate costumes, imaginative sets, and soft-focus cinematography. But the music and visuals are only a setting for the actors, who are the real focus of the movie. Perhaps this is why Hollywood still draws upon England when it needs an actor of gravitas to bring a classic story to life.