Every week, the Castalia House Blog spotlights some of the many new releases in independent, pulp and web novel-influenced science fiction and fantasy.
(Note: next week's spotlight will be postponed to 4 April.)
---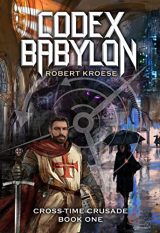 Codex Babylon (The Cross-Time Crusade #1) – Robert Kroese
A secret cabal of demonic forces threatens to destroy civilization and plunge the world into a new Dark Age. Humanity's only chance is a shadowy organization called GRAIL–the modern day heirs to the Knights Templar–which has discovered the secret to time travel. The past cannot be changed, but if GRAIL can send an agent into the past to recover a lost book on demonology called the Codex Babylon, they may have a fighting chance to save humanity from utter destruction.
The Cross-Time Crusade is a series of books chronicling GRAIL's efforts to preserve a remnant of humanity from an unstoppable cataclysm.
---
Forge Master – Seth Ring
Ascending should have been the easy part…
But after being thrown into the void, Thorn finds himself stranded in a strange world filled with even stranger creatures.
Together with his cute battle pet, the mysterious god beast Hati, and a sentient AI named Eve, Thorn must forge a place for himself in this new world. Unfortunately, the local guilds all have other ideas and soon the Titan finds himself embroiled in plots that even his famed strength cannot help him with.
Rallying his strengths and learning how to fix his weaknesses will be the absolute minimum Thorn needs to survive, but if he wants to thrive, he'll be forced to take risks that put his life and the lives of his friends on the line.
---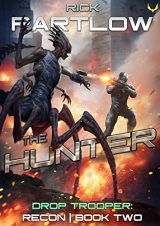 The Hunter (Drop Trooper: Recon #2) – Rick Partlow
Randall Munroe's past won't stay dead.
Born Tyler Callas, the pampered heir of a Corporate Council scion, he fled that life and adapted the new identity of Randall Munroe so he could join the Commonwealth Space Fleet Marine Corps' elite Force Recon unit in the war against the alien Tahni Imperium.
But when he returned from the war, his old life found him. His mother, Corporate Council Executive Patrice Damiani, tracked him down and tried to return him to her web of control, even if she had to have his personality altered by drugs and psychological brainwashing to do it. Narrowly escaping her clutches, he made a deal with the devil to stay free…and now the debt is come due.
Cowboy, a former Space Fleet Intelligence commando who fought beside Munroe on Demeter, now works for one of Patrice Damiani's rivals in the Corporate Council and he agreed to keep Munroe safe from her, in return for Munroe using the skills he learned as a Recon Marine in the service of Cowboy's boss. Cowboy has tracked down rumors of an ancient alien artifact that has been discovered by one of the criminal cabals out in the desolate Pirate Worlds, and he needs Munroe to steal it.
---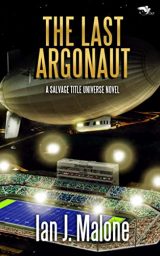 The Last Argonaut (The Coalition #15) – Ian J. Malone
"Great moments are born from great opportunity." — Herb Brooks, head coach, 1980 U.S. Men's Olympic hockey team.
Zack Monahan had it all ten years ago. A "rags to riches" story as anointed by the Sol system press, the human quarterback from the slums of Tretra took college warball by storm, smashing every record on the way to being the projected top pick in the next First Interstellar Warball Association amateur draft.
Then came the hit that shattered everything.
Deek Xatori never had a chance. An undersized player on the heels of his fifth roster cut in four seasons, the reeoli journeyman was headed home, hoping for one last shot at professional glory.
Neither being had much to offer to a cellar-dweller franchise on a backwater world, still reeling from the worst natural disaster in planetary history.
Welcome to the world of high-stakes interstellar warball, where craniums collide on the field, secrets lurk off it, and the fates of civilizations rise or fall on a single play. It's also where a ragtag club of misfits, backed by a city of outcasts, just might find their opportunity for redemption.
---
Dragonskull: Wrath of the Warlock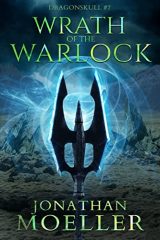 – Jonathan Moeller
A frozen wasteland. A ruthless warlock. All who challenge his power have fallen.
Gareth Arban seeks to find and destroy the Dragonskull, the legendary lost relic of dark magic.
But to reach the Dragonskull, he must cross the wastelands ruled by tribes of brutal lizardmen. And his enemies, the sorceress Azalmora and the warlock Mharoslav, are ahead of him.
They desire the Dragonskull, and will kill anyone to claim its power.
Including Gareth and his friends…
---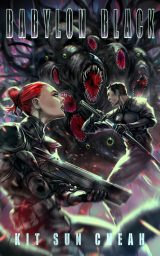 Babylon Black – A crowd-funded campaign by Kit Sun Cheah
Yuri Yamamoto is back.
After two years of self-imposed exile, the disgraced operator turned street samurai has come home to Babylon.
Just in time for the country to tear itself apart.
The armies of the New Gods are on the march. Monsters in human skin await activation orders. Spies and deniable operatives wage a war of assassins. Minority communities are forced to choose sides—or be destroyed. With every act of aggression, the New Gods bring mankind closer to ruin.
As the world races towards the apocalypse, what can Yuri and his team of battle-hardened guerillas do?
Team Black Watch can't fight the New Gods head-on. Even with Yuri's divine gift, their numbers are few and their resources scarce. They must make new allies, carve out safe havens, turn their enemies against each other, and attempt to stave off the inevitable.
They can't save the world.
But they're going to try.
The crowd-funded campaign will close on 8 April, 2023.
---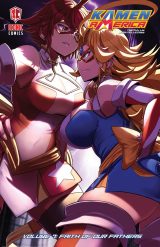 Kamen America Volume 7 – A Kickstarter by Timothy Lim and Mark Pellegrini
"Charlotte 'Carly' Sasha Vanders was an aspiring fashionista whose life was changed after being fatefully impacted by cosmic debris! Now a human battery, she uses her supercharged status to rebrand herself as a henshin-heroine. However, she quickly learns that sometimes doing what's right isn't always fashionable as she battles the forces of evil as the patriotic paladin known as KAMEN AMERICA!"
Kamen America, Volume 7 takes place in a world divided between light and dark. As the Kamen Corps is split across the United States and the world in a desperate attempt to fend off the Otomotons, the Zenerengers are plotting their next move by targeting specific power stations!
To this end, Cynthia Prestige takes advantage of the situation and enlists the help of Zener Ecto and Zener Psycho to enact the last part of her nefarious plan. But what devastating and revealing repercussions will this have on the Kamen Corps? Find out in this penultimate chapter of the second Kamen America saga!
This Kickstarter will remain open until 6 April 2023.
---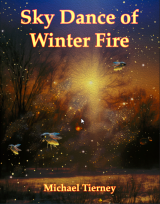 Michael Tierney's Sky Dance of Winter Fire – a Kickstarter from Cirsova
For Michael Tierney, it was nothing more than moving a stack of firewood; for Wallflower, one of the insects living in the pile, it was the beginning of the adventure of lifetime.
A few years back, author and artist Michael Tierney was out during a bout of surprisingly good winter weather, restocking his firewood. Huge waves of winter fireflies rose into the sky in an explosion of light.
This fantastical spectacle stuck with Michael, and sent him on flights of fancy. He envisioned the miraculous flight within context of an epic adventure and struggle. He wondered how those bugs that had been in the woodpile might have envisioned him: a giant; a monster; an out-of-this-world alien being?
Michael initially put the story of the sky dance to paper, but that was not quite enough. He also wanted to capture the essence of those moments in art and imagery. Sky Dance of Winter Fire was born as a digital mixed-media storybook that Michael Tierney and Cirsova Publishing would like to bring to you now…
This Kickstarter will remain open until 6 April 2023.
---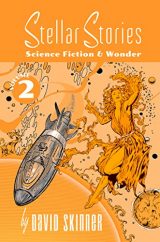 Stellar Stories #2 – David Skinner
Nine stories of rockets and robots, monsters and Martians, fistfights and beauties, wonders and awe…
A daredevil from Jopitar plans an impossible act and seeks the aid of a girl who cannot burn. A young man sets his heart on the intimate companion of the artificial Man in the Moon. Outlaws in the Martian desert point Hamlin Becker and the sisters Day to a revelation. A girl who communes with the planet Pluto hires a boy who can spray-paint with his mind.
And more!