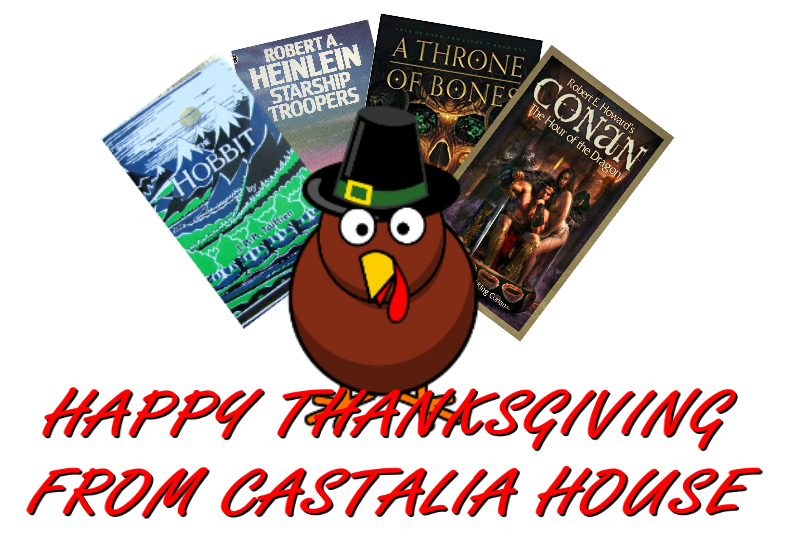 Allow me to take a break from my usual column this week. Rather than sharing with you a small slice of the vast rich cake of independently produced genre fiction, I'd like to elbow my way into your celebration in order to express my gratitude and give thanks to some richly deserving parties.  I'll have an interesting review of an interesting anthology next week whose apocalyptic visions wouldn't do much to help aid in the digestion of today's traditional feast.
First, to our hosts, for opening up the doors of this blog and sharing their audience with a few fresh new names. The trust they placed in our hands means a great deal to me personally, and with every post, I can only hope to honor and live up to that trust. Also, a special thank you to Vox Day for following in the footsteps of his ancestors and sharing his wisdom about this strange new post-BigPub world of publishing with those of us new to publishing.
Thank you also to all of the readers of this blog. Particularly the commenters. The wealth of information presented by my fellow bloggers has opened my eyes up to the vast depths of sci-fi and fantasy history and provided incredible insights into the modern world of pop culture, but with every post comes at least one comment to serve as a nice dab of whipped cream on the blogging pumpkin pie. If you don't stick around for the comments, you're missing out on a lot of the fun. The regulars here often provide added context or nuance, or in my own case corrections (ahem) that prove the adage that all of us are smarter than any of us.
To my fellow bloggers, thank you for your ceaseless dedication to the blog. Whether its Daddy Warpig's voluble pop culture insights, Alex's deep delves into the pulp fiction archives, Scott Cole and the rest of the Wargame Wednesday crew's historical and game-theory discursions, Morgan's treatises on esoterica, or Nathan's tireless work to showcase new releases not just from the CH but from around the publishing world, there's never a day worth skipping a visit to the blog. Even if you have no interest in anime, Anthony brings an infectious and intelligent love of the genre that makes Tuesdays worthwhile.
To all of the authors, both the old masters, the not-so-old torchbearers, and the new craftsmen all of whom toil for long hours to share their visions with us. They have carried we readers farther than our imaginations could have, and they allowed us to extend our reach well beyond our grasp. They have inspired, distracted, enraged, and amused us for hours uncounted. For better or worse their creations helped bring about this crazy, mixed-up, world of a waning Pax Americana with all of its bizarre twists and turns, and despite all the challenges we face, this blue marble would be a poorer place did we lack the ability to experience worlds gone by ,and worlds yet to come, and worlds of never-will.
To Jeffro Johnson, who brought me into this madhouse with his literary archaeology and invitation. Many of us would have moved on from the hobby altogether without his keen eye, sharp wit, and formidable tenacity.
And lastly, no Thanksgiving would be complete without thanking the one responsible for all of our blessings. We may not always have been the best stewards of our little corner of His universe, but with His Grace and the camaraderie and fun of like-minded fellow travelers like the rest of the Castalia House blog regulars, we are working hard to make it a literary niche that serves His plan once again, rather than that of the Adversary.
It's been a run ride over the last few years, and I'm looking forward to enjoying the roller coaster for years to come. I hope you'll join me, and that when we are old together we can look back on this time with fond memories, great stories, and as much gratitude as our hearts can bear without bursting at the seams.