Alt★Hero:Q #2: Not Dead Enough
Friday , 10, January 2020
Uncategorized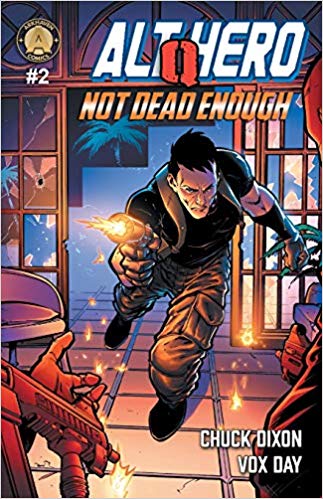 After federal agent Roland Dane survives the successful assassination of the U.S. Secretary of State in Peru, he makes his way back to the United States in secret with the help of a mysterious organization opposed to the global establishment. But when a famous film star is reported dead just hours after the agent visits his house in the Hollywood Hills, Dane realizes that the reach of the evil that is hunting him extends further than he had ever imagined.
Arkhaven has assembled a first-rate production team to create the Alt★Hero: Q series, which explores the incredible QAnon phenomenon that is sweeping the planet. Set in the superhero world of Alt★Hero, Alt★Hero: Q is an astonishing action tale of everyday heroes taking on corruption and evil on a global scale.
The limited gold logo edition of AH:Q #2 is now available in print for $3.99 from the Arkhaven Direct store (US only) or from Amazon. AH:Q backers will receive their gold logo editions after all six print editions are completed. We expect to release the digital edition of AH:Q #3 later this month.