Alt-Hero: Q Returns
Tuesday , 4, December 2018
Comics, News
Arkhaven Comics is pleased to announce that the Alt★Hero: Q 2.1 campaign is now live.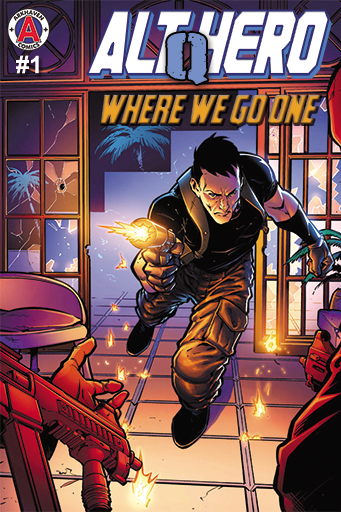 Alt★Hero: Q is an incendiary 150-page graphic novel in six parts that explores the mysterious phenomenon of QAnon and the war on global evil. The story is written by the legendary Chuck Dixon, who is backed by a first-rate professional art-and-production team.
Arkhaven has assembled a first-rate production team to create the Alt★Hero: Q graphic novel, which illustrates the incredible QAnon phenomenon that is sweeping the planet. Set in the world of Alt★Hero, Alt★Hero: Q is an astonishing action tale of unflinching heroes taking down corruption and evil on a global scale.
The Alt★Hero: Q Team
WRITER: The Legend Chuck Dixon
ILLUSTRATOR: Hélix Haze
COLORIST: Arklight Studios
PRODUCTION: Arkhaven Comics
If you missed the successful, but short-lived Alt★Hero: Q 2.0 campaign, you can now take part in its successor on the Arkhaven Comics site. All of the rewards are priced at the same levels as before, but if you wish to back at one of the higher levels that are not offered as part of the 2.1 campaign, please contact us via email.
Please note that some backers are likely to have trouble with their credit cards being accepted; if the system rejects your card, please contact your bank for details, arrange matters with them, then try again later. Given that this is not an American site, it's possible that the purchase will trigger flags that you don't realize are attached to your account. Please don't ask us about this, as we can already see failed attempts in the system and there is literally nothing we can do about them from this end. Once the campaign is over, we will get in contact with everyone to see what we can do to provide for those who are unable to get their cards working with the current system.
The crowdfunding engine we are presently using is far from optimal, but it is functional. You will have to enter the indicated amount manually as clicking on the rewards shown on the sidebar will not do anything. Despite the IGG-imposed complications, we never stopped moving forward on it, as this image from Issue #1 will serve to demonstrate.