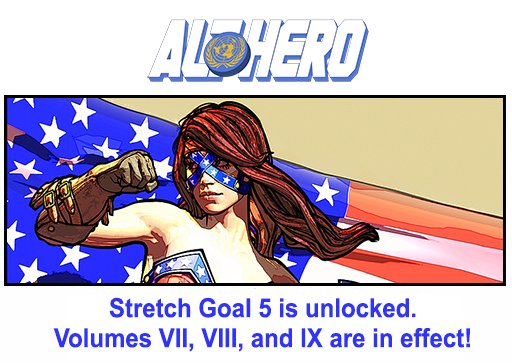 So, we've gone ahead and made a few changes to the Stretch Goals and the Rewards. First and foremost, we are pleased to announce that Chuck Dixon–best known for his record run on Batman at DC Comics (where he co-created the villain BANE) and seminal work on Marvel's The Punisher–will be writing Alt★Hero Vols VII through IX. Just to confirm, Digital Edition backers and above will receive the digital editions of the first NINE volumes. Not a bad deal for $15.
Second, operating on the assumption that we will be able to raise another $1,600 in the next three weeks – if not the next three hours – we have created Rewards for Paperback #3 ($30) and Hardcover #3 ($65) that can be purchased now. Remember that the Hardcover is a special Backers-only version with a custom cover that will not be made available to the retail channel. These two omnibuses consist of the first three Chuck Dixon-penned volumes bound together.
We've also pushed back Novel #2 to the 90k level, and will be announcing a new 100k goal sometime next week.
There are now more than 1,000 backers helping Make Comics Great Again. This is happening. Join us!