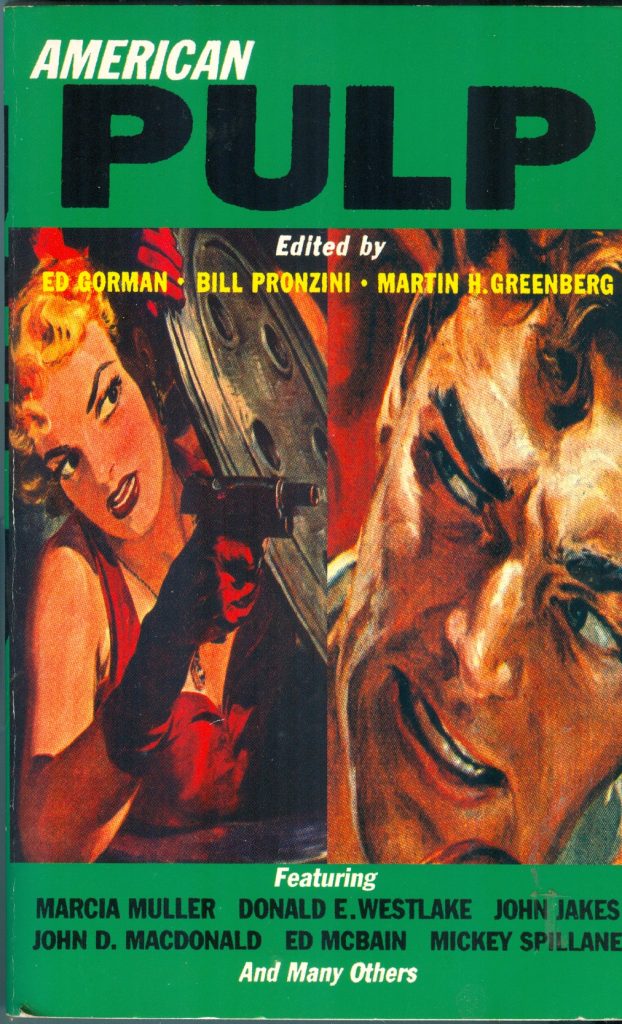 The 1990s were a great decade for vintage crime anthologies. There were some bargain hardbacks of pulp magazine detective fiction – Hard Boiled Detectives and Tough Guys and Dangerous Dames. There was the Oxford Press Hard-Boiled. Trade paperbacks were represented by The Mammoth Book of Pulp Fiction and American Pulp.
I have been reading horror and fantasy the past couple months and it was time for a change. I often reread Dashiell Hammett as a palate cleanser. This past August, I picked up The Manhunt Companion from Mike Chomko at Pulpfest. I love magazine reference books and would go through story descriptions of issues of Manhunt before going to bed. I happened to remember that American Pulp contained a fair amount of reprints from Manhunt. So, I pulled it out and read the contents. I picked up American Pulp back in 1997 from a stack on a table at the local Barnes & Noble. I picked it up mainly because it reprinted Donald Wandrei's "Tick, Tock" reprinted from Black Mask. The inclusion of one of Leigh Brackett's pulp crime stories was also an inducement. I read the Wandrei story 24 years ago and then shelved the book.
Ed Gorman, Bill Pronzini, and Martin H. Greenberg edited American Pulp. Pronzini had edited The Arbor House Treasury of Detective & Mystery Stories From the Great Pulps and co-edited Hard-Boiled. Despite the title American Pulp, Gorman and Pronzini weighed the book with stories culled mostly from 1950s crime magazine digests. "Pulp" has taken on a different connotation from its original pulpwood paper magazines of the 1890s to the mid-1950s. The term "pulp" was already being used for lurid, sensational genre fiction before Quentin Tarantino's movie Pulp Fiction. I guess American Pulp sounds better than American Crime Digest.
From the introduction:
            "To be sure, the pulps did produce giants: such names as Dashiell Hammett, Raymond Chandler, Cornell Woolrich, Erle Stanley Gardner, Horace McCoy, Robert Bloch, Frederic Brown (sic), John Jakes, and John D. MacDonald all flourished in the pulps. And wrote some great stories. But looked at objectively today, a good deal of fare was laughable and forgettable.

This was not true, however, when the pulps gave way to the digest-sized magazines of the 1950s and 1960s. Ellery Queen's Mystery Magazine, Alfred Hitchcock's Mystery Magazine, Manhunt, Accused, Hunted, Pursuit, The Saint, Detective Magazine, Mike Shayne Mystery Magazine, Mystery Book, Mantrap, Verdict, Tight-Rope, all consistently produced excellent crime fiction.

This is why, as you look through this book, you'll notice so many stories from the fifties and sixties. For us, this was the true golden age. Manhunt alone, at its peak, published two or three minor masterpieces per issue, month in and month out.

The digests were companions of the paperback originals. The new breed of writer was generally superior to the old pulpsters."
Contents:
Evan Hunter                  Easy Money                      Ellery Queen's 1960
Mickey Spillane            The Pickpocket                   Manhunt, 1954
John D. MacDonald            In a Small Motel                  Justice, 1955
Talmage Powell            Sudden, Sudden Death            Alfred Hitchcock's, 1957
Donald Westlake            An Empty Threat                Manhunt, 1960
Lawrence Block            Package Deal                          Ed McBain's Mystery, 1961
Marcia Muller               All the Lonely People              Sisters in Crime, 1989
Ed Bryant                     Doing Colfax                          Night Visions 4, 1987
C. B. Gilford That Stranger, My Son            Manhunt, 1954
Stephen Marlowe            Terrorists                                  Accused, 1956
Vin Packer                   Hot Snow                           Justice, 1956
Marthayn Pelegrimas   I'm a Dirty Girl
David Goodis               The Plunge                          Mike Shayne Mystery, 1958
Dorothy B. Hughes The Black and White Blues            New Copy, 1959
John Lutz                      High Stakes                          The Saint, 1984
Robert Randisi            Cop Without a Shield               Mystery Monthly, 1976
J. Washburn Lynching in Mixville             Lethal Ladies, 1996
Norbert Davis             Murder in Two Parts                 Black Mask, 1937
James Reasoner            Down in the Valley                  Mike Shayne Mystery, 1979
Jay Flynn                      The Badger Game               Guilty, 1956
Jack Ritchie                  Don't Twist My Arm              Manhunt, 1958
Richard S. Prather The Guilty Party                  Come Seven/Come Death, 1963
Wade Miller                 The Odd Ones                                The Saint, 1960
Day Keene                   Nothing to Worry About   Chase, 1945
Fredric Brown              Cry Silence                         Mostly Murder, 1948
Donald Wandrei            Tick, Tock                            Black Mask, 1938
William Campbell Gault   Conspiracy                   Alfred Hitchcock's, 1957
Craig Rice                    Say It With Flowers                Manhunt, 1957
John Jakes                    Guilt                                         Hunted, 1955
Gil Brewer                    Bothered                                  Manhunt, 1957
Herbert D. Kastle  Game                                       Ed McBain's, 1961
Leigh Brackett              I Feel Bad Killing You      New Detective, 1944
Helen Nielsen               Decision                                  Manhunt, 1957
Clark Howard              Horn Man                             Ellery Queen's, 1980
Richard Matheson            The Frigid Flame                 Justice, 1953
I got to read some stories by writers that I saw in the Manhunt Companion: Helen Nielsen, Herbert D. Kastle, Craig Rice. As you can see, contents are heavy from the 1950s with a few straggling in later decades to the 1990s. As to the contents, only the Leigh Brackett story was in the classic hard-boiled detective pulp magazine mode. The two stories from Black Mask are from the brief period that Fanny Ellsworth edited the magazine in the late 1930s and moved the magazine away from the fiction Cap Shaw championed.
Some of the stories did not strike me as pulp either in the old or the new definition. Gorman and Pronzini seem to view any crime story as "pulp." Most stories were tales of irony. Wandrei's story was top-notch suspense. A good number are normal people whose life is turned upside down all of a sudden. A running theme is temptation getting the better of the main character.
The story that is a good example is Herbert D. Kastle's "Game." A guy working in his father-in-law's shoe store in Ft. Worth cleans out the bank account and heads for Mexico. A Cadillac passes him on the road hell bent for leather. He notices the driver swerves to hit jack rabbits deliberately. He is really disgusted when the driver goes off the road to hit and kill a dog. Stopping at a motel, he sees the Cadillac. He determines a couple in the restaurant owns the Cadillac. He strikes up a conversation with the couple and fatally attracted to the female. Before you know it, he is involved in offing the obnoxious husband and pushing the car off a cliff to make it look like an accident. Off to Mexico with his new love. He wakes up in the car with her driving as she goes out of her way to kill a jack rabbit. I will be remembering this story.
Many of the stories remind me of the type in the T.V. show Alfred Hitchcock Presents. I don't mind reading this sort of story now and then but would not want a steady stream of it.
A few other observations: John D. MacDonald is a writer who never grabbed me. I read The Good Old Stuff, More of the Good Old Stuff, The Girl, the Gold Watch, and Everything, and a couple of the Travis McGee novels. I have liked best some flamboyant space operas for Super Science Stories from the late 40s-early 1950s ("Minion of Chaos," "Appointment for Tomorrow" etc) but am meh about MacDonald.
The Richard Matheson novelette was a tale of a female who draws men like a flame draws moths. She is also traumatized and broken. I have seen situations like this. To give Matheson credit, the character realizes there is no fixing crazy and walks away.
Gorman and Pronzini would return with a companion anthology in 1999, Pure Pulp. I found a table of contents and there is a repetition of many of the authors (no Wandrei in that one). These anthologies are somewhere between hard boiled detective (Hard Boiled Omnibus) and those Alfred Hitchcock anthologies from Dell in the 60s. Reading these stories from the 1950s is a window into a world now gone. To put it in perspective, it would be like reading something in 1935 that was written in 1870.