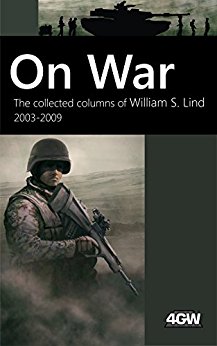 Featuring a foreword by the brilliant Israeli military theorist Martin van Creveld, On War is a fascinating book that is a must-listen for every military professional, wargamer, and amateur student of the art of war.
On War is a seven-year collection of columns written by the father of 4th Generation War theory while observing the US invasion and subsequent occupation of Iraq. It is an intriguing account of a war in progress, as seen through the eyes of a military theorist able to anticipate events with an almost prophetic degree of accuracy. Throughout the book, 4GW theory is defined, described, and refined as events in Iraq, Afghanistan, and other places demonstrate the theory's utility in making sense of current events and predicting future ones. The inevitable failure of the New Iraqi Army and the US-installed al-Maliki government is explained years in advance, as is the rise of the Islamic State and other 4th Generation forces presently battling for power in post-occupation Iraq.
Lind also makes an ominous, but compelling case for the gradual spread of 4th Generation chaos and the decline of the state throughout the world, including in the United States of America. In one of the key passages of the book, Lind writes: "4th Generation war is the greatest change since the Peace of Westphalia, because it marks the end of the state's monopoly on war. All over the world, state militaries are fighting non-state opponents, and almost always, the state is losing."
William S. Lind is one of the most significant and influential military theorists on the planet. The author of the Maneuver Warfare Handbook and a founder of 4th Generation War theory, Mr. Lind is known and respected by military personnel around the world.
On War: The Collected Columns of William S. Lind 2003-2009 is available in Kindle and an Audiobook narrated by Bob Allen and is 26 hours and 42 minutes long. Highly recommended. An excerpt:
---
How NOT to Use Light Armored Vehicles
August 13, 2003
One day in the late 1970's, when I was a defense staffer for Senator Gary Hart, I got a call from an Armed Services Committee staffer asking if I knew anything about Light Armored Vehicles (LAVs), which are what we used to call armored cars. A bit, I replied. What did I think of them, he asked? I said I liked them for operational maneuver, because they are wheeled, and most operational (as opposed to tactical) movement is on roads.
That was the beginning of the Marine Corps' LAV program. We soon roped in a one-star at Quantico named Al Gray, and within a few years the Corps had acquired some LAVs. The concept for which they were purchased was very clear: to form Soviet-style Operational Maneuver Groups for use against Third World countries. We all knew that LAVs are tactically fragile, and must be used in ways that avoid heavy combat. We also knew that the tank the U.S. armed forces were then buying, the M-1, was too heavy and used too much fuel to be able to maneuver rapidly over operational distances. The LAVs could fill the gap.
As one of the Ur-Vaters of the Marines' LAV program, I was pleased to hear a couple years ago that the Army was now also planning to buy LAVs. Good, I thought; they too have recognized that the M-1 is more a Sturmgeschuetz or a Jagdpanzer than a real tank, and they need something else for operational maneuver. These are also known as "tank destroyers", Jagdpanzer literally translates as "tank hunter". I should have known better, given that we are talking about the U.S. Army. Nonetheless, it was with unbelief, then horror, that I learned what the Army was really buying Strykers for: urban combat. And now, the first Stryker units are to be sent to Iraq.
The magnitude of the idiocy involved in using Light Armored Vehicles in urban fighting, where they are grapes for RPGs, is so vast that analogies are difficult. Maybe one could compare it to planning a fireworks display on board the Hindenburg. Urban combat is extremely dangerous for any armored vehicle, including the heaviest tanks, as the Israelis can testify after losing several Merkavas in the Gaza strip to some very big mines. Why? Because for opposing fighters, regular infantry or guerillas, the old sequence from the German "men against tanks" is easy. The sequence is, "blind 'em, stop 'em, kill 'em." Armored vehicles are already blind in cities because distances are short; the safest place near a hostile tank is as close to it as you can get since then it can't see you. Stopping tanks is also easy, because streets are often narrow enough to prevent vehicles from turning around.
And with LAVs, once they are blinded and stopped, killing them is very easy because the armor is, well, light. That's why they are called Light Armored Vehicles.
In the first phase of the war in Iraq, the jousting contest, the Marine Corps lost M-1 tanks and it lost Amtracks, its amphibious personnel carrier. But it lost no LAVs. That is a testament, not to the vehicles, but to how they were employed.
But in the second phase of the Iraq war, and in future phases as well, there will be no role for operational maneuver. And there will be no role for LAVs or Strykers. If the Army insists on sending them into Iraqi towns and cities, they should first equip them with coffin handles, because all they will be is coffins for their crews.
When I first came to Washington in 1973, I was quickly introduced to an old saying about the American armed forces: the Air Force is deceptive, the Navy is dishonest, and the Army is dumb. It seems some things never change.