Appendix N Really is Provocative
Wednesday , 22, February 2017
Appendix N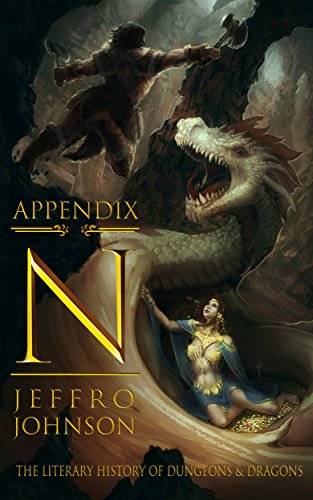 Used to I'd know if I was on the right track because I'd start getting a lot of flak. Not anymore! The low grade hostility and the suppression fire of snide remarks, sneering, and pedantic nitpicking just don't cut it anymore. When it was just a collection of blog posts, the other side could still dismiss what I was doing as being a "mostly harmless" exercise in digging up obscure facts related to the origins of tabletop role-playing games. But now those blog posts have an awe-inspiring cover by Scott Vigil, a thrilling introduction by John C. Wright, piles of rave reviews, and the completely unexpected distinction of having risen to the #1 mark in the Literary Criticism category 0n Amazon. And that changes everything.
So what do they do now…? Normal people on the edges of the discussion notice Appendix N and then have honest questions about what it is and why it matters. Then I either comment or else link to their stuff in my own affable way. And then…? Crickets. A couple weeks later I come back to check up on why a normally hot topic is strangely cool and then I get the rest of the story: I've been unfriended, blocked, or else the blog post has been taken down altogether.
Here's the comment that most recently triggered this behavior. It was in response to a guy that asked point blank why Appendix N was provocative:
Science fiction and fantasy before 1940 was essentially Christian and Western. The post-christian stuff is synonymous with the field for even the most zealous reformers today. The old stuff is now largely unimaginable to most creators as a comparison of contemporary works to C. L. Moore's material makes evident. The transparent and aggressive subversions of Le Guin, Zelazny, and Moorcock are equally unimaginable today, however. The thing they were battling simply doesn't exist! You can see a lively pluralism during the seventies as the culture war played out. The consolidation of key gatekeeping positions circa 1980 sealed the deal, however. Colleges indoctrinate students to more or less recoil in horror at anything from before 1980. Surveying every single review of the classic works that I can find, you can see Appendix N transition from being synonymous with the field in the science fiction and fantasy encyclopedias of the seventies to people pretty much ritually denouncing them. (You know the litany.) There were exceptions, but the old school game blogs had an entirely different ethos from the wider science fiction and fantasy scene. But even relatively open minded game bloggers were silent on the things that make Appendix N most controversial.
Man, I wonder how those game bloggers knew to never ever go near certain topics, even to acknowledge them as an open question…? I wonder how a subject that is utterly engrossing and which is relevant to anyone creating games and stories with a fantasy or science fiction theme could be off limits for so long? The reaction to Appendix N is actually the answer. The informal suppression and shunning that you see going on was surprisingly effective at stopping everyone before me. It really works! Journalists intrigued by the awesomeness of Leigh Brackett quietly stop digging when they come across Things Man Was Not Meant to Know. Scholars enchanted by "Radium Age" science fiction quietly abandon their book projects for the flimsiest reasons. It happens all the time but you'd never know it. The people you trust to keep you informed on this sort of thing all folded in the face of whatever modern day Wormtongue it was that put them on notice.
It's bizarre– like something out of the Old Testament or even a Philip K. Dick novel. But people really can't talk about this stuff. The thing is… the people that mocked Appendix N Matters are the reason why Appendix N matters. And they are legion.