Arkhaven New Release: ALT-HERO #2: REBEL'S CELL
Monday , 25, June 2018
Comics, News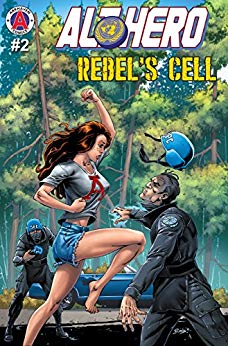 Arkhaven Comics is very pleased to announce the release of Alt★Hero #2: Rebel's Cell. Alt★Hero backers, please check your email.
It was only a matter of time before the mysterious man hunting illegal immigrants and turning them over to the local Immigration and Customs Enforcement office was identified. And after Michael Martel is informed that the Antifa leader he beat up is the son of a powerful state politician, he knows he has to make himself scarce in a hurry. Fortunately, the man who has been stalking Martel has need of someone who won't hesitate to punch first and ask questions later in order to free a young woman who has been taken into custody by the UN's Superhuman Protective Council.

In addition to 24 pages of pure graphic storytelling, the digital edition also features ads for Arkhaven, Quantum Mortis (including Wardogs Inc.), and the Arkhaven line from Crypto.Fashion. It also includes what we hope will be a regular feature, which is an example of Alt★Hero cosplay.
From the early reviews:
Excellent. Great read. A lot of intrigue set up for future issues. A lot of technical improvements made over issue #1.
This is how it's done! Superb comic writing and art! This is a comic, a real comic, the likes of which I haven't seen in ages. An engaging story, art that is pleasant to look at and adds to the story. This is firing on all cylinders.
I really enjoyed this. Good story. I liked the drawing & coloring- it really set the mood for each scene. Characters are very interesting.
Fantastic story with some really gorgeous artwork. It's been several years since I bothered to buy a comic book, it seems that everything is basically feminist preaching, but reading this I'm hooked. I can't wait to see what else Arkhaven comes up.
The art is good and getting better, the words are less in the way than they were in #1, and the writing remains the series' strength. Which is good, because that's the thing that's hardest to fix. At this quality level, I would not be surprised to start seeing movies soon. As Rebel would say: "Roll Damn Tide."