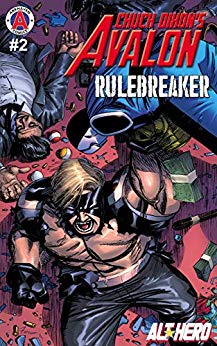 Arkhaven Comics is proud to announce the release of the digital edition of CHUCK DIXON'S AVALON #2: RULEBREAKER. Kindle and CBZ editions have already been sent out to Alt★Hero campaign backers.
Detective Ben Church is hot on the heels of the vigilante who murdered a city councilman in broad daylight. But agents of the UN Superhuman Protection Council are interfering with his investigation, even as they claim that they can help him clean up Avalon City. Should he believe them? More importantly, can he trust them?
Meanwhile, King Ace has dealt with his partner-in-crimefighting Fazer's little slip-up with regards to the unwritten Hero's Code, but that doesn't keep them from going after the notorious crime boss, Nicodemus Vukovich, together. The problem, King Ace discovers, is that there is a lot of temptation to be found in a wealthy crime lord's uptown apartment. Perhaps too much temptation for anyone….
Chuck Dixon is the most prolific comic book writer in history. Set in the world of Alt★Hero, CHUCK DIXON'S AVALON #2: RULEBREAKER is the legend's newest creation.
---
In other Alt★Hero-related news, Arkhaven Comics is pleased to announce that the Gold Logo edition of Alt★Hero #4: The War in Paris is now available at Arkhaven Direct. Please note that a large retailer has already ordered a not-insignificant fraction of the total number available, so if you want the limited edition issue, it would be best not to wait on this one.
Cliff Cosmic, Richard Bonk, and Arklight Studios are currently hard at work on Alt★Hero Issues #5 and #6, so it looks very promising for the first paperback and hardcover omnibuses to come out in plenty of time for Christmas. We also expect to release the first Premium editions soon.