Arkhaven New Release: QUANTUM MORTIS A Man Disrupted #2
Tuesday , 19, June 2018
Comics, News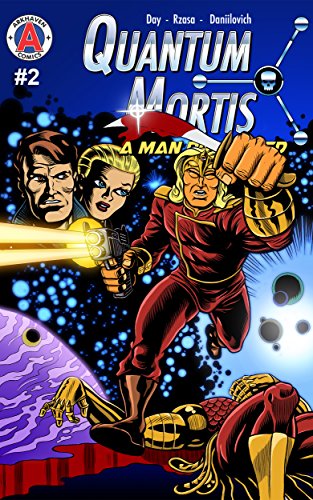 Arkhaven Comics is very pleased to be able to announce that QUANTUM MORTIS A Man Disrupted #2: Zero Zero Tango is now available for Kindle and Kindle Select.
Chief Warrant Officer Graven Tower is a ruggedly handsome military policeman who hates aliens. Fortunately, as a member of His Grace's Military Crimes Investigation Division – Xenocriminology and Alien Relations, he gets to arrest a lot of them. Sometimes he even gets to shoot them.

Chief Tower and Detector Derin Hildreth of the Trans Paradis Police Department are investigating the murder of the Crown Prince of Morchard on the shadowed streets of Trans Paradis City, but the alien government-in-exile is less than entirely helpful. The royal house of Morchard appears to be considerably more interested in seeking revenge than seeing justice done. But there is no way that Tower or MCID are going to let any vengeful xenos start another war in their house!
QUANTUM MORTIS A Man Disrupted #2: Zero Zero Tango is 27 pages, retails for $2.99, and is available via Kindle and Kindle Unlimited. Matvei Daniilovich is still the illustrator, but starting with this issue, we arranged to get him a professional colorist in order to move from a bi-monthly release schedule to what we hope will be a monthly one, so you may note that the colors are a bit more vibrant in this issue. UPDATE: Look Inside is now enabled, so you can see these for yourself.
From the reviews of Quantum Mortis A Man Disrupted #1: By the Book:
The plot is interesting, and the universe feels like it has actual history and depth. Instead of skipping over the richness of the original novel the comic gives you a lot to read rather than just pretty pictures which you quickly turn past to find out what happens next.
It's just the first issue, but the story is fantastic so far. I haven't read the book on which it is based, so it's totally new to me. I really love the look and slightly Blade Runner aesthetic and noir feel.
The story was good and got me interested in the characters. Dialog was snappy and smart. Hard to say what tech levels would be on a distant planet in the 3000s, after some big wars, but the tech-setting feels about right for a sci-fi crime-noir story.
Old school comic book. Cute girl, manly hero, robot comedy relief, dark conspiracy, gritty high tech future.
A fun start to an intriguing story, excellent retro artwork (I suspect that at some point in this storyline, a rocket-ship will land upright on a plume of flame, as God and Robert Heinlein intended), good banter, and the shadow of a prince's corpse burnt into the ground as foreshadowing of things to come. This is going to be a fun series, count me in for more!
A print edition of issue #2 will be available in a few weeks in a gold logo edition.