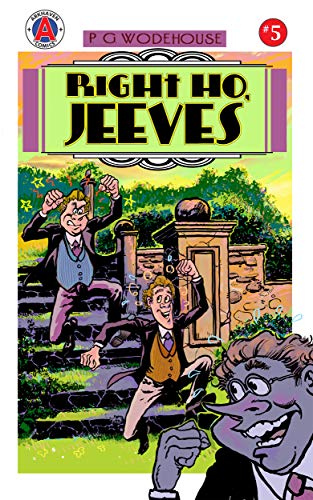 Arkhaven Comics is pleased to announce GUSSIE AT BAY, the fifth issue in the RIGHT HO, JEEVES series, which tells of the travails of the inimitable Bertie Wooster, who is summoned from the comforts of #3A Berkley Mansions, London to Brinkley Manor by his imperious Aunt Dahlia. Love is in the air and Wodehousian shenanigans are afoot, as Wooster's well-meaning attempts to help out his friends sort out their romantic difficulties only leads to one disaster after another… including his own engagement to the unbearably soppy Madeline Bassett!
Adapted from the classic Wodehouse novel by comics legend Chuck Dixon and drawn by SAVAGE SWORD OF CONAN illustrator Gary Kwapisz, GUSSIE AT BAY is issue #5 of 6 in the RIGHT HO, JEEVES series.
The other four issues in the series are available on Amazon. Issues #1 and #2 are also available in print at Arkhaven Direct, Barnes & Noble, and can be ordered through your local bookstore.