Arkhaven New Release: RIGHT HO, JEEVES #6
Sunday , 18, November 2018
Comics, News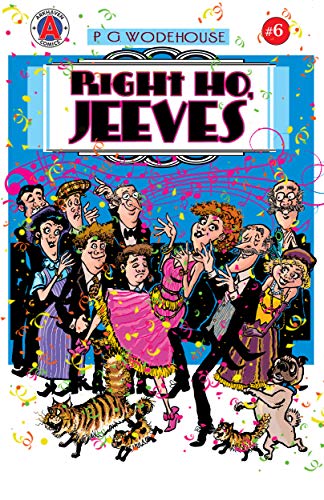 A HERO AT BRINKLEY is the sixth and final issue in the RIGHT HO, JEEVES series. RIGHT HO, JEEVES tells of the travails of the inimitable Bertie Wooster, summoned from the comforts of #3A Berkeley Mansions, London, to Brinkley Manor by his imperious Aunt Dahlia. Love is in the air and Wodehousian shenanigans are afoot, as Wooster is not the sole guest at the manor, which is also playing host to the fairy-gazing Madeline Basset as well as the famous newt-fancier Augustus Fink-Nottle. But, as always, the inimitable Jeeves is there to set things right and save the day!
Adapted from the classic Wodehouse novel by comics legend Chuck Dixon and drawn by SAVAGE SWORD OF CONAN illustrator Gary Kwapisz, A HERO AT BRINKLEY is the brilliant culmination of the RIGHT HO, JEEVES series.
We anticipate releasing the RIGHT HO, JEEVES graphic novel, which collects the entire six-issue series, in a premium 10×7 paperback, before the end of the month. It's going to be beautiful. In the meantime, the Kindle edition of Issue #6 is now available.