The summer's wealth of science fiction riches continues into August. Here is a short sample of the many new titles offered this month.
*     *     *      *      *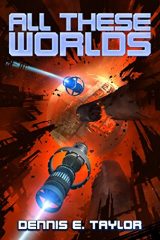 All These Worlds (We Are Bob #3) – Dennis Taylor
Being a sentient spaceship really should be more fun. But after spreading out through space for almost a century, Bob and his clones just can't stay out of trouble.
They've created enough colonies so humanity shouldn't go extinct. But political squabbles have a bad habit of dying hard, and the Brazilian probes are still trying to take out the competition. And the Bobs have picked a fight with an older, more powerful species with a large appetite and a short temper.
Still stinging from getting their collective butts kicked in their first encounter with the Others, the Bobs now face the prospect of a decisive final battle to defend Earth and its colonies. But the Bobs are less disciplined than a herd of cats, and some of the younger copies are more concerned with their own local problems than defeating the Others.
Yet salvation may come from an unlikely source. A couple of eighth-generation Bobs have found something out in deep space. All it will take to save the Earth and perhaps all of humanity is for them to get it to Sol — unless the Others arrive first.
*     *     *      *      *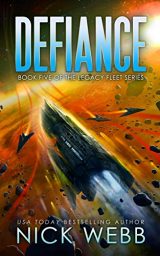 Defiance (Legacy Fleet #5) – Nick Webb
The fog of war clouds everything. Enemies lurk in the shadows, within the very fleet sworn to protect United Earth. Conspiracies and murder abound, and in the background…. The stalled alien invasion lurks.
The Golgothic ship has burrowed deep into the core of Saturn's moon Titan, whose mass slowly but inexorably increases. The Dolmasi, once allies of United Earth in the Second Swarm War, now attack us, unhinged and without reason. And all the while, Admiral Shelby Proctor works to answer the most urgent questions of all: what was a piece of the old ISS Victory doing inside the Golgothic ship? And was it Captain Tim Granger's voice that whispered from the doomed ship, "Shelby, they're coming?"
And … are they the Swarm? If they are, God help us all.
*     *     *      *      *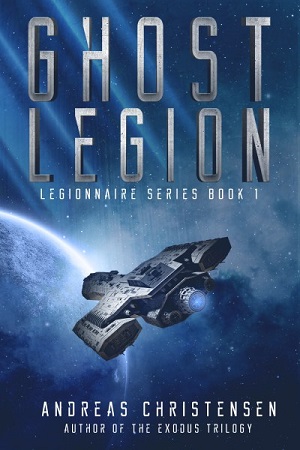 Ghost Legion (Legionnaire #1) – Andreas Christensen
18 years ago they came to destroy us…
A race of conquerors from deep space had set their eyes on Earth´s riches. Their invasion slaughtered billions…
But humanity united under a common leadership and fought back. We chased them off Earth and most of the Solar System.
The war still rages on, and every year young people are sent out to die, far away from Earth.
Ethan Wang was born on the day of the invasion, during the chaos and turmoil of war, and now he´s ready to join the fight. But first he has to become a soldier, and survive his initiation into one of the toughest military units Earth have mustered, the Ghost Legion.
*     *     *      *      *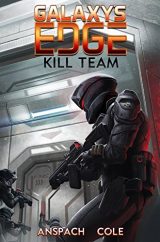 Kill Team (Galaxy's Edge #3) – Jason Anspach and Nick Cole
Always make 'em pay.
In the aftermath of the Battle of Kublar—and the destruction of the battleship Chiasm—Legion Dark Ops recruits Chhun, Wraith, and the survivors of Victory Company to form an elite Kill Team of legionnaires. Their secret mission is as clear as it is deadly: find and eliminate those responsible for the Kublar disaster.
Standing between them and their objective are a maze of corrupt Republic officials, a spy on the verge of losing himself in deep cover, and the Zhee—a murderous species who will stop at nothing. But perhaps the biggest threat of all is the truth they seek to uncover.
For it could ignite a revolution—and engulf the galaxy in flames…
…unless the Kill Team is willing to finish the job. At any cost.
*     *     *      *      *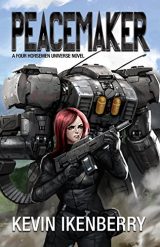 Peacemaker (Revelations Cycle #6) – Kevin Ikenberry
Peacemakers. The Galactic Union's most capable enforcers and resolute negotiators, their name alone elicits fear and awe among the Union's citizenry.
Having completed a harrowing confirmation mission, Jessica Francis stands ready to become Earth's first Peacemaker and believes obtaining her commission is a mere formality. However, certain members of the Guild question her ability. Worried that she'll fall back on her mercenary ways, they want Jessica to prove her mettle at the negotiating table before she puts on the distinctive insignia of a Peacemaker.
Dream Worlds are terraformed planets inhabited by multiple species living and working in harmony. Operated by a governing Consortium, each carefully-controlled world is marketed as a paradise, but Araf is far from. The conditions are deplorable, and its three colonies are moving relentlessly toward all-out war over scarce resources and broken promises.
A three-way showdown for dominance looms—can Jessica prevent war and bring back peace? One thing is certain; she's never walked away from a fight, and she's not going to start now.
*     *     *      *      *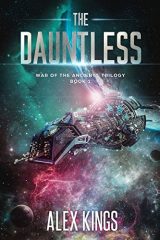 The Dauntless (War of the Ancients #1) – Alex Kings
An alien fugitive carrying a secret. A mob of relentless assassins sent to stop her. A million-year-old ship from a dead civilization.
Captain James Hanson of the Solar Alliance Vessel Dauntless knows he has to help. But soon he finds the conspiracy goes deeper than he ever imagined. Hunted down by his own government, he scrapes together a ragtag team and goes hunting for the truth.
He's hounded on every side – from the authorities, from alien warriors, from mysterious, faceless soldiers. From the criminal backwaters of the galaxy to idyllic colonies hiding dark pasts, he uncovers a threat to the entire galaxy. A damaged, renegade ship and its unlikely crew of fugitives, mercenaries, and principled officers is all that stands between mankind and its destruction.
*     *     *      *      *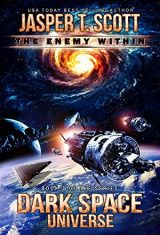 The Enemy Within (Dark Space Universe #2) – Jasper T. Scott
They left searching for answers from the cosmos and found an evil as old as time,
Lucien, Garek, Addy, and Brak are all that's left of the Inquisitor's crew. Eight years ago they left the Etherian Empire aboard the Astralis with three hundred million scientists to learn the true nature of the universe, but now Astralis is surrounded by a hostile race of alien slavers, called the Faros, while the Inquisitor's crew has been forced to abandon ship and flee to parts unknown.
Lucien and his crew are trying to find a way to rescue their people, but they don't have a ship, and they don't even know where to look, let alone how to fight back against a seemingly innumerable and invincible foe.
Meanwhile, Abaddon, the leader of the Faros invaded Astralis for a reason. He has a plan, and it's time to execute it–along with everyone who stands in his way.
*     *     *      *      *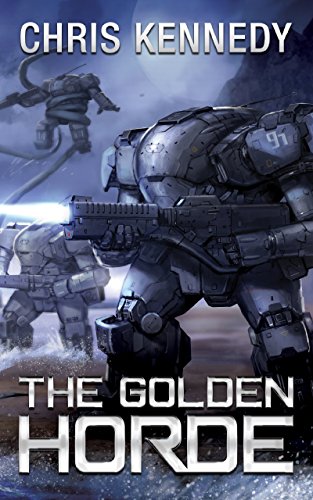 The Golden Horde (The Revelations Cycle #4) – Chris Kennedy
The slaughter is on! Across the galaxy, Human mercenaries are being ambushed, and an ever-increasing number of companies aren't returning from their contracts. Someone even appears to be plotting the demise of the premier Four Horsemen companies, and disaster for the other three companies has only been averted by the narrowest of margins.
Sansar Enkh, the president of The Golden Horde, knows her company is likely to be next, but has no idea who is behind the attacks, or when they will strike her beloved Horde. Acting on a prophesy from her dying mother, she knows her only chance is to take the company off-world to draw out the phantom enemy.
The Horde is being scouted and an attack is imminent. As the Revelations Cycle draws to a close, will Sansar be able to figure out who is behind the attacks in time to save Earth's mercenary companies from the horrific fate waiting from them? The fourth horseman is in play, and time is running out to save the Earth and everyone on it!