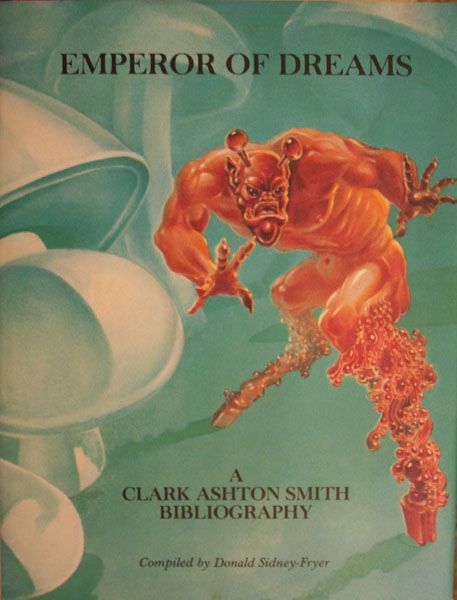 Another favorite bio-bibliography is Donald Sidney-Fryer's Emperor of Dream: A Clark Ashton Smith Bibliography. This book came out in 1978 from Donald M. Grant Books.
Contents
Introduction
Acknowledgements
Principal Facts of Biography
Collections
Clark Ashton Smith – In Memory of a Great Friendship by Eric Barker
Poems
Poems in French
Poems in Spanish
Translations of Poems From the French
From the Spanish
Prose Translation of Verse
Contents of Poetry Collections
Uncollected Poems
Appearances of Poems in Anthologies, Etc.
Poems in Prose
Tales
Addendum
Contents of Prose Collections
Uncollected Tales
Appearances of Tales in Anthologies
Epigrams and Pensees
Miscellaneous Prose
Juvenilia
Periodicals
Published Letters
The Auburn Journal and Weird Tales
About Clark Ashton Smith
Library Holdings of Smith Mss.
Pseudonyms
Five Approaches to the Achievements of Clark Ashton Smith – Cosmic Master Artist by Marvin R. Hiemstra
Index to First Lines of Poems
The Sorcerer Departs by Clark Ashton Smith
Letters
Fritz Leiber
Ray Bradbury
August Derleth
Stanton A. Coblentz
Avram Davidson
H. Warner Munn
George F. Haas
Harlan Ellison
Madelynne Greene
E. Hoffmann Price
Sam Moskowitz
Ethel Heiple
Genevieve Sully
Rah Hoffman
Photographs
I bought this one well used without dust jacket in the mid-80s. I first read of Clark Ashton Smith in the introductions by Karl Edward Wagner in the Berkley Medallion Conan paperbacks, intros by L. Sprague de Camp in the Ace Conan paperbacks, and the introduction by Lin Carter to The Adventures of Jules de Grandin. I first read Clark Ashton Smith in Tales of the Cthulhu Mythos where I first read "Ubbo-Sathla" and "The Return of the Sorcerer." I was hooked. I never had a problem with Smith's prose style unlike Isaac Asimov who made his displeasure with CAS known in the anthology Before the Golden Age.
I consider Clark Ashton Smith to be the other foundational pillar of the sword and sorcery genre along with Robert E. Howard. He was unique.  I was fortunate in that David Hartwell published three Clark Ashton Smith collections in the early 80s with the Timescape Books imprint. I then found the four Ballantine Adult Fantasy paperbacks that filled in a few more holes. I spent hours like I did with The Last Celt learning more about Clark Ashton Smith and finding out what stories I did not have. In time I got all of Clark Ashton Smith's fiction tracked down due to a friend in England who found the paperback reprints of the Arkham House books for me.
There is a Clark Ashton Smith trade paperback collection in print right now from Penguin, The Dark Eidolon and Other Fantasies. This is a good place to start if you have not sampled Clark Ashton Smith.