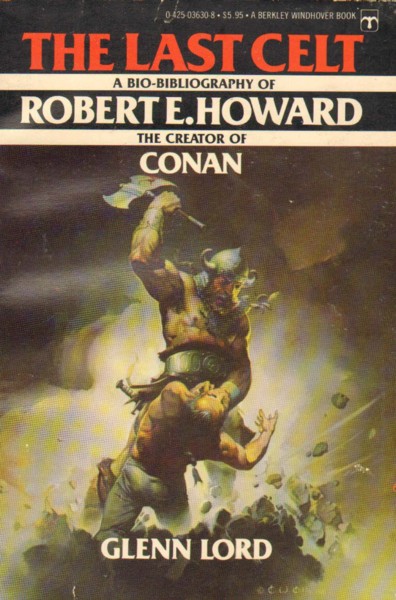 The first bio-bibliography I ever bought was Glenn Lord's The Last Celt: A Bio-Bibliography of Robert Ervin Howard. I had been reading any Robert E. Howard I could get my hands on at this point and wanted more information.
I bought the Berkley Medallion trade paperback that was the reprint edition. The book was first a hardback from Donald M. Grant Books in 1976. The Berkley paperback is from 1977. Glenn told me the Berkley paperback is rarer than the hardback!
The Last Celt is what I think a bio-bibliography should be. Here are the contents.
Introduction: E. Hoffmann Price
Foreword: Glenn Lord
I. Autobiography
The Wandering Years
An Autobiography
A Touch of Trivia
Letter: Robert E. Howard to Farnsworth Wright
On Reading– And Writing
II. Biography
Facts of Biography
A Biographical Sketch of Robert E. Howard by Alvin Earl Perry
Robert Ervin Howard: A Memoriam by H. P. Lovecraft
Lone Star Fictioneer by Glenn Lord
A Memory of R. E. Howard by E. Hoffmann Price
The Last Celt by Harold Preece
III. Bibliography
The Bibliography
Book
Fiction
Verse:   Title Index, First Line Index, Headings
Articles
Letters
Index by Periodicals
Translations: Books, Fiction, Verse, Heading, Articles, Letters
Unpublished Fiction
Unpublished Verse: Title Index, Headings
Unpublished Articles
Series Index
Lost Manuscripts
Unborn Books
Comics
Television Adaptation
The Junto
About the Author: Books, Amateur Publications, Robert E. Howard United Press Association, Articles,    Conan Pastiches
IV. Miscellanea
The Hand of Nergal
The Battle That Ended the Century
Pictures in the Fire
The Hall of the Dead
The Robert E. Howard Memorial Collection
Iron Shadows in the Moon
Letters
The Golden Caliph
R.E.H. as Mythical Dane
Cartoon from the Junto
Map of the Hyborian Age
A Robert E. Howard Photograph Album
A Gent from Bear Creek
Magazine Covers
Obituaries
I spent hours and hours going through the indices back in the day. I learned more about Robert E. Howard from The Last Celt than any other book. I now have both the hardback and paperback editions. I had Glenn Lord sign my paperback edition.  A note on the Berkley trade paperback. The spines on those get stiff and brittle and eventually crack. I pull out the hardback more than the paperback when looking something up. I know a guy who took his trade paperback apart, punched holes for a small binder, and has it in the binder. I just don't pull that edition out anymore. That is a book that could use a reprint. It is from 1976 but still full of useful information all around.