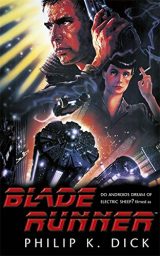 The movie Blade Runner (1982) was the first cinema adaptation of Philip K. Dick based on his novel Do Androids Dream of Electric Sheep? Last month, I picked up the novel out of town at a Half Price Books. The store had a few copies of a U.K. Orion Books trade paperback edition.
Do Androids Dream of Electric Sheep? was published in 1968 by Doubleday in hardback. It got a Hugo nomination. Signet reprinted the book as a mass-market paperback in 1969. There was a 2nd printing in 1971 and then the book was not in print until the movie in 1982.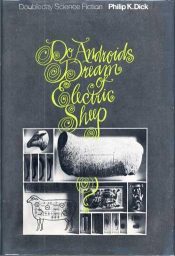 The novel takes place in 1992 in earlier editions. That was changed to 2021 in later editions. A nuclear war (World War Terminus) has poisoned the Earth with radioactive dust. There is an extinction event with quite a bit of animal life dying off. Most humans have moved to colonies off planet. Staying on Earth will eventually result radiation poisoning with genetic damage. Androids ("andys"), manufactured humans, are used in the colonies for labor. There is also a religion called "Mercerism," based on empathy. There is a counter religion and T. V. show, Buster Friendly that is against Mercerism.
They escape to Earth where they are hunted down and "retired." There is a problem with Nexus-6 androids that have more sophisticated brains. Bounty hunters hired to retire androids generally tell them from regular humans through empathy tests.
Rick Deckard, the Harrison Ford character from the movie, lives in San Francisco in an apartment building. His wife is an emotional wreck. She misuses the "mood organ device" that dials up or down emotion. Deckard travels to Seattle to Rosen Industries to administer the empathy test on the Nexus-6 series. While there, he is introduced to Rachael, Eldon Rosen's niece.
There is a section with bounty hunting and an escape with another bounty hunter from a police station filled with androids. The novel switches to scenes with J. R. Isidore, who becomes involved with a group of escaped androids that Deckard is after. Deckard uses Rachael to help him while the androids use Isidore to help trap Deckard.
There is a climax of Deckard setting a near record for retiring androids in one day. He goes back to his wife and finds that Rachel killed his pet sheep that he had bought with bonus money retiring androids.
A big part of the novel is the quest to own an animal. Social status is based on pets or owning an animal. The movie Blade Runner does not have any of the animal owning part, Mercerism, or Buster Friendly. A part of the novel, bounty hunting androids was retained and refitted as what has been called "neo-noir."
I have to say reading the novel Do Androids Dream of Electric Sheep? was again, not a pleasurable experience. Dick's world dying from radioactive dust was nothing new after reading The Philip K. Dick Reader. The writing, especially the dialogue was better than his 1950s science fiction digest magazine stories. I don't know if I ever watched the movie the whole way through. It seemed like it was on cable constantly around 30-35 years ago. I just could not sit myself down to watch it in one sitting. It did not hold my attention.
The novel has Dick's 1950s concerns with a few 1960s updates, mainly the religion aspect and more delving on what it is to be human. Maybe I will watch the movie in one sitting finally if I see it on T.V.