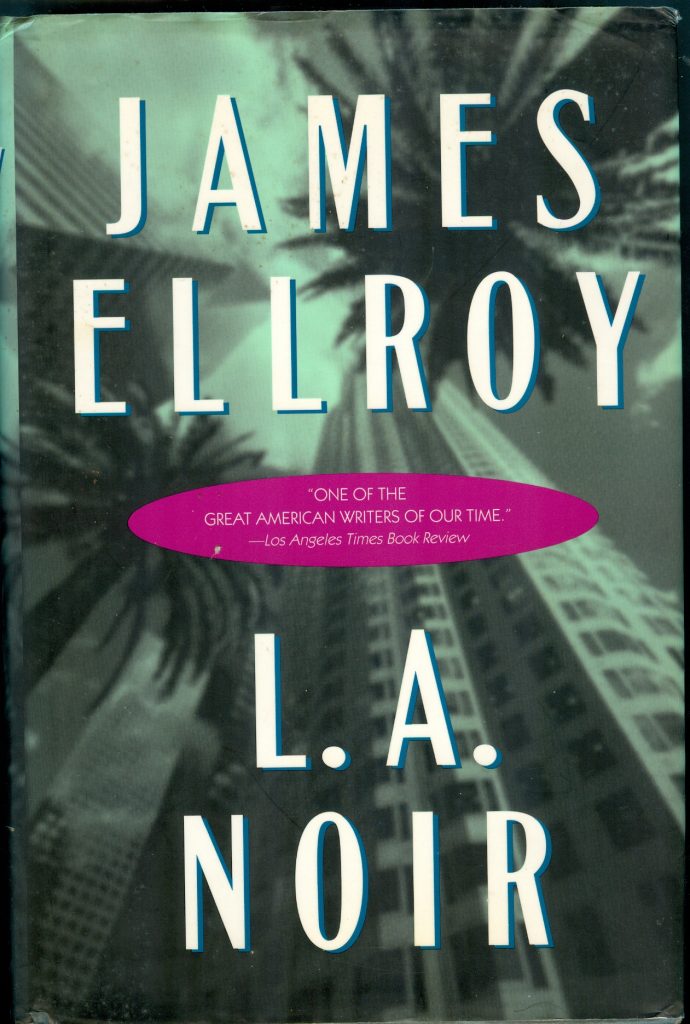 I have been reading some recent fantasy and it is time for a break. I remembered that I had an omnibus of three novels by James Ellroy, L.A. Noir. The omnibus contains three early novels featuring the detective Lloyd Hopkins. I picked this up used around 15 years ago. I remember seeing it at Barnes & Noble in the late 1990s around the time L.A. Confidential came out as a movie.
Ellroy is probably one of the most popular crime writers of the past 25, if not 30 years. I have read The Black Dahlia. I have an Ellroy collection, Crime Wave of which I remember almost nothing.
Ellroy's introduction to L.A. Noir has the history of writing the Lloyd Hopkins novels. He plotted Blood on the Moon, his third novel, in 1980 (released in 1984):
"I wanted to write a contemporarily set, contrapunctually structured novel about a sex obsessed cop tacking down a sexually motivated killer. I was not familiar with the term 'serial killer.' Thomas Harris' brillian and ground-breaking novel Red Dragon was yet to be published. I didn't know that the mano-a-mano duels of cops and serial killers would soon become a big fat fucking cliché. Red Dragon– to my mind the greatest suspense novel ever written–spawned an entire sub-genre."
Blood on the Moon starts out in a California high school in 1964 with two white trash students luring, humiliating, and performing an unmentionable act to smartest guy in the room called "the Poet." Next chapter- Summer 1965. Lloyd Hopkins, about to enter the police academy, gets called up for the Watts race-riots. During the riots, he blows away his squad sergeant who is a psychopath. A few mistakes in this chapter with firearms. Sergeant Beller (the psychopath) is selling a modified M1911 .45 ACP pistol. It has a 20 round "elephant clip" and is fully automatic. I guess someone could have created a 20 round extended magazine. I have never heard of the M1911 converted to full-automatic firing setting. I seriously doubt the pistol could hold up to it not to mention it would be very inaccurate.  Second mistake- he has California National Guard carrying M-14 rifles. There weren't that many M-14s made to begin with. National Guard was using M-1 rifles (the Garand) all the way up to the end of the 60s. The Ohio National Guard had M-1s at the Kent State U. protests. A search on the internet for pictures of the Watts Riot has National Guard all with M-1s, not an M-14 in sight.
The third chapter has a character, our serial killer, stalk and murder a victim. The novel introduces Lloyd Hopkins as a detective who finds a pattern of deaths looking through old files. Women of a certain type are getting offed on June 10th every year going back to the late 60s. Some are disguised as suicides.
The novel then goes back and forth with Hopkins and killer (Ted Verplanck) getting closer and closer. Verplanck was "the Poet" in the first chapter. The two guys who did the unmentionable to him become an L. A. Country Sheriff who shakes down the other, a gay male prostitute.
Verplanck is referred to a "mass murderer" in the novel as term "serial-killer" has not been invented yet. You see elements that Ellroy would expand upon in his later novels– good cops, incompetent cops, corrupt cops.
Blood on the Moon is a fast-moving novel. Ted Verplanck is a creepy serial-killer. Ellroy would write a novel, Killer on the Road after the Lloyd Hopkins novels told from the view of the serial-killer.
The earliest serial-killer novel that I can think of off-hand is Dorothy B. Hughes' In a Lonely Place (1947). The next one is Robert Bloch's Psycho (1959). There are probably others from this period and then the deluge in the wake of Red Dragon.