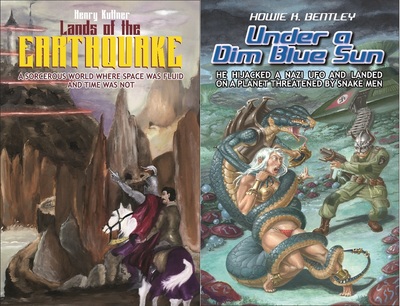 Some of you might have an Ace Double or two paperback in your collection. It was a classic format that lasted over 20 years. There would be two novels, back to back. Read one side and then flip the book and read the other. The format died out soon after Donald Wollheim left Ace Books to found D.A.W. Books in the early 1970s. Greatest Ace Double ever, Robert E. Howard's Conan the Conqueror ("The Hour of the Dragon") with Leigh Brackett's The Sword of Rhiannon ("The Sea Kings of Mars").
Tor Books attempted the double format at the end of the 1980s. I don't remember it lasting more than a year.
DMR Books is stepping into the breach with a new double. One novel, Lands of the Earthquake by Henry Kuttner is a reprint from Startling Stories (May 1947). The flip novel is new: Under a Dim Blue Sun by Howie Bentley.
First, Lands of the Earthquake by Henry Kuttner or rather "Henry Kuttner." Starting in 1946, a series of science fantasy novels under the name "Henry Kuttner" appeared in Startling Stories about a year apart. Lin Carter referred to them as in the tradition of A. Merritt if I remember right in Imaginary Worlds. They generally had a character from our world transported to some alternate universe. Marion Zimmer Bradley Breen claimed that C. L. Moore told her that she wrote them all by herself. Reading Lands of the Earthquake, I can believe it.
I had a whole review of C. L. Moore's career planned that grew to the point that I will do another post on my thoughts on Moore's fiction. The plot has William Boyce who has a year of his life missing from his memory transported by a crystal to some other world/reality/universe.
He is chased by a golden hunter dressed in tiger skin with tiger like "hounds" with human like faces. Boyce is rescued by a knight, Godfrey. Turns out there is a colony of Normans transported from the Holy Land in the 1st Crusade to this world. While being questioned, a returned knight transforms into a demon type creature attempting to kill a very white female called "The Oracle." William Boyce is also a doppelganger of a Guillaume du Bois at the stronghold of Kerak.
There is an historical mistake as 600 years is mentioned as the time between Boyce and the Normans. The First Crusade was at the end of the 11th Century, so more like 850 years. The Norman stronghold of Kerak is under sorcerous assault from the king of The City. An attempt to infiltrate the city by Guillaume and Godfrey fails. William Boyce travels to the city to link up with dissident elements in The City as Guillaume.
Boyce links up with the dissidents who decide to kill him. A dandy aids Boyce in his escape. Turns out the dandy is Irathe, who appears to have been Boyce's love in that lost year. But, Irathe is one mean and evil bitch.
The Huntsman used Boyce and his crystal to summon The Oracle. Turns out Irathe and The Oracle were the same woman. Through sorcery, she was divided into evil and good. Sort of like that episode in Star Trek where Kirk gets divided into two men. Jamai, the Huntman plans on killing The Oracle which will lead to the death of Irathe.
There is a climactic showdown as Irathe summons "Them" to imprison The Oracle forever. There is a suggestion of Them as Lovecraftian beings. Things don't work out for Irathe in the end and a happy ending for most characters.
I kept falling asleep while reading Lands of the Earthquake. Doug Ellis had reprinted it in an issue of Pulp Vault back in 1992. I remember starting to read it but did not get far. Earthquake is 156 pages so it somewhere around 70,000 words.
The inclusion of the Norman really added nothing to the story at the end of the day. A lost race story of Normans might have been interesting.
There is also this lapse of logic:
"A few of their travelers chanced into our city, and the King was enthralled with Them. For one thing, not even he could bear to look Them in the face or listen to their voices. And yet he could not bear to give up commerce with Them altogether. They told him of one way only by which they might communicate."
How could Them tell the King how to communicate when they could not? It makes no sense.
Howie Bentley wrote one of the more interesting stories in the recent Swords of Steel III. My guess is "Under a Dim Blue Sun" is around 35,000 words. The story starts out in WW2 with Captain Erasmus O'Brien given a deal for getting out of jail for killing the man who killed his father in Kentucky. Adolph Hitler is developing a flying saucer that could cause the Allies to lose the war. O'Brien's job is to steal that saucer. He takes the deal and steals the saucer. There is a malfunction and he goes through a worm hole ending up in another solar system. He manages to land on an earthlike planet.
He rescues a beautiful girl menaced by three serpent men. He returns with Elekaina the slave girl to her city. He gets caught up in palace intrigue exposing a traitor's plot to hand the city to the serpent men. The serpent men are from another planet engaging in planetary conquest. The serpent men abduct Elekaina and Queen S'Ang Taura to be used as breeding stock.
O'Brien and the cat-man from another world, Thargg mount a rescue operation. Under a Dim Blue Sun is not so much an Edgar Rice Burroughs pastiche but reminds me of a type of story you would see in Planet Stories. The attitude is modern with some humorous quips by O'Brien along the way in his predicament. The story moves with plenty of action. I read most of this in one sitting. The way the story ends, it appears there will be a sequel.
You can order Lands of the Earthquake/Under a Dim Blue Sun from dmrbooks.storenvy.com. Cost is $13.00.