BRINGS THE LIGHTNING now in hardcover
Friday , 17, June 2016
Production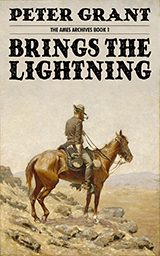 Peter Grant's new and very well-regarded Western, Brings the Lightning, is now available in hardcover. Book One of The Ames Archives is 272 pages and retails for $19.99.
The production team is working hard at bringing all of our 40+ full-length ebooks into print; our current goal is to publish two ebooks and four print books per month. The next books to go into print will be John C. Wright's Iron Chamber of Memory and the omnibus hardcover of There Will Be War Vols IX and X. We also intend to re-release A Throne of Bones in a new, royal octavo editions in July, case-bound hardcover and paperback.
From the reviews:
Lean and taut. A tale told well. Grant has written an old fashioned western, and the subject fits his writing style well. His prose is spare and straightforward, without any extraneous elements, flowery descriptions, or narrative asides. The plot is straightforward, yet interesting. And, best of all, he's easy to read.
I'm primarily a science fiction, fantasy, and self help reader, but found this book very enjoyable. It was thoughtful and steady, some twists, with good solid characters and believable action. Usually westerns just don't ring true like this one does. I've recently read The Heart of Everything That Is and Empire of the Summer Moon, both non-fiction, and both fully supportive background for the story in Brings the Lightning. I'm hoping that there is another one in the works.

Wonderful! I am thrilled that a real western has been written once more. This book rings true to me having grown up amongst the last remnants of the world Grant writes about. 

Zane Grey has a peer! Mr. Grant, author of several other novels, brings his expertise to bear on this authentic Western. The characters are genuine, and the writing is true to life, with historically accurate details. You'll like the characters, you'll like the writing, and you'll like the story. I can't help but compare Brings the Lightning to Zane Grey's novels, because that's the only other author whose writings are comparable. HIGHLY recommended!

Author Peter Grant has done his homework, and it shows. Before the main journey even begins Ames has to deal with bushwhackers, Union occupation, and the aftermath of the Missouri guerrila war and Bleeding Kansas. The collection of colorful characters are entertaining too, including cheating gamblers, corrupt army officer, and the lecherous husband of a schoolmarm. Grant's descriptions really add a "you are there" feel to the book. As someone who grew up on the plains, his descriptions of the terrain and dangers were spot-on. Grant also provides great how-to details, such as moving and defending a wagon train on open ground. Gun buffs will love the trip to the Nashville gunsmith early in the book.