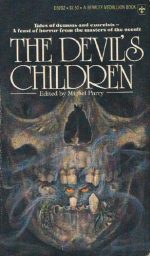 Stories that originally appeared in Weird Tales continued to pop up in anthologies in the late 1970s.
Michel Parry was a prominent anthologist in the late 1970s. From the Archives of Evil (1976, Warner Books) and From the Archives of Evil II (1976) are paperback reprints of Christopher Lee's "X" Certificate No. 1 and Archives of Evil. The books are supposedly edited by Christopher Lee but Michel Parry probably did all the work. Volume one includes Henry Kuttner ("I, the Vampire"), Clark Ashton Smith ("The Gorgon"), and Robert E. Howard ("The Black Stone"). Non-Weird Tales stories by Fritz Leiber and Robert Bloch are also included.
Parry edited six volumes of The Mayflower Book of Black Magic Stories from 1974-1977. Parry reprinted three of Seabury Quinn's "Jules de Grandin" stories. Volume 3 includes Lovecraft, Quinn, and Kuttner & Bloch with their oft reprinted "Salem Horror."
The Devil's Children (Orbit 1974, Taplinger 1975, Berkley 1976) includes Robert Bloch's ground breaking "Enoch," August Derleth, Henry S. Whitehead, and another Robert Bloch from The Avon Fantasy Reader.
Manly Wade Wellman ("The Horror Undying") and Robert Bloch's "The Bat is My Brother" represent Weird Tales in Rival of Dracula (Corgi, 1977). The Rivals of King Kong (Corgi, 1978) has unusual reprints with the unjustly neglected Hugh Cave ("Cult of the White Ape") and P. Schulyer Miller ("Spawn").
My personal favorite Michel Parry anthology is Savage Heroes (Star, 1977). The book is bylined as "Eric Pendragon" instead of Parry's real name. It is a collection of sword and sorcery stories. His name was restored for a hardback edition from Taplinger. You have C. L. Moore's "Jirel Meets Magic," Henry Kuttner's "Spawn of Dagon," Clark Ashton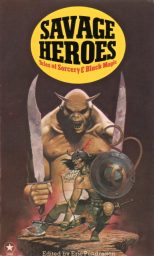 Smith ("Necromany in Naat"), Clifford Ball ("The Thief of For the"), and the posthumous "The Temple of Abomination" by Robert E. Howard (story finished by Richard L. Tierney). Again, this is one of those potential transformational paperbacks in the hands of an innocent youth.
Unfortunately, most of Parry's anthologies were not published in the U.S.
Lin Carter continued in the vein of The Young Magicians and New Worlds for Old with two hardback anthologies for Doubleday. Realms of Wizardry (1976) was the first to reprint C. L. Moore & Henry Kuttner's "Quest of the Starstone" where Jirel of Joiry and Northwest Smith team up. Clifford Ball's last sword and sorcery story "The Goddess Awakes" and Lovecraft's "Doom That Came to Sarnath" were included.
Lin Carter edited the second attempt to reanimate Weird Tales. He had the sensible idea of doing it as a paperback series instead of a magazine. This is my personal favorite version of un-dead Weird Tales. Carter used a mix of obscure reprints, posthumous stories, and new fiction that somehow worked. I am normally not a fan of mixing reprints and new fiction but this is the exception.
Volume 1 came out in 1980, 268 pages for $2.50. Zebra Books had an easy on the eye type script for reading. Tom Barber seemed to be the house artist for Zebra Books but luckily he was good one.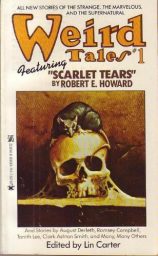 Lin Carter started out bad though with rewriting Robert E. Howard's "Hand of the Black Goddess" as "Scarlet Tears." He claimed it was a newly found story. He should have just left the story alone as is. He also had one of his infamous posthumous collaborations with Clark Ashton Smith ("The Light From the Pole"). In this case he rewrote a variant of an already published Clark Ashton Smith story. He reprinted August Derleth's first published story and something by Seabury Quinn from Strange Stories. He did run new stories by Carl Jacobi and Mary Elizabeth Counselman and a poems by Robert A. W. Lowndes. New fiction by Tanith Lee and Ramsey Campbell was appropriate. There is also one of Lin Carter's awful Cthulhu Mythos stories included. So, this paperback is a real mix of good and bad.
Number 2 came out at the same time but dated as Spring 1981. This is a hard one to find because it has the Lovecraft rewrite of a Robert H. Barlow vignette. He reprinted Robert Bloch's first story and Nictzin Dyalhis' "The Sapphire Goddess" retitled as "The Sapphire Siren." New fiction by Joseph Payne Brennan, Tanith Lee, Ray Faraday Nelson, Ramsay Campbell, and Mary Elizabeth Counselman gave a nice mix. Included is another of Carter's horrible Mythos stories.
Number 3 is listed as Fall 1981. Gerald Page finished a Robert E. Howard fragment in the James Allison series ("The Guardian of the Idol'). Carter reprinted Donald Wandrei's first published story "The Red Brain" and a story by Frank Owen. New fiction is again strong by Manly Wade Wellman, Brian Lumley, Steve Rasnic Tem, John & Diane Brizzolara, Gary Myers & Marc Laidlaw, and Carl Jacobi. You can't escape the obligatory Lin Carter Mythos story though.
Number 4 came out in August 1983. I bought this off the shelf right before heading back to college. The price had crept up to $2.95 by this time. Carter reprinted Anthony Rud's "Ooze" from the very first issue of Weird Tales. Poetry from Robert E. Howard and Clark Ashton Smith are present. New fiction from Frank Belknap Long, Robert Aickman, Charles Sheffield, James Anderson, John Bizzolara, Steve Rasnic Tem, and Stuart H. Stock made up the bulk of the book. And a Mythos tale by Lin Carter! The Frank Belknap Long was not good. This volume had a drop in quality in comparison to the previous three.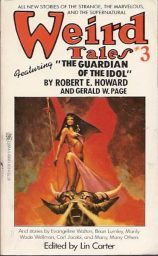 This incarnation ceased. Zebra Books got a way from fantasy and science fiction at this time. Romance, westerns, and later horror were the main genres. A bigger problem is Lin Carter was not paying people. Robert Weinberg was owed fees on the Weird Tales trademark, authors were not being paid. Carter reprinted Donald Wandrei's "The Red Brain" without permission. Wandrei was supposedly livid about that. Carter was on his own personal decline and heading into the final countdown at this time. A shame as if you were to take out the posthumous collaboration and Carter Mythos stories, these were pretty strong anthologies of new fiction.
It did not take long for another attempt to revive Weird Tales. It lasted for one issue. The issue is dated Fall 1984. It was an 8 ½ x 11 inch size on glossy paper. Contents included Harlan Ellison, A. E. van Vogt, David J. Schow, Arthur Byron Cover, etc. There is a Stephen King story that is the centerpiece of the issue. Real mid-80s stuff. I was lucky in getting a copy at Eide's in Pittsburgh when it was delivered. This issue is supposedly very rare and expensive.
Two years later, Terminus revived the magazine again under the editors George Schithers, Darrell Schweitzer. That reanimation will be discussed at another time.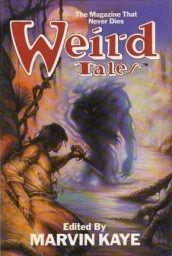 Mavin Kaye, the editor of the now probably dead current incarnation of Weird Tales edited a big 582 pages anthology in 1988 for the Science Fiction Book Club called Weird Tales: The Magazine that Never Dies. What is interesting is Kaye avoided the typical story reprints. You do get Howard, Lovecraft, and Clark Ashton Smith. The book is weighed more towards the 1940s with August Derleth, C. Hall Thompson, Jack Snow, Manly Banister, Fredric Brown, Allison V. Harding, Richard Matheson, Dorothy Quick etc. You also get a Hugh Cave story and the only story in Weird Tales by Val Lewton (Cat People). Kaye did reprint stories from all the revivals of Weird Tales including the contemporaneous Terminus regime.
This is another of those top five books to track down due to the size and contents. Barnes and Noble reprinted this book in 1996 both as a hardback and trade paperback (get the hardback).