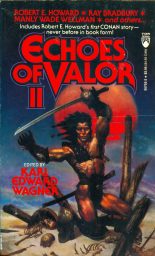 The 1990s had a sense of déjà vu when it came to Weird Tales reprints. Sword and sorcery and Cthulhu Mythos anthologies returned.
Sword and sorcery underwent near extinction in mass market paperback form in 1985. Karl Edward Wagner had the idea of reprinting early pulp era sword and sorcery in a series of paperback anthologies, Echoes of Valor. The first Echoes of Valor paperback published by Tor Books in 1987 contained three novellas. None were from Weird Tales, there was a Robert E. Howard Conan the Cimmerian story ("The Black Stranger") published for the first time in it original form. L. Sprague de Camp had rewritten the story as "The Treasure of Tranicos." Echoes of Valor also published Fritz Leiber's "Adept's Gambit" from his Arkham House collection Night's Black Agents and Henry Kuttner's (and probably C. L. Moore) "Wet Magic" from Unknown Worlds.
Echoes of Valor II (Tor Books) was over two years after the first volume. Tor put out a hardback edition and then a paperback in 1991. Ken Kelly cheesy cover art was ditched for a cover by Rick Berry who was popular at the time.
Wagner reprinted Howard's "The Frost-Kings Daughter" (non-Conan) and "The Frost-Giant's (Conan). Wagner collected the C. L. Moore flotsam and jetsam including "Quest of the Starstone," "Nymph of Darkness," Werewoman," and "Song in a Minor Key." Leigh Brackett's "Lorelei of the Red Mist," Manly Wade Wellman's Hok the Cro-Magnon in "Hok Visits the Land of Legends" and an untitled Hok fragment.
A most satisfying anthology.
Echoes of Valor III followed in September 1991. There was no hardback, only a paperback. Wagner started out with Robert E. Howard "Shadow of the Vulture" from Oriental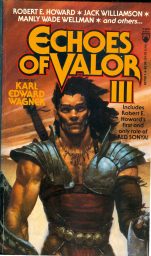 Stories. Both of Henry Kuttner's "Prince Raynor" stories from Strange Stories were included, Wellman's "Hok Goes to Atlantis," Jack Williamson's "Wolves of Darkness" from Strange Tales was not sword and sorcery but the mood fit the theme of the anthology perfectly. Then we have a mini-Nictzin Dyalhis collection. "The Red Witch," "The Sapphire Goddess," and "The Sea-Witch" were all included. For some reason Wagner did not include "The Heart of Atlantan."
Wagner told me in a letter that he had fourth and fifth volumes planned depending on how the series sold. He complained of some reviews that said he was reprinting material of no interest. My guess is he would have included more obscure Robert E. Howard stories in each volume, probably more of Wellman's Hok the Cro-Magnon. Henry Kuttner's Elak stories, Frederic Arnold Kummer Jr.'s Khor of Lemuria, and Henry S. Whitehead's "Scar Tissue" and "Bothon." There are even some Seabury Quinn stories from late 1930s Weird Tales issues that could be categorized as sword and sorcery.
A friend of Wagner, John Mayer, once told me that Wagner did not like Clark Ashton Smith. So had there been a fourth and fifth volume, Smith might not have been among the contents.
It was a noble effort but unfortunately the readers/buyers were more interested in Dragonlance than the foundations of the genre.
It would take David Gemmell to keep sword and sorcery alive in the 1990s.
The Cthulhu Mythos grew stronger in the 1990s. Robert M. Price published Crypt of Cthulhu, a saddle stapled small press magazine in the 1980s and early 90s. It was coming out every 6 weeks at one point in the mid and late 80s. Price published a mix of non-fiction articles, new fiction, and fiction reprints. One issue had the Henry Kuttner Cthulhu Mythos stories, another had a bunch of old Frank Belknap Long stories.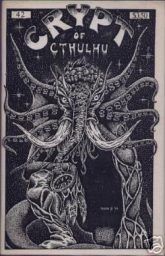 Price edited Tales of the Lovecraft Mythos for Fedogan & Bremer Books in 1992. F&B started out reprinting the fiction of Donald Wandrei. They prodiced some beautiful, well made books with Robert Bloch, Carl Jacobi, Howard Wandrei, Hugh Cave among others. Tales is a pulp archaeological excavation of early fiction inspired by H. P. Lovecraft. Clark Ashton Smith, Robert Bloch, Henry Kuttner, August Derleth, C. Hall Thompson, Mearle Prout, Carl Jacobi are some of the contents. This is the companion volume to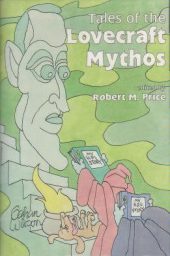 Derleth's Tales of the Cthulhu Mythos. This book is still in print, so get yourself a copy (if you like tentacular fiction).
The Acolytes of Cthulhu (2001) is more of the same. If you liked Tales of the Lovecraft Mythos, you will like Acolytes of Cthulhu. The book includes Edmond Hamilton, C. Hall Thompson, Manly Wade Wellman, and Earl Pierce Jr. from Weird Tales. This book is also still available.
Price edited a series of themed anthologies for Chaosium, a gaming company that published these books as companions to their games. The contents are eclectic ranging from pre-Lovecraft entries by Robert W. Chambers and Arthur Machen to recent fiction by Richard L. Tierney and Stephen Mark Rainey. Most of these are not Weird Tales centric. You generally one or two stories from Weird Tales. Generally the Weird Tales reprints are found elsewhere so the anthologies are low down on the list of priority. Price edited a series of single author collections for Chaosium that I will discuss next week that are top list entries.
So, this ends the survey of anthologies containing Weird Tales reprints. There are a lot of books, some light in contents, some heavy. If you were to get the two Pyramid paperbacks edited by Leo Margulies/Sam Moskowitz, the Peter Haining hardback, Weird Tales: 32 Unearthed Terrors, Weird Tales: The Magazine That Never Dies, 100 Wild Little Weird Tales, you would have a very solid foundation to know what the magazine was about.