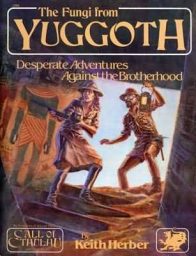 Jeffro has been covering the Call of Cthulhu game he's been participating in and using it as an opportunity to discuss railroading and his various frustrations with the extent of player agency in the game as played. This has gotten me thinking about the topic since I have started running a Classic Traveller game but, in the past I have run quite a lot of Call of Cthulhu. This is all by way of introduction as to why I am writing on this topic but, not a direct comment on any of Jeffro's opinions or experiences.
Recently the YouTuber who goes by the handle The Complex Games Apologist (CGA) made a video in which he discusses railroading. In his video he makes an important distinction between play styles (e.g. emergent versus linear scripted) and railroading. This is an important point. Railroading is a distinct thing that is different than just play style and can occur in both emergent and scripted play. CGA defines "railroading" to mean when a game doesn't acknowledge what a player has done. That is, when a player's choices and character actions are ignored. Scripted encounters often have the term railroading applied to them which results in confusion as to the meaning of the term "railroading". Part of the reason for this is that railroading is often resorted to in order to 1) get the players to the scripted encounter and/or 2) to have the encounter resolve in the way the GM imagined. Because of this, a scripted play style is more prone to ignoring player's choice this but, let's take a step back and look at some specific examples.
Within the old Call of Cthulhu campaign The Fungi from Yuggoth (published 1984) there is a scene where a character is attacked unawares by an inter-dimensional monster while sleeping in a hotel room. The event is intended to highlight that the bad guys are on to them now and that the stakes are raised. It's can easily lead to a character's death. And, the first time I ran it, a character did, indeed die. But, instead of the players feeling that that bad guys are out to get them, the players felt that I, the GM, was out to get them. My players felt railroaded and that scene has left a bad taste in my mouth since then.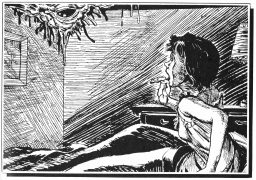 So, what went wrong? Any number of things really. First of all, we had never really much played out sleeping arrangements. In D&D, especially during wilderness hex crawls and in dungeons, sleeping is often played out because it is a time of danger and player's learn quickly from hard experience that being taken unawares, out of armor, and without spells that sleeping arrangements need to be discussed often and sometimes in excruciating detail. But, Call of Cthulhu, such details are often brushed by with,"…the next day…" The players didn't know they needed to think about sleep arrangements and thus felt blindsided. The scene write-up, to a degree, addresses sleeping options by giving a chance that if another character is in the room that they might wake up also. The scenario acknowledges that a variety of sleeping arrangements might be made. But, so they didn't feel railroaded, I needed to give players agency — which is to say, options. I could have inquired how they were going to sleep that night. Problem is, in a game where sleeping isn't much discussed, to suddenly broach the subject is to foreshadow too much. A reasonable sleeping arrangement suddenly becomes a dozen characters in a room with shotguns, with the lights on, sleeping in shifts wearing sleep masks. Sort of like the difference between seduction and an orgy, the ambiance is a bit ruined. The solution to this is anticipate this scene and make sleeping arrangements part of the discussion early on. Then, after nothing much happening during sleep, the players can internalize that they really had become complacent. This requires a lot of thought and foresight to pull off. The GM needs to adapt the scene to whatever sleep situation the player's decide on. They could choose to camp out due to finances or sleep in their cars and the scene would need to be adapted to that choice. But, still, the interdimensional attack is going to happen regardless of the player's decisions. So, that's still a railroad. Right?
Well, I'd say no. Player's must have agency. Their decisions need to matter. But, so too the GM (and one step removed published modules) must also have agency. As in real life, the world does not always conform to one's wishes. Everybody in the world has agency and individuals very much find their decisions constrained by the facts of the world and the aggregate sum of all the decisions made by the other people in the world. A GM has the responsibility to create the facts of the world and all those aggregate decisions. So, yeah, player choices do (and arguably should) get constrained by the situation at hand and the choices made by NPCs. So, if the GM decides the big bad is going to summon an interdimensional monster which will bide its time and attack while they are asleep. Well, that's just too bad for the players. Player's do need to feel that there are things going on in the world that are outside of them. So, no, the fact that the players are going to be attacked in this manner is no railroad. It's just NPCs making choices too.
In fact there is a greater railroading issue in The Fungi from Yuggoth. The scene proceeding the interdimensional attack involves an encounter with cultists on a beach which is pretty certain to lead to a bloody shootout. This section ends with the sentence, "Lang-Fu is intended to escape this scenario and the keeper should bend all his efforts to this end." When I played it, I really had to fudge things for this to happen and it was quite stilted. Upshot, don't put your bad guys in situations where they can die unless it is okay for them to die. Played today, I wouldn't have fudged things, I'd just have come up with a second in command to fill his role later on.  Or, just end it there, the players have succeeded beyond the GMs wildest dreams and there is no need for that other imagined set piece. Oh, well.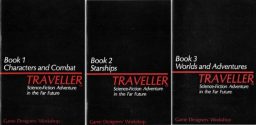 Okay next example. In Classic Traveller Book 3, describes two methods for encounters: routine and patron. First is described a method to procedurally generate routine encounters through the use of random tables to determine the type of encounter and reaction rolls to determine how this encounter interacts with the players. This approach takes the decision making away from the Referee (in Traveller the person running the game is called the referee which may well be reflective of the relative role they expect that person to play). The dice decide and the Referee must adapt and improvise based on what the dice determine. Then there are Patron encounters. Patrons are NPCs who want to hire the characters to do something. Patron encounters are randomly rolled on a table to determine the type of Patron encountered but, then the book says "…the responsibility falls on the referee to determine the nature of the task the patron desires…" Not a lot of further guidance is given. So, a Referee needs to come up with something on the fly so some improvisational skill is needed if these are Patron encounters are rolled at the table. GDW realized the difficulty of doing this on the fly and later came out with Supplement 6, 76 Patrons, which presents a variety of detailed patron encounters. But, when I say detailed, that may be overstatement. Each Patron presented in Supplement 6 is at most a few paragraphs long. A typical example describes the patron, what the patron wants, and what the offered reward is plus the outcome of the encounter. That last bit is important, in that each encounter has a d6 table presenting a number of different results of the encounter. For example, the players might encounter a stamp collector who wants them to steal a rare stamp for him. The stamp is in a display case (with no alarm) in another collector's villa. Now the d6 then is used to determine some of the facts: 1 means all is as presented; 2-4 means the case turns out to be alarmed to various degrees depending on the roll; 5 means the case also has a guard; and 6 means the stamps aren't actually kept in the villa but, somewhere else.  With this approach even the facts are driven by a die roll and a referee needs to, well, roll with it. And, it is hard to say that a referee is railroading the players if he doesn't know what the truth of a scenario is until the dice are rolled.
From reading the rules, Traveller, like Call of Cthulhu, does imply that they expect the referee to prepare adventures and scenarios ahead of time as well and potentially in great detail. So, perhaps I overstate the case that Traveller's procedurally generated results tend toward less railroading than Call of Cthulhu's scripted elements.  But, it is conspicuous that Call of Cthulhu does not much address the concept of procedurally generated encounters and such things have never been typical of Call of Cthulhu related adventure supplements. This is distinctly different than Traveller and D&D in which random events have played a big role from the start.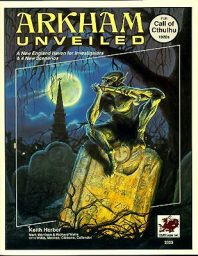 Last example. Back in 1990 I was overjoyed when Chaosium released the Arkham Unveiled setting which detailed the environs of Lovecraft's City of Arkham, its immediate surroundings, and Miskatonic University. This supplement provided a map of the city, and place by place, described the major features and people of the town. Then at the end  the book provides four short scenarios to play in the town. I ran the four scenarios and it was fun but, at the time, I struggled incorporating the rest of the elements of the town into the game. As the GM it felt like a railroad to me. There was no described means of incorporating all the details given about the town into play. I won't say it requires it But, Arkham Unveiled would be much more usable if it included something like the Traveller routine encounters and patron encounters. In the book each listed NPC is tied to a specific geographic feature (often their home or place of work) so, unless the characters visit there the question is how to get these NPCs into a game? A routine encounter table that includes all the NPCs on it for use as player's go about their business would be great. Such a table could present who is encountered, give a few options of what they may be doing, and present some hooks for drawing the players into interaction with the NPC could lead into all sorts of unexpected directions. Similarly, a Patron Encounter type table that included major personages and randomly determined goals/situations for that Patron could also really shake things up. In particular, it could get the players involved in more than one supernatural event at once which would reinforce the uncertainty of a Lovecraftian world. In fact, if I even run it again, that's exactly what I'll create. I think it could bring Call of Cthulhu to a whole new level.
Of course, there is always the danger of railroading whatever mode of play is chosen. GMs must be proactive in avoiding it. I do think Call of Cthulhu supplements as they have traditionally been written are prone to it and require a flexible GM with a lot of foresight to avoid railroading. But, I don't think the scripted and episodic presentation style necessarily requires railroading. There are tools available to help minimize railroading and procedural content is one way to do it. Some have argued that the nature of Call of Cthulhu type scenarios are not well suited to randomly generated content. Sure, it's true that you probably don't want a D&D style dungeon encounter table (you meet 3 ghouls, 2 deep ones, and a shogguth). But, surely one can be more subtle than that and tailor a Call of Cthulhu encounter table more towards ones needs?