Castalia House New Release: POP KULT WARLORD
Wednesday , 7, November 2018
Just Released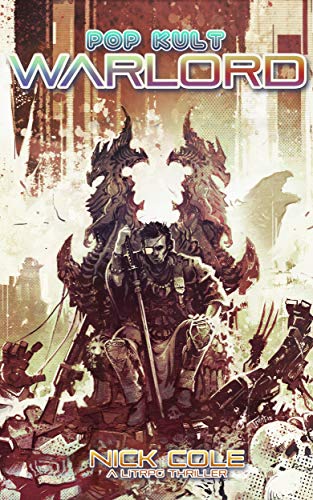 Castalia House is extremely proud to announce the publication of POP KULT WARLORD, the second book in the Soda Pop Soldier series, by one of the best-selling authors in science fiction, Nick Cole!
It's way more than just a game!
PerfectQuestion is back! Running and gunning his way across an incredible civilization-building game set on Mars. But this time he's working as a hired online ringer for a corrupt dictatorship and trying to keep from getting "disappeared" in a reckless world of intrigue, epic parties, luxurious meals, fast sports cars, and women who are as dangerous as they are beautiful.
Five million in gold says he can do it and put the next Sultan on the throne by leading a rag-tag clan of gaming jihadis to victory, but revolution and revolt are afoot. The long knives are out in Calistan for the hero of Soda Pop Soldier and anyone else who gets in a murderous prince's way.
---
From the reviews of SODA POP SOLDIER, available in Kindle, KU, and paperback editions from Castalia House:
Great literature for gamers. Didn't ever want to put this down. Absolutely riveting storyline, with a very interesting perspective on the possible interaction between marketing and gaming in the future. Action is fantastic as always.
Amazing ride! Completely addictive. Definitely well worth the time to read if you are a gamer or like me, gave up the addiction. It's a reminder of how awesome games can be juxtaposed with the reality and how both influence the other. Also a reminder that how you play a game is an indicator of who you want to be or who you really are.
This is an excellent, though dark and depressing, sci-fi look at our future. Commercialism run rampant, the gap between haves and have-nots ever increasing (literally), and the common man left scrabbling for scraps. Too many are seeking escape through video games, but even the best professionals, such as our main character, are living month to month doing the bidding of their corporate masters.
Absolutely perfect sci-fi! It's a great book, a great story because each note is perfect. You listen to a piece of music and not a note is dropped beginning to end, that's this book. If you like the genre of litRPG, this book defines it. If you like mil-SF, this book has great action, and if you like a mystery or two to puzzle over while the coolest characters in the future battle it out in and out of the computer world, this is for you.
What Snow Crash should have been.