Castalia House New Release: SODA POP SOLDIER
Monday , 20, August 2018
Just Released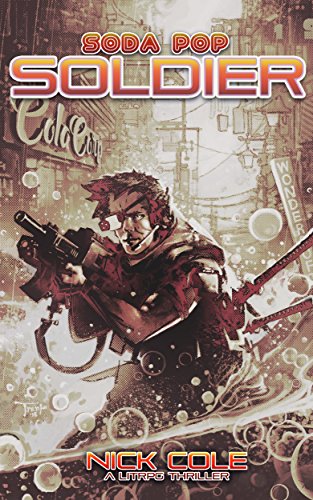 Call of Duty meets Diablo in this fast-paced, action-packed LitRPG novel from the author of GALAXY'S EDGE.
Gamer PerfectQuestion fights for ColaCorp in WarWorld, an online combat sport arena where mega-corporations field entire armies in the battle for real world global advertising-space dominance. Within the immense virtual battlefield, players and bots are high-tech grunts, using drop-ships and state-of-the-art weaponry to wipe each other out.
But times are tough and the rent is due, and when players need extra dough, there's always the Black, an illegal open source tournament where the sick and twisted desires of the future are given free rein in the Wastehavens, a gothic dungeon fantasy world.
And all too soon, the real and virtual worlds collide when PerfectQuestion refuses to become the tool of a mad man intent on hacking the global economy for himself.
SODA POP SOLDIER by Nick Cole is available in paperback from Castalia Direct for $19.99. It is also available via Kindle and Kindle Unlimited on Amazon. 
Nick Cole fans and book collectors will be pleased to know that we have figured out how to provide a SIGNED AUTHOR EDITION of the Soda Pop Soldier paperback.

To obtain one, simply place an order at the Castalia House store. Once placed, we will send you an email to confirm a) the mailing address at which you want the book to go, and b) the inscription, if any, that you would like Nick Cole to write. We've already arranged for him to have the books on hand. You can also elect to sign up for the Castalia Book Club to receive notifications of future Signed Author Editions from Nick and other Castalia House authors if you're not already a subscriber.

We will send the relevant information to Nick, who will sign the book accordingly and send it to you by post. The price of the Signed Author Edition includes the shipping price to you; we anticipate that the book will arrive via US post in about one week. Signed Author Editions are only available in the USA right now, and Soda Pop Soldier by Nick Cole is the first book for which we are offering a Signed Author Edition.

If you're interested in us providing Signed Author Editions for other authors, please let us know which authors and works are of particular interest to you. 

The Signed Author Edition of Soda Pop Soldier by Nick Cole is available for $34.99.