Castalia House New Release: SUPERLUMINARY: THE SPACE VAMPIRES
Tuesday , 5, June 2018
Just Released, News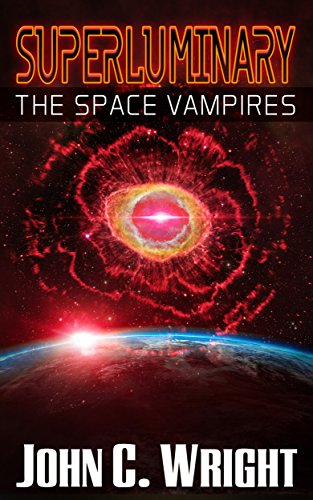 Castalia House is very pleased to announce the publication of Superluminary: The Space Vampires by science fiction grandmaster John C. Wright.


The Lords of Creation have learned that although they rule the solar system with their god-like scientific knowledge, there are even more powerful forces to be feared lurking out in the dark depths of space.
The vampiric necroforms are a massive empire of anti-life, terrible beyond all imagining, ruling a vast network of dead stars and planets they have drained of all life. And at last they have come to the Nine Worlds, seeking to destroy the last refuge of living things to be found in all the dying universe. But how can the Lords of Creation even hope to stop the nightmarish undead monstrosities when they are bitterly divided by pride, jealousy, and mutual suspicion?
SUPERLUMINARY is the latest and most outrageous creation of science fiction grandmaster John C. Wright, the Dragon-award winning author of THE UNWITHERING REALM, THE GOLDEN AGE, MOTH & COBWEB, and AWAKE IN THE NIGHT LAND. THE SPACE VAMPIRES is the second book in the series.
SUPERLUMINARY is arguably John C. Wright's darkest, most mind-boggling work to date. It's spectacular space opera on the very grandest scale, so grand that no description can possibly do it justice. It simply has to be read in order to be believed. No one writing in science fiction today thinks bigger or does it better.
From the reviews of Superluminary: The Lords of Creation:
Space opera on a Grandmaster scale. This is an easily read story, with grand science concepts and speculation, and a great deal of human nature on display. I recommend it for any young man over the age of nine, who wants to discover just what's larger and more powerful than a Death Star (hint: think big, no, … BIG).
No living writer has captured the spirit of E. E. Doc Smith like J. C. Wright. I've heard it said that Wright is the greatest living Science Fiction author. Perhaps he is. But J. C. Wright is far and away the greatest pulp author publishing today.
Another masterpiece by Wright. John C. Wright's books expand the imagination like no other author in the field. Just when you think you know where his story is going he takes a hard turn, and then again. This book does so every chapter, and never lets up the gas. A ton of fun.
I've been waiting for years for John C. Wright to write a new space epic better than his Golden Age trilogy and I think this is it! If you like Wright's Awake in the Night Land, get this. In science fiction, Wright is peerless.
JCW ramps the pace up to eleven. The Lords of Creation is an explosive tale of space travel, family intrigue, assasination, nanobot resurrection, life force, death force, and forbidden knowledge of the power to create and destroy. Highly recommend.