Castalia House New Release: WARDOGS INC.: METAL MONSTERS
Wednesday , 11, July 2018
News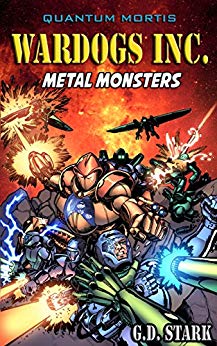 All war is murder for profit.
Some people are just more open about it.
WARDOGS INC. is one of the largest and most professional mercenary corporations operating in the Kantillon subsector. If you need a bodyguard, an assassination team, or an armored cavalry regiment complete with air support, Wardogs Inc. can provide it for you… for a very steep price.
The Stratocracy of Sfodria has ruled over its people with a very large steel fist for centuries. The giant mechs piloted by their nobles are all but invulnerable and have long served as the aristocratic shield against Sfodria's enemies. But recently, their indestructible knights have been falling in battle at an unprecedented rate, and no one knows why. Desperate to reverse the fortunes of war before their nation falls to their hereditary enemy, the Stratocracy turns to Wardogs Inc. to train their ineffective and long-ignored militia.
Tommy Falkland and his fellow Wardogs aren't on the job long before they begin to realize that they may be in well over their pay grade, as they are not dealing with a conventional human threat.
METAL MONSTERS, by G.D. Stark, is the third in the Wardogs Incorporated series of military science fiction novels set in the Quantum Mortis universe. From the reviews of the previous Wardogs Incorporated books.
Darn good military SF. The mercenaries, their tactics, combat moves are all there. You could actually get a low level tactical and some strategic education from novels like this. Obviously written by someone who knows of the craft of war.
If you enjoy military sci-fi definitely pick up this book and see what an elite group of mercenaries can do in the face of nearly impossible odds.
Decent entertainment without requiring any deep philosophy musing. Very good introduction to the Quantum Mortis universe, giving some hints to the variety of story types that could be based in this universe in future works.
Exciting mystery adventure. Bottom line is for your health, don't mess with the publicly trade merc company, Wardogs Inc. Especially when they are off the chain. Well-written book that was hard to put down. Tech was logical and what happened made sense. Wardogs are mercs and their way of doing things reflects that.
As good as the original. This book was thoroughly entertaining. An interesting departure from the first book, as this had more mystery and crime procedural elements.