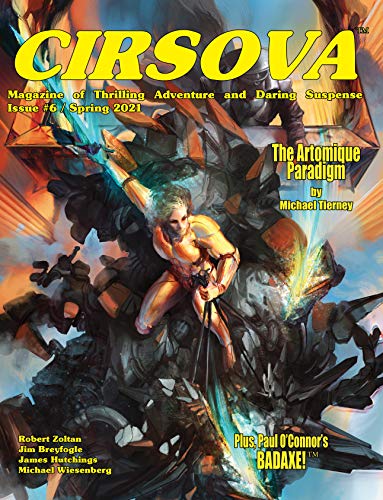 With the Spring 2021 issue, Cirsova Magazine celebrates its fifth anniversary. To celebrate this longevity milestone, editor P. Alexander offers a collection of Cirsova mainstays alongside new offerings and surprises.
Michael Tierney's "The Artomique Paradigm" leads off with the first of three parts of this serialized novel. Tierney continues his Wild Stars adventures in a parallel universe where Earth's megacorporation have advanced off of reverse-engineered Wild Stars technology. As this novelization builds upon four previous graphic novels, I admit to getting lost in the unfamiliarity of the setting. However, Tierney is always a welcome sight, as his Wild Stars books, his official Tarzan collaboration with Edgar Rice Burroughs, and his partnership in reprinting Julian Hawthorne's The Cosmic Courtship have contributed much to the shaping of Cirsova Magazine and the Cirsova imprint. This raygun star opera certainly lives up to its name, but a better introduction might be in the Cirsova-reprinted graphic novels. Just look for the flying shark.
Kat and Mangos also return in the newest adventure of Jim Breyfogle's Mongoose and Meerkat, "The Grain Merchant of Alomar". The swashbuckling duo have set up a lair within the household of a treacherous grain merchant. When the same merchant hires them, only to double-cross Kat and Mangos with a cursed item, the Mongoose and Meerkat find themselves embroiled in a domestic dustup where they must rely on wits, and not Mangos' prowess with a sword. The setting might not be quite as exotic as in their previous adventures, but forcing a new kind of problem-solving onto Mangos keeps the adventure fresh.
Those desiring exotic and haunting new settings will be pleased to read Robert Zoltan's latest Rogues of Merth novelette, "The Book of Dark Sighs." When Blue's girlfriend is captured by an old nemesis revived, Blue and Dareon must follow a demonic dragonfly into an alien netherworld to retrieve a mysterious book. The Rogues are fully aware of the impending betrayal, but the sands of time are running out for Blue's lover. To save her, they must journey through a strange molten sea, avoid the harrowing calls of unearthly sirens, and make deals with angels who might be devils…or vice versa. P. Alexander has long praised the Rogues of Merth, and, with this underworld journey that mixes elements of Fafhrd and the Gray Mouser with C. L. Moore's Jirel of Joiry, it is easy to see why. The setting is vivid, the temptations heart-wrenching, and the conclusion contains shivery body horror.
Michael Wiesenberg's "The Devil's Deal" is a cautionary tale, as in some of the best horror stories from Weird Tales. In it, a failed card sharp sells his soul to the devil for what appears to be a certain way to cheat at cards. But he failed to read the fine print about his new ability to see into the future, and, as the card sharp realizes he exchanged one prison for another, the devil comes to collect his due. Wiesenberg's ten years of professional poker come into play throughout the bad luck and poor pots that plague the card sharp. It's a satisfying morality tale that does not wear out its welcome before reaching its final twist.
The ninth part of James Hutchings' epic poem "My Name is John Carter" offers a break between the prose works and Cirsova Magazine's final anniversary surprise. This epic started with the first issue five years ago, and it a fitting contribution for the anniversary episode.
The final pages are devoted to rescuing Paul O'Connor's 1989 independent comic book Badaxe from the discount bins. The skeletal god Badaxe rules his fantasy world, killing off boys of a certain age in an attempt to destroy the one destined to end his reign. But destiny works with such tools as it has on hand, even if that means a feral girl raised by wolves who has yet to encounter civilization. While there is plenty of dark sorcery abounding in this first issue, there are promises of swords to come. The black and white art drives home the dark and brutal setting, while the art is more classical, closer to the Trigan Empire and Thorgal than today's comic styles. Badaxe is a welcome addition, and dethroned Mongoose and Meerkat as the first story I seek out when reading a new Cirsova issue.
Artwork abounds throughout the stories, as Dark Filly from the first Tales of the Mongoose and Meerkat illustrates scenes for "The Artomique Paradigm" and "The Grain Merchant of Alomar". A trio of variant covers are also available, one by Anton Oxenuk, one by video game and comic illustrator Genzoman, and one by P. Alexander himself, featuring the memetic lucky cat of bad luck from the Touhou Project games, Chen.
As for the future of Cirsova, more Badaxe, Wild Stars, and Mongoose and Meerkat await. And there are hopes for a new pulp reprint imprint, depending on the success of the current Julian Hawthorne Kickstarter. Hopefully the next five years are even more successful than these first five years.