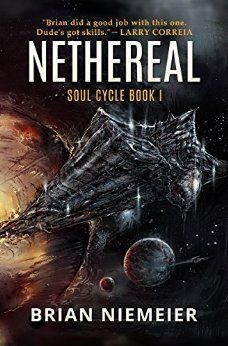 Nethereal was already the talk of the town it got book bombed by Larry Correia. The buzz shot up another order of magnitude when its author decided to book bomb himself in response to this year's Hugo kerfuffle. Thanks to DragonCon, Nethereal's sequel became the first Indie title to win a major award. It was selected to be the first book covered in depth in the Puppy of the Month club. And if you thought this would blow over, you can forget it: the author is a mainstay on both Geek Gab and the SuperversiveSF Roundtable. You can't get away from him! If you want to understand the sea change event that's currently transforming the science fiction and fantasy scene, then this is basically required reading.
The most striking thing about it is of course the fact that it doesn't really fit into any of the standard genre bins that have steadily ossified over the past four decades. And that makes sense, really: an independent author pulling himself up by his bootstraps completely outside of the usual publishing and book store chain system does not have to play by the rules.
So what is Nethereal exactly…? Well… it's sort of like a Traveller campaign where the navigators are magic-users pretty well straight out of an old school D&D game. But then it's filtered through a whole pile of action movies, video games, comic books, and anime. I'd say it's quite clearly a product of the Appendix N Genertation Gap. Unlike John C. Wright's work, you're not going to see explicit references to the classic science fiction and fantasy style elements of the pulp era. Nevertheless, there's something different about it, though.
I have to say, though, the frequency of over the top action scenes is reminiscent of Edgar Rice Burroughs's stories. But you don't see Brian taking the time to develop the sort of emotional beats that would establish the sterling character of the protagonists in contrast to the cravenness and despicableness of their foes. This is probably the biggest difference between Nethereal and writers like Howard, Vance, and Brackett.
A close second to this is the almost complete lack of old style romance. This is not the sort of story like where A. Merritt's Leif Langdon or Leigh Brackett's Matthew Carse gets the girl in the end. The model for storytelling here is right in line with present day norms; rather than focusing on a single heroic character, the tale switches between the perspectives of an ensemble of characters. Just as in the first season of, say, The Flash (2014), the ultimate theme is much more about "our awesomely dysfunctional family of weirdos" doing awesome things than it is about the traditional hero's journey thing.
And while the baseline universe is a humanocentric setting, the protagonists all come off as if they are insane demi-human types drawn from some unholy rpg splatbook drawn from an alternate timeline and glommed onto some already-heretical role-playing game. Just like first person shooters, pulp hero's tend to be ordinary, straight-ahead, plain vanilla, white bread, square jawed "regular guy" types. And that archetype is nowhere to be found in Nethereal. Indeed, the characters come off like GURPS PC's with way too many character points handed out from session to session and a game master that simply cannot say no when they decide to spend them on completely insane stuff that ought to cause the campaign to fly apart at the seams.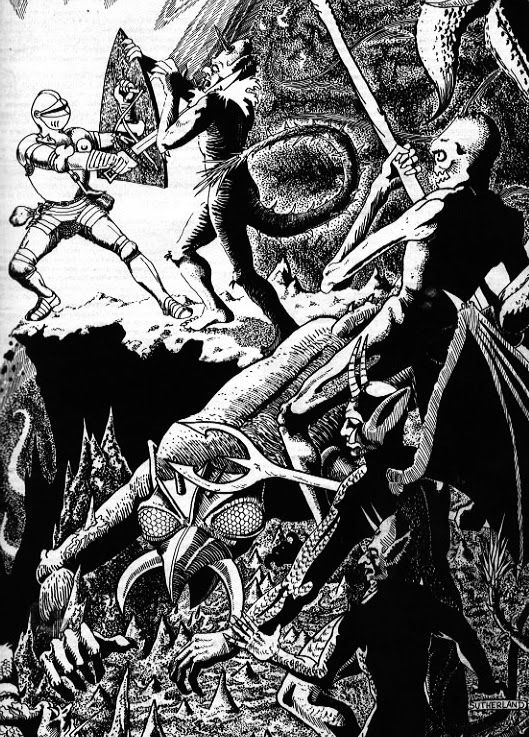 This is not to say that Nethereal has nothing in common with novels from the pulp fantasy era. Just as in Lord Dunsany's The King of Elfland's Daughter or Margaret St. Clair's The Shadow People, cosmology is a first class element of the work. In fact, I would say that the gradual revelation of the nature and structure of reality is the defining element of the story just as it is in Philip José Farmer's works. But while Appendix N works are pretty thin on the sort of thing that could really flesh out the sprawling multi-planar milieu of the default setting of the AD&D game, this book shows how to take the whole idea of "a paladin in hell" and crank it to eleven.
In short, this is the kitchen sink book's kitchen sink book. It is a product of a culture in which BadWrong Fun™ has become a way of life. This is exactly the sort of thing that has disappeared from mainstream fantasy over the years, but which could have been taken for granted as normal back when the fantasy tabletop role-playing hobby was just starting to take off.
But is it weird…?
That's one of the things that has come up this year when I've written about the genre of weird fiction as it was before about 1940 or so. The lines between science fiction, fantasy, and horror were completely blurred back then because the clearcut genre distinctions that we have today didn't even exist, yet. This disconnect is best exemplified in how some of Lovecraft's Mythos stories were originally published as science fiction– and Tarzan stories, oddly enough, were the go-to template for fantasy for a good half-century. People like L. Jagi Lamplighter hear me talk about this stuff and they think… hey, that's what Brian is like. He's weird!!
And yeah, Nethereal is a pretty freaky book; you're not going to get an argument from me on that. But lets see if we can nail down whether or not he's "weird" in more or less the same way that authors like A. Merritt, Francis Stevens, and C. L. Moore were. How does he rate on the most commonly used story elements of that time period?
Adventure: I can only give him partial credit on this point. The non-stop action with ever-rising stakes is an essential component of pulp fantasy, but the absence of the story beats of classical heroism make for a huge difference.
Romance: Compared to the pulps, this has to be a complete miss. Nethereal is clearly a product of post-1970 culture in this regard.
Myth and Christian Lore: While Brian does slip in a bit of this at the end, you just don't see him using real world myths as the primary frame of reference. Like most post-1980 fiction, it's games and movies that provide the baseline frame here. (Okay, yeah… this book is all about hell. But it's definitely a hell derived from the 1977 Monster Manual and its descendants!)
History and Real World Exotic Locations: Nethereal starts in a far future setting that has no discernible connection to our world. It does not launch an average earthman from the present day into an off the wall Elfland the way that the older weird stories tend to do. It does not have any characters really struggling to accept or rationalize or deny the totally insane things they encounter and deal with. This is a pretty stark contrast to the old style pulpes.
That is only half a point out of a total possible score of 4! So yeah, Brian Niemeier is 1970's "weird" in some fairly significant ways. But he is not really 1920's "weird".
There was really only one big "bin" at the dawn of 20th century fantasy and science fiction. Pretty much all of it was just "weird" then; the storytelling was completely different when there wasn't yet a shared set of widely agreed upon tropes for what has evolved into today's major genres. Brian is definitely writing without any regard for the hard and fast genre distinctions that are the norm in today's publishing landscape. But he's definitely developing his own peculiar brand of weirdness rather than recapitulating anything that would have been normal in fantasy and science fiction a hundred years ago.
Does splitting hairs like this actually matter…? You know, I think it does. Certainly, the terms "weird", "horror", and even "weird horror" do not quite do justice to what Brian has written here. But as the brick and mortar book stores disappear and indie publishing eclipses the big players, I fully expect to see Netflix style genre delineations to emerge for written science fiction and fantasy. If enough people get on this particular bandwagon, though we'll need a new term for "Anime-Fueled Fantasy/Sci-Fi/Horror Cosmological Action."