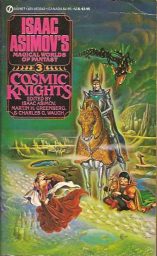 Isaac Asimov was not a fan of action fiction. He had this to say about sword and sorcery fiction in an editorial for Isaac Asimov's Science Fiction Magazine:
"I imagine that almost any male would at least occasionally wish he had biceps as hard as chrome steel and could wield a fifty pound sword as though it were a bamboo cane and could use it to drive vile caitiffs to the chine…Oddly enough, I shudder at such things…Heroes date back much farther than Conan, you may be sure. They are as old as literature, and the most consistently popular one are notable for their muscles and not much else…It took the ancient Greeks to come up with something better. In the Odyssey, however, the hero is Odysseus, who is an efficient enough fighter but, in addition, he had brains…In this battle of brains and brawn, however, the audience is never quite at ease with the victory of brains…Clearly, the readers are expected to feel that it is noble and admirable for the hero to pit his own superhuman strength against the lesser physiques of his enemies, and also to feel that there is something perfidious about a magician pitting his own superhuman intelligence against the lesser wit of his enemies. This double standard is very evident in sword-and-sorcery, in which the sword-hero (brawn) is pitted against the sorcery-villain (brain), with brawn winning every time. The convention is, furthermore, that brawn is always on the side of goodness and niceness (a proposition which, in real life, is very dubious…Nevertheless, I consider the typical sword-and-sorcery tale to be anti-science fiction; to be the very opposite of science fiction. It is for that reason that you are not likely to find anything of the sort published in Isaac Asimov's Science Fiction Magazine."
Despite this attitude, New American Library seemed eager to slap Isaac Asimov's name on the cover for a series of fantasy anthologies.

Isaac Asimov's Magical World's of Fantasy was a paperback anthology series published 1983 through 1989 for eleven volumes from New American Library under the Signet imprint. There was a lone volume in 1991 from New American Library under the Roc imprint. Isaac Asimov, Martin H. Greenberg, and Charles G. Waugh were listed as the editors. Greenberg was generally the guy who made the deal for the book packages. Isaac Asimov was known for science fiction, not fantasy. His name was well known and used for marketing. He also wrote the introductions. The actual editor who put together the contents was probably Waugh.
A couple years back, I picked up Cosmic Knights (#3) originally published in January 1985. There was an obscure Poul Anderson story from the 1950s that James Blish writing as William Atherton took delight in attacking in a review/rant. Blish had little use for Weird Tales and traditional fantasy in general. He made the stupid remark that Poul Anderson going into saga mold was a step down. This is laughable as Anderson's Scandinavian tinged fiction is what he is remembered for today.
Isaac Asimov wrote an especially cranky introduction for this volume:
"There are words that reek of romanticism, and "knight" is one of them. Yet its lineage is rather low. It is from the Anglo-Saxon cniht, which meant "boy" or "attendant." He was someone who attended his master and waited upon his needs. The German homologue, Knecht, still means "servant" today…Actually, however, the romantic glow that makes knights seem so wonderful is totally a matter of fiction. In actual fact, knights, presuming on their horses and armor, were arrogant and insufferable in their behavior, especially to people unarmed and on foot. In English, we have another word for "knight"–"cavalier" (usually used for the arrogant fools who fought for King Charles I)–and we all know what "cavalier treatment means…The very word "infantry" is akin to "infant" and is another word for meaning "boy." The term is a measure of the contempt held for the foot soldier by the aristocrats…In this the lower classes were greatly aided by that inevitable accompaniment of arrogant aristocracy–invincible stupidity.

It is not history, but myth and legend, yet it fascinated its readers, who then, as today, would rather have history appeal to their superstitions and patriotism than to any abstract and bloodless passion for truth."
Talk about attempting to turn someone away from buying the book! Asimov managed to make L. Sprague de Camp's pedantry reasonable in comparison. Notice the use of words reek, low, insufferable, arrogant, invincible stupidity.
Asimov has some personal issues going on here. This might be a case of the Culture of Critique. There is some hatred on full display here.
There was no mention that knighthood had its origins in the Carolingian Frankish Empire with the battles against marauding Vikings, Moslems, and Magyars to provide mobility and a standing force of warriors. Asimov also leaves out the code of chivalry to foster faith, hope, charity, justice, strength, moderation, and loyalty. Europe was probably better off having knighthood than without it.
A falsehood to the point of lying is the end result of the absence of these facts. The fact that the title was intrinsically intertwined with European Christianity is probably the reason for Asimov's hostility. Isaac Asimov should not have been associated with a fantasy anthology series. I have never been in awe of Asimov finding his fiction to be boring in the extreme. This is the guy who invented the galactic empire and managed to make it boring.