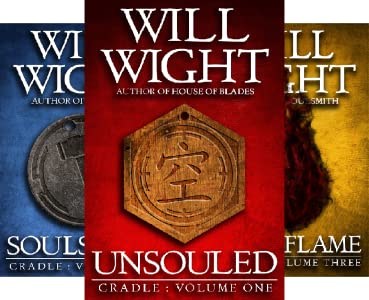 In the Sacred Valley, sacred artists hone body, mind, and spirit to influence the world around them. All except for Lindon, who was born "Unsouled" and forbidden to learn any of the sacred arts. But when the heavens open up and give Lindon a glimpse into a future cataclysm, his path is decided. To save the Sacred Valley, he must leave the Sacred Valley and become strong enough to drive away giants. But just how powerful can a mere "Unsouled" become?
Thus begins the story of Will Wight's Cradle, a chinoiserie epic fantasy blending Chinese xianxia cultivation magics with Western dramatic fantasy and even a touch of shounen manga's royal road. Currently at nine volumes, with the final volume in the works, Cradle follows Lindon's struggles to develop enough strength to catch the eye of those who might save his home: The Nine Cloud Court, The Eight Man Empire, maybe even a dragon. As Lindon races down rare cultivation paths to overcome his weak spirit, he learns that the schemes of civilization can be just as deadly as the untamed wilds outside of the Sacred Valley.
Fortunately, Lindon does not have to travel his path alone. Yerin, a blossoming sword saint with a blood curse, is always at his side, while the mysterious and jovial Eithan mentors both teens in matters of cultivation and intrigue. Of the three, Eithan is the most compelling, a strange, mischievous, and seemingly all-knowing older brother to Lindon, who may also be a king in disguise. Lindon may occasionally chafe under Eithan's tutelage, but he learns to rely on his adopted elder brother. But not even Eithan can be everywhere at once, and the threats from rival schools and families are ever present.
Cradle is perhaps the lightest western xianxia cultivation to date, as Wight focused on external action and internal motivation more that the abstractions of power collection and internal storage. This removes a lot of the distractions and exposition common to cultivation and martial arts battles. The barrier to entry is also lower, as cultivation itself is glossed over. Cradle's nine volume are shorter than its fellow western xianxia books, and quicker paced, too.
That isn't to say that the Cradle books aren't without issue, as power creep accelerates throughout the series, with Lindon potentially having the ability to affect his entire multiverse. And a tournament arc almost derails the story, as it tends to in many shounen manga. Perhaps the most glaring issue is that cultivation is too common and too powerful, to the point that since everyone is special, no one stands out. But the meandering common to xianxia is absent, as Wight constructs Lindon's path with a deliberate goal in mind.
But Wight is constantly playing with the conventions. Lindon is a rare xianxia hero driven by wuxia concerns of justice instead of the far more common pursuit of personal power. And Wight somehow manages to force switchbacks and setbacks into Lindon's climb up the royal road without weakening Lindon as a character. This is a significant feat, as Hirohiko Araki warns that to have any decline is to go against the royal road. Since Lindon's success might be tied to other goals besides winning all the fights all the time, this allows room for twists, turns, and other surprises. It also allows Eithan, Yerin, and other characters to have their time in the spotlight without diminishing Lindon in the process.
So, if you are searching for an action-heavy epic fantasy without the heavy mechanics of hard fantasy or the bloat of worldbuilding and exposition, check out the Cradle series.