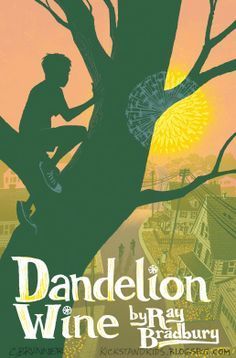 Dandelion Summer by Lodestone
Nostalgia can be the slippery slope, especially when occupied with witches, time machines, happiness machines, mass murderers, the confidence that a new pair of sneakers can inspire. Or it can be miraculous enough to have a section of the moon named after it.
Ray Bradbury grew up in rural Illinois, a quiet Midwestern place far from Mars and Mexico and Paris and the future and other areas that would later colonize his mind. At a relatively early age in life he was already celebrating his youth and he wrote a magazine piece that evolved into Dandelion Wine.'No childhood could have included all he created, but the act of creation itself is what made him a fantasist.  He was 'Norman Rockwellesque' with a touch of his literary influences and in his recipe for an epic summer, one set in 1928. He was writing about himself at that age and the wonder he felt as a twelve year old, the last truly momentous year in a boy's childhood (the precipice of the slope.) He was writing about imagination before it was replaced with a commercialized industry version of entertainment, cable TV and video games and streaming and binge watching and social media.
The protagonist Douglas Spaulding isn't a typical fantasy hero. Bradbury's boy isn't confronting sorcerers and armies and dragons and demons, he's tackling an awareness of mortality.
I recall Jim Croce on an acoustic guitar wishing he could save time in a bottle. Douglas Spaulding's grandfather teaches him how to do so, to capture days of summer as a tonic for the approaching winter. It's metaphorical, of course. And medicinal.
Douglas begins the hot months by realizing he's truly alive. And he ends it with learning that he truly can and will die someday. We've all learned that lesson at some point and this is Bradbury's expression of it. Mostly it uses fantasy elements to remind the reader that time is fleeting. A couple of quotes:
"No matter how hard you try to be what you once were, you can only be what you are here and now." 
"Pictures? No, they lie. You're not the picture. My dear, you're not the dates, or the ink, or the paper. You're not these trunks of junk and dust. You're only you, here, now—the present you."
Ten or more of the stories had been published before, in Collier's or Cosmopolitan or other era magazines. Bradbury was a working writer. This is a collection of vignettes and visions, his most personal and autobiographical. He'd never been to Mars but he had run through a Midwestern summer and enjoyed his last year of innocence. I understand that; I don't want to venture offworld, I want to be twelve years old again and in total awe and discovery mode.
It's baffling to many readers because there's no clear plot, no 'dark lord,' no enticement. It's summer itself, mere appreciation and distraction and idyllic thought. Douglas becomes aware of life in a way you are before you discover girls. His grandmother dies, 'passing on.' He worries about the town murderer and his journalist friend and his brother. He works and runs and plays. He sits at the feet of someone who lived a life he will never live yet attempts to understand.
In the early seventies one of the latter NASA Apollo missions named an impact crater on the moon after 'Dandelion Wine.' Not a bad tribute to a dreamer who refused to fly and yet instead allowed his imagination to do so.
"And looking at one single label on a jar, he felt himself gone round the calendar to the private day this summer when he had looked at the circling world and found himself at its center. The word on the jar was RELISH."
Relish this ending summer and the moments you enjoyed, despite its challenges. It will not come again. Preserve it in a glass, put time in a bottle, for whatever winters are approaching. Quarantine if you must, but let your mind out to play. Walk barefoot in the grass if the authorities allow you to.
Feel free to raise a glass of your own dandelion wine to Uncle Ray during this, his centennial year. Bradbury's voice was visionary and won't return, like the summer of 1928. And of 2020.
Slippery but relevant.