Dark Legion Comics presents FLYING SPARKS: Meta-Man Special
Friday , 18, January 2019
Nathan
Just Released, News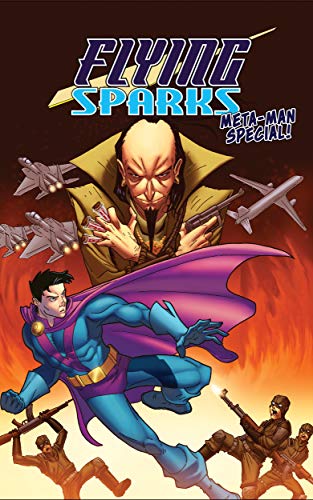 For the last fifty years, Meta-Man has been an enigma—a reclusive hero who does his duty but shies away from the public eye. What happened? Who is he?
Unlocked from the archives for the first time, you can dive into one of Meta-Man's early adventures and get a glimpse into his heroic world as he works to stave off a plot from his nemesis Dr. Malicious and his communist commandos! Can Meta-Man prevail, or will the U.S.S.R. interfere with the American presidential election and spread the reach of the Iron Curtain across the globe? Read this action-packed superhero comic and find out!
"I developed a full world for Flying Sparks, different heroes, different stories, and in different media. I've gotten a couple folk asking about the Origin of Meta-Man, but that I wrote as a old-time style radio drama, which unfortunately I lost the files for the recordings of it awhile ago. I'm not sure if we're going to redo that in audio form, as a novel, or as comics yet, but we'll get it out there to fill out that part of this world later.
"This book is a Meta-Man standalone adventure, meant to be a fun book like you'd get in the Silver Age. It also answers the question as to why he cares about Chloe aka Meta-Girl which was set up in the main Flying Sparks storyline.
"Mike Abuan did the art on this one, a great guy out of Southern California who just wanted to help out and be involved. Thank you Mike!
"Pick up your copy of the book — as this is our first major test of the "direct to Amazon" market to see if we can make sustainable comics without crowdfunding. If the base is there, I can produce a lot more books like this!"