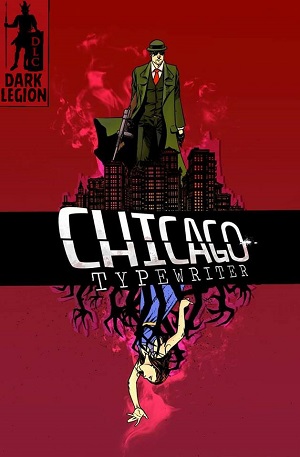 Dark Legion Comics is very pleased to announce the release of a new graphic novel, a stand-alone story entitled CHICAGO TYPEWRITER: The Red Ribbon by Brandon Fiadino.

In 1920s Chicago, the criminal underworld is more than vice, racketeering, and bootlegging.

During a brutal territory dispute with the Chicago Outfit, Emilio Enzo and his associates discovered just how deeply involved the criminal underworld is in the occult and supernatural. Using hidden pathways to our world, forces of pure evil have worked in secret to maintain their dark stronghold on Chicago. Now those forces are back to take their revenge on the one man willing to challenge their reign by stealing the soul of his girlfriend Kat.

While visiting an old shop full of oddities, Emilio comes across an antique ribbon for a typewriter with an unusual history. And after bringing the strange red ribbon home and spooling it into his machine, he is startled when it begins to communicate with him at night….
1920s Prohibition-era Chicago collides with the hidden world in this debut graphic novel from Brandon Fiadino.
The graphic novel has an interesting history behind it. It is not based on the Korean television series of the same name, to the contrary, the name and core concept of the television series is believed to have been taken without permission from the author's site when it was a work in progress. I also understand that the illustrator has since gone on to work on the new Wolverine for Marvel, so you'll definitely want to check out the artwork you can see if you Look Inside.
CHICAGO TYPEWRITER is available for Kindle and KU. A print edition in 10×7 format will be published by Dark Legion Comics in April.