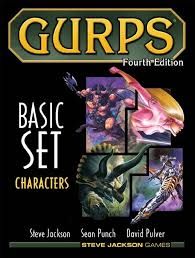 David Pulver is among the most prolific role-playing game designers around, and when his name appeared side by side with Steve Jackson and Sean Punch on the covers of the Fourth Edition GURPS core books, his status as one of the leading developers in the field was secured. He also witnessed first hand the trends I have been commenting on during the past couple of years, so I was doubly pleased when he dropped by Castalia House to clarify a few points that I've found particularly difficult to convey to people:
Another bit on the Burroughs popularity:

In the late 70s Heritage miniatures released an entire line of Burroughs 25mm lead Mars figures.

They were widely distributed enough that even my small town hobby shop (not a game store!) stocked them circa 1978. I bought a bunch for D&D.

My impression was that the supported availability of coherent game worlds, often with their own fiction lines, killed the canon. This was not really the intent of Gygax et al originally – worlds like Greyhawk or Blackmoor, or GDW's Imperium or even Glorantha, were mostly very lightly sketched out.

But pressure from fans to learn more about these worlds, from companies to publish content, and from game designers to find work led to huge explosions in the detail available for "in house" settings. The same thing happened to Star Trek and Star Wars, of course.

So in the 1970s and 80s to "get" RPGs you really needed to read a decent chunk of the canon. Gamers stole ideas mainly from popular SF and fantasy.

By the 80s and 90s in the Dragonlance, Forgotten Realms, BattleTech, Warhammer, etc. era, there is so much content available for the licensed in-house universes that it was quite possible and indeed necessary for fans of their universes – like the Star Wars and Star Trek fans before them were driven, almost by necessity, to focus only on the new game-specific content. With scores of Forgotten Realms novels and supplements around to master, who had time or energy to read Burroughs or Vance or Conan?
Now, if I mention in mixed gamer company that, really, Edgar Rice Burroughs was the J. R. R. Tolkien of the seventies, I am liable to get some serious "cold pricklies" in response. It's a claim that simply doesn't compute for a lot of people. And if I were to go onto my personal blog and announce that fantasy settings were handled differently in rpgs of the seventies, and that to really "get" the old games you're going to have to read a pile of old paperbacks, well… there'd be a meltdown.
Why is this stuff so controversial? Hey, I don't know. But David Pulver happened to have addressed one other claim that has come up since he dropped by here: that back in the "real" old-school days, no one cared about the Appendix N books and most people didn't even read them:
Among my peers in the high school and university gaming club c. 1979-1980 the Appendix N authors that were read were:

– Jack Vance
– HP Lovecraft
– Robert Howard
– Michael Moorcock
– Poul Anderson
– Roger Zelazny
– De Camp and Pratt
– Fred Saberhagen
– Tolkien

Some of us had read others of these authors (even Lanier, Bellairs, etc.), but the above were "everyone read them" with the exception of REH, as some of the more SF-fannish tended to avoid due to the "big dumb barbarian" and Conan comic stereotype. But they all knew him.
If you don't recognize many of the names on that list there, it may well be because their place in our collective consciousness was annihilated by a deluge of setting material produced for the very games those authors inspired in the first place. How's that for irony?