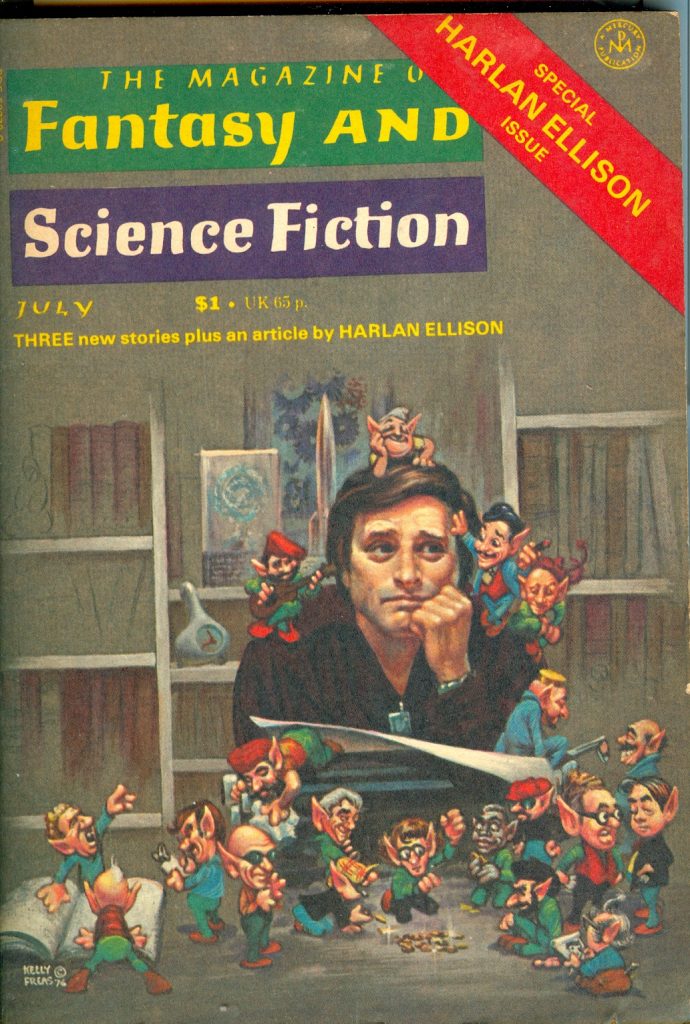 Harlan Ellison died this past Thursday, apparently in his sleep, at age 84. I had just read a few weeks earlier that he had a stroke and was not in good health.
I first became aware of him as our little library had a book called Living in Fear: A History of Horror in the Mass Media by Les Daniels. There was a cover reproduced in the book for an issue of Creepy magazine by Frank Frazetta for a Harlan Ellison story, "Rockgod."  The library had Deathbird Stories in hardback. I read some of the contents but really nothing grabbed me. I also looked Dangerous Visions interested in the Fritz Leiber and Robert Bloch stories but little else.
I had a subscription to The Magazine of Fantasy and Science Fiction for a year in 1977-1978 as a result of a neighbor kid selling magazine subscriptions for school. I did not read those issues when I was in 8th and 9th grades but I did that summer after sophomore year of college. One issue was the special Harlan Ellison issue.
"Jeffty is Five" is about a five year old boy who does not age. The world around him is that of the past. The narrator knew him when he was five and later does things with him. I liked this part of the story:
"In September we enjoyed the first installment of the new Robert E. Howard Conan novel, ISLE OF THE BLACK ONES, in Weird Tales; and in August were only mildly disappointed by Edgar Rice Burroughs' fourth novella I the Jupiter series featuring John Carter of Barsoom– "Corsairs of Jupiter. But the editor of Argosy All-Story Weekly promised there would be two more stories in the series."
The story ends with Jeffty dying after getting beaten to a pulp in a movie theater.
That issue of The Magazine of Fantasy and Science Fiction also contained "Working with the Little People." I can remember a friend of mine in the 1980s saying "That is the only cute story he has ever written." That issue also has a full page ad for the forthcoming book, The Prince of Sleep, "his first new novel in over fifteen years, a major work of fantasy for 1978." That book never appeared.
I came away from that Harlan Ellison issue with the perception that it was more about the personality of "Harlan Ellison" than about the prose.
I picked up some Ellison collections over the years but can't say he was ever a favorite. More of a curiosity.  I would hear the stories about Last Dangerous Visions and the unwritten novels. I saw Ellison in summer 1988 in Cleveland at the 50 year anniversary celebration of Superman. I was more interested in talking to Jack Williamson, the man who wrote Golden Blood! James Doohan of Star Trek was there and he looked like he had imbibed some adult beverages. That was entertaining seeing Scotty lit.
It was either Steve Tompkins or James van Hise who mentioned probably in a mailing of the Robert E. Howard United Press Association that Ellison had written a sword and sorcery story. My interest was piqued. Turned out I had it but did not remember it– "Delusion for a Dragon Slayer."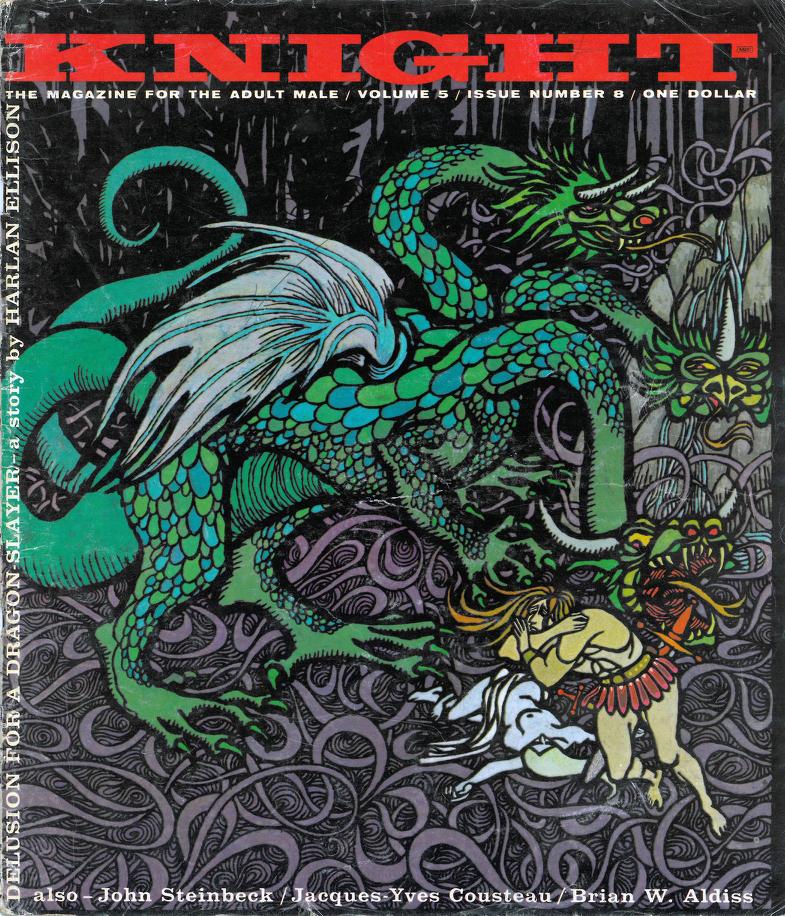 "Delusion for a Dragon Slayer" first appeared in the magazine Knight in September 1966. There were some lower level imitations of Playboy back then that ran fiction. Ellison also had some stories in Adam.
The story starts out in too much detail how a wrecking ball came to kill William Glazer Griffin. Ellison spent three pages out of 19 just setting it up. Griffin is a middle aged accountant running late on his way to work who decides to take a short cut through an alley.
He wakes up on a ship.
"The body that extended down to the polished deck was a handsome instrument. Composed of the finest bronzed skin tone, the most sculptured anthracite-hard musculature, proportions just the tiniest bit exaggerated, he was lovely and godlike, extremely godlike. Turning slowly, he caught his reflection in the burnished smoothness of a warrior's bronze shield, hung on a peg at the forecastle. He was Nordic blond, aquiline-nosed, steely-eyed. No one can be that Aryan, was his only thought, flushed with amazement, as he saw the new face molded to the front of his head."
A wizard tells him this is Heaven, based on his dreams. Heaven is achieved with the intents and ethics of your life.  Griffin will get heaven if he can sail the ship through the shoals, overcome the foam-devil that guards the girl, and win her love.
First the ship is wrecked on the reef and sinks with the crew lost. He wakes on the shore. Griffin discovers the girl who is having a liaison with the mist-devil. Ellison engages in 2 pages describing this in faux-pulp overwriting.
Griffin stabs it from behind and then rapes the girl. Cowardice, lust, brute desire were the real substances of his nature. These were things he silently worshipped "at the altar of evil."
He looks up as seventy-eight-foot dragon opens its mouth and "grinds him to senseless pulp."
I think this story would have been better had Griffin not been so nebbish but a bastard. Had he been an unscrupulous financier, stock broker, corporate take-over enabler, it would have had more punch.
What did Harlan Ellison have against nebbish accountants?
Someone at a William S. Burroughs board asked Ellison in 2007 if some of the writing was influence by Burroughs.
Ellison replied:
"I do not think Burroughs had much of an impact on me, and I know with absolute certainty there is no conscious resonance with Burroughs in "Delusion for a Dragon-Slayer" where I was VERY consciously channeling both Robert E. Howard and Clark Ashton Smith, who DID have an appreciable thump on my style … at least in that special instance.

So. I like(d) Burroughs, no we never met that I recall, and no, I think what you're picking up is the influences of Howard and Smith on Burroughs.

Ha! Didn't think of THAT permutation, did'ja?"
The Aryan reference made me think this story might a case of critique of culture. I also think that Ellison was attracted to Robert E. Howard and Clark Ashton Smith. Ellison wrote some straight up adventure science fiction in the 1950s that have a directness to them. By this time, he would be incapable of writing a straight sword and sorcery story. The only way he could anything approximating sword and sorcery would be to invert it.  The near constant gamma rage was Ellison's trademark by this point.
I see this sort of cognitive dissonance with millennials all the time.
Someone said to me that Ellison was writing a parody of bad sword and sorcery. This story actually predates the first Lancer Conan paperback by a month. The big sword and sorcery boom was not launched yet. Ellison did take a stab at Lin Carter in a review of Harry Harrison and Leon Stover's Stonehenge in 1974 when he said this book was no Thongor at the Mounds of Venus. Perhaps Harlan and Lin's paths crossed and not in a good way.
So, "Delusion for a Dragon Slayer" is a curiosity. The story could have been better. Last night when rereading the story, my copy of the Dell paperback edition of Deathbird Stories split in two. The book is 42 years old now. I picked it up used somewhere along the way. There is some sort of symbolism somewhere.