I have always wanted to take a look at an exemplar of the bestselling science fiction novel from each year since 1950, and take each one's current temperature to see if there are any measurable quality trends.
It is hard to do. Aside from the historic New York Times general fiction lists, it is remarkably difficult to track down something as seemingly straightforward as a top-selling science fiction book for each year. Of course, bestseller lists are notoriously off the mark (simply due to the decentralized accounting of books sold, and the tight lips of publishers), but even they tend to keep their own secrets.
So, I've taken a different approach:
I preselected a single book from each year that I know sold reasonably well in its day. I tried to do this without regard for my bias in favor or against it (if I have read it at all) by drawing my choices from a number of pre-selected lists.
You may be surprised by what turned up.
For example, for the 1950s, I took a gander at the American Science Fiction Classic Novels of the 1950s For general guidance, particularly the decades of the 1970s through 1980s, James Wallace Harris' site was invaluable. Daniel Immerwahr's Books of the Century helped me to fill in a few significant gaps, as well.
Basically, I tried to fairly pre-select a decent list of a top-selling (perhaps in some cases the highest selling) science fiction, with a representative from each year between 1948 and 2010.
Then, and only then…I cross-checked those books' reader reviews at Amazon.
Now, I weighted my choices slightly. For example, in 1969, I had to choose (among hundreds) between Ubik, Vonnegut's Slaughterhouse Five, and Ursula LeGuin's Left Hand of Darkness. I chose LeGuin as the representative out of those three, even though Vonnegut was the better seller for that year, and Ubik was a better story than the other two. Left Hand of Darkness, however, was definitely a top-seller and also more stereotypically represents popular science fiction in the paperback market of that year.
'69 was a tough call, but no where near the most difficult. Dying Earth, Martian Chronicles, and I, Robot all came out in the same year. Which one would you pick to represent that year's popular books? Ultimately, it didn't matter. After all, I was just trying to select a reasonable example from that year though it became decidedly obvious that some years were simply more abundant than others.
Award-winning (or at least nominated) books make up a good sampling of my selections, but not always. If I did not recognize a book (or at the very least the name of the author), it was eliminated, even if it had won an award. I tried, very inartfully, to identify a representative book from the era that has a chance of still having even a modest fanbase today.
I ended in 2010, because I think the last five years might produce more heat than light.
My selection, therefore, has a clear streak of subjectivity, but one that I hope had little to no impact on the mystery I'm trying to unlock:
Has there been a discernable trend in the quality of award-eligible science fiction over the years?
Has traditional publishing been able to improve on its art form?
Let's look at the results in two raw and simple graphs: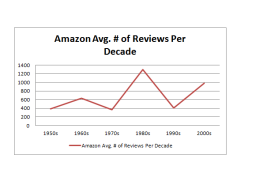 Science fiction from the 1980s (at least from this survey) actually has more average reviews at Amazon than the decade following Amazon's launch.
And this was a bit more stark than I expected: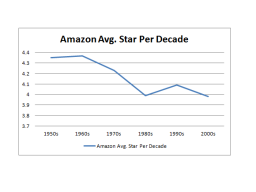 What this chart argues is that science fiction of the 50s and 60s averages better than a 4.3 rating at Amazon (and you'll note that all decades average more than 350 reviews per book, so small groups of rabid reviewers really don't factor in). The quality slides in the 1970s, plummets in the 80s, recovers slightly in the 1990s, but falls back below 4 throughout the 2000s.
Now, this is just some raw data from a list of books from the past 60 years or so, but two things stand out to me: Science Fiction has measurably fallen off in quality, at least according to readers, according to this relatively blind snapshot. I'm sure we could generate different results with a different list, but I want to emphasize that this survey was both as random and as fair as I could muster (in fact, I noticed after the fact that my list is somewhat more heavily weighted toward award-winners in the decade that performed the worst!)
I am providing the raw data here for anyone who would like to dig up more sophisticated insights. I honestly didn't know what I would find, but I didn't expect that the selected books of the 1980s would have attracted such a high number of reviews, nor that the "stodgy" older stuff would hold up so well in comparison to the public's taste for the new.
Raw Data:
| | | | | |
| --- | --- | --- | --- | --- |
| Year | Book Title | Author | Amazon Avg. Star | Number of Reader Reviews |
| 1948 | World of Null-A, The | Van Vogt, A. E. | 4.00 | 43 |
| 1949 | 1984 | Orwell, George | 4.50 | 5,432 |
| 1950 | Martian Chronicles, The | Bradbury, Ray | 4.30 | 550 |
| 1951 | Day of the Triffids, The | Wyndham, John | 4.40 | 241 |
| 1952 | City | Simak, Clifford | 4.70 | 86 |
| 1953 | Childhood's End | Clarke, Arthur C. | 4.30 | 750 |
| 1954 | Caves of Steel, The | Asimov, Isaac | 4.50 | 252 |
| 1955 | Cities in Flight | Blish, James | 4.50 | 67 |
| 1956 | Double Star | Heinlein, Robert A. | 4.30 | 104 |
| 1957 | Stars My Destination, The | Bester, Alfred | 4.50 | 399 |
| 1958 | Case of Conscience, A | Blish, James | 3.60 | 49 |
| 1959 | Starship Troopers | Heinlein, Robert A. | 4.40 | 1,351 |
| 1960 | Canticle for Leibowitz | Miller, Walter M. | 4.40 | 418 |
| 1961 | Stranger in a Strange Land | Heinlein, Robert A. | 4.00 | 1,020 |
| 1962 | Man in the High Castle, The | Dick, Philip K. | 4.00 | 383 |
| 1963 | Way Station | Simak, Clifford | 4.40 | 83 |
| 1964 | Davy | Pangborn, Edgar | 4.70 | 16 |
| 1965 | Dune | Herbert, Frank | 4.50 | 2,168 |
| 1966 | Flowers for Algernon | Keyes, Daniel | 4.60 | 941 |
| 1967 | Lord of Light | Zelazny, Roger | 4.60 | 212 |
| 1968 | Do Androids Dream of Electric Sheep? | Dick, Philip K. | 4.30 | 728 |
| 1969 | Left Hand of Darkness, The | Le Guin, Ursula K. | 4.20 | 311 |
| 1970 | Ringworld | Niven, Larry | 3.80 | 271 |
| 1971 | To Your Scattered Bodies Go | Farmer, Philip Jose | 4.10 | 102 |
| 1972 | Again, Dangerous Visions | Ellison, Harlan | 3.90 | 8 |
| 1972 | Fifth Head of Cerberus, The | Wolfe, Gene | 4.50 | 50 |
| 1973 | Rendezvous with Rama | Clarke, Arthur C. | 4.40 | 610 |
| 1974 | The Dispossesed | Le Guin, Ursula K. | 4.20 | 222 |
| 1975 | Forever War, The | Haldeman, Joe | 4.30 | 1384 |
| 1975 | Norstrilia | Smith, Cordwainer | 4.70 | 35 |
| 1976 | Woman on the Edge of Time | Piercy, Marge | 4.00 | 135 |
| 1977 | Gateway | Pohl, Frederik | 4.00 | 152 |
| 1978 | Dreamsnake | McIntyre, Vonda N. | 4.50 | 34 |
| 1979 | Hitchhiker's Guide to the Galaxy | Adams, Douglas | 4.40 | 1,452 |
| 1980 | Book of the New Sun, The | Wolfe, Gene | 3.90 | 318 |
| 1981 | Downbelow Station | Cherryh, C. J. | 3.90 | 71 |
| 1982 | No Enemy But Time | Bishop, Michael | 3.50 | 16 |
| 1983 | Startide Rising | Brin, David | 4.20 | 144 |
| 1984 | Neuromancer | Gibson, William | 4.00 | 886 |
| 1985 | Blood Music | Bear, Greg | 3.90 | 105 |
| 1986 | Ender's Game | Card, Orson Scott | 4.50 | 8,837 |
| 1988 | Islands in the Net | Sterling, Bruce | 3.70 | 17 |
| 1989 | Hyperion | Simmons, Dan | 4.30 | 1,293 |
| 1990 | The Fall of Hyperion | Simmons, Dan | 4.30 | 1,293 |
| 1991 | Needful Things | King, Stephen | 4.30 | 357 |
| 1992 | Fire Upon the Deep, A | Vinge, Vernor | 4.20 | 404 |
| 1993 | Green Mars | Robinson, Kim Stanley | 4.00 | 165 |
| 1994 | Mirror Dance | Bujold, Lois McMaster | 4.70 | 74 |
| 1995 | The Lost World | Michael Crichton | 3.90 | 738 |
| 1996 | The Diamond Age | Neal Stephenson | 4.10 | 533 |
| 1997 | Forever Peace | Haldeman, Joe | 3.40 | 145 |
| 1998 | The Antelope Wife | Erdrich, Louise | 3.70 | 28 |
| 1999 | A Deepness in the Sky | Vernor Vinge | 4.30 | 313 |
| 2000 | Declare | Powers, Tim | 4.40 | 112 |
| 2001 | American Gods | Gaiman, Neil | 4.10 | 2,296 |
| 2002 | The Quantum Rose | Asaro, Catherine | 3.70 | 29 |
| 2003 | Johnathan Strange and Mr. Norrell | Clarke, Susanna | 3.80 | 1,173 |
| 2004 | Tooth and Claw | Walton, Jo | 4.10 | 48 |
| 2005 | Old Man's War | Scalzi, John | 4.40 | 1,410 |
| 2006 | World War Z | Brooks, Max | 4.20 | 4,696 |
| 2007 | Soldier of Sidon | Wolfe, Gene | 3.80 | 25 |
| 2008 | Ysabel | Kay, Guy Gavriel | 3.60 | 85 |
| 2009 | The City & the City | Mieville, China | 3.80 | 292 |
| 2010 | The Windup Girl | Bacigalupi, Paolo | 3.90 | 587 |