This week's fantasy and adventure new releases feature wars between secret societies, unraveling deep-state conspiracies, dragons returning to fantastic worlds, and the Old West turns weird once more.
---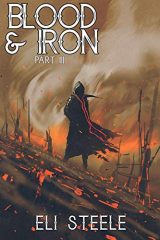 Blood & Iron: Part Three – Eli Steele
Magic doesn't exist, until a mage falls in the streets of Ashmor. In his last moments, he gives Rowan Vos, a thief for hire, a sword that will alter his future, and threaten not only his own life, but the lives of everyone around him. Now, fleeing Ashmor for the mysterious city of Thim Dorul on the Cormorant, the Sea of Shields threatens to end everything he and Kassina have fought for.
The men of the Brae have repelled the Meronian invaders in the Battle of Hell's Gate, but must now race to repair the keep, while contending with Rayland Mace, the arrogant commander of the Beyornian Army.
And introducing Byron Dhane, shamed commander of the Meronian forces that lost a legion of souls to fifty men and the blaze in the Braewood, as well as a hand to Griffon Alexander in single combat, who now wrestles with the grim realities of war, and struggles to reconcile himself to the dark allies that he must rely upon.
---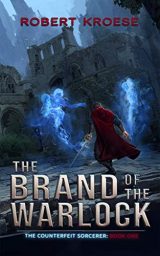 The Brand of the Warlock (The Counterfeit Sorcerer #1) – Robert Kroese
A hooded man, his face marred by a mysterious black brand, walks the Plain of Savlos. Some say he has the power to summon demons. Others say he is the only one who can vanquish them. His name is Konrad, and he has a secret….
Once an ordinary soldier, his life was forever changed by a fateful meeting with a dying sorcerer. Now he is all that stands between civilization and the creeping evil of the shadow world. The Brand of the Warlock is the first book in the fast-paced sword & sorcery series THE COUNTERFEIT SORCERER.
The Counterfeit Sorcerer is a five-book epic sword-and-sorcery series. Think Conan, Elric, or Prince Corwin of Amber. After finishing up my Iron Dragon saga, I wanted to write something for pure fun (and that didn't require so much research!). The Counterfeit Sorcerer series tells the story of young soldier named Konrad who is unwittingly drawn into an age-old conflict between warring sorcerers–and will need all of his cunning just to survive!
Ogres, demons, warlocks, wraiths… you'll meet them all in The Counterfeit Sorcerer.
---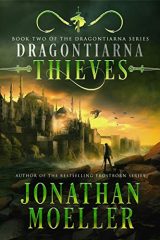 Dragontiarna: Thieves (Dragontiarna #2) – Jonathan Moeller
Ridmark Arban has defeated both the mighty Frostborn and the evil of the Seven Swords, and now he only wishes to live quietly with his family.
But Ridmark's oldest enemy, the Warden of Urd Morlemoch, has not forgotten him.
And the Warden knows a dangerous secret…
Ridmark Arban defended the town of Castarium from dark forces.
But the Warden of Urd Morlemoch has other servants.
Now a sinister cult is stirring in the great city of Cintarra, corrupting the lords of the realm as it searches for lost relics in ancient ruins.
And if the cult finds what it seeks, worlds beyond count will burn…
---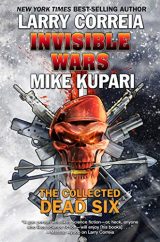 Invisible Wars: The Collected Dead Six – Larry Correia and Mike Kupari
OMNIBUS EDITION OF ALL THE HARD-HITTING MILITARY THRILLER DEAD SIX NOVELS from the creator of the multiple New York Times best-selling Monster Hunter series Larry Correia and the best-selling science fiction author Mike Kupari. Includes:
Dead Six: Michael Valentine has been recruited by the government to conduct a secret counter-terror operation in the Persian Gulf nation of Zubara. The unit is called Dead Six. Their mission is to take the fight to the enemy and not get caught. Lorenzo, assassin and thief extraordinaire, is being blackmailed by the world's most vicious crime lord. His team has to infiltrate the Zubaran terrorist network and pull off an impossible heist or his family will die. When Dead Six compromises his objective, Lorenzo has a new job: Find and kill Valentine.
Swords of Exodus: On the far side of the world, deep in former Soviet Central Asia, lies a stronghold called the Crossroads. It is run with an iron fist by a brutally effective warlord. Enter Lorenzo, thief extraordinaire, and Michael Valentine, implacable mercenary warrior. Their task: team with a shadowy organization of modern day Templars and take down a brutal slave lord.
Alliance of Shadows: Europe has spiraled into chaos. In the midst of the disorder, mercenary Michael Valentine and his team are trying to track down an evil woman bent on total power. They're on their own, with few friends, few resources, and racing against the clock.
Plus, two short stories set in the Dead Six universe: "Sweothi City" by Larry Correia, and the two-part short story "Rock, Meet Hard Place" by Mike Kupari and Peter Nealen.
---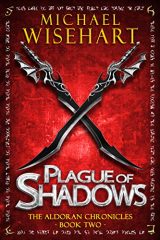 Plague of Shadows (The Aldoran Chronicles #2) – Michael Wisehart
In his quest for vengeance against the witch Mangora, Ty stumbles across a curious book he believes might help. But its pages hold a dark secret that threatens to unravel everything his family and friends have been fighting for. The more he reads, the more addicted he becomes to the knowledge it offers…
With no memory of who he is or where he came from, Ayrion finds himself traveling with a pair Rhivanni tinkers as they head east toward Sidara. Then a plea for help from a young rover boy leads them into the middle of a horrific bloodbath against an enemy no one has seen in over a thousand years. If they aren't stopped, these creatures will spread across Aldor, leaving nothing but destruction in their wake…
As the first prisoner to escape the clutches of the White Tower, Ferrin's only concern is reaching his sister, Myriah, before the Black Watch catches him. Joined by Rae, her daughter, Suri, and a former captain in the Black Watch, the small band makes their way north, hoping to keep ahead of the white riders. Little do they know who has been sent to track them down…
Meanwhile, Kira and the Warren underground continue their search for Reevie as they attempt to discover the reason behind the strange disappearances in Aramoor. However, the answers they seek are more disturbing than anything they could have imagined…
---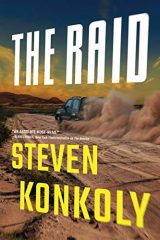 The Raid (Ryan Decker #2) – Steven Konkoly
After exposing and dismantling a deep-state conspiracy that nearly destroyed his life, Ryan Decker finds his covert skills have put him on the radar of influential Senator Steele. Now Steele needs his help. Two patrol agents were killed in a bizarre explosion near the US-Mexico border—and the evidence doesn't line up with the official story.
Enlisted by Steele to run an undercover, off-the-books investigation, Decker and his partner, Harlow, head to the border town of Tecate. But when they're caught in an ambush, Decker realizes they've stumbled onto something far more dangerous than any of them understood.
The cover-up is rooted deep in the Department of Defense itself. Fearful for their own lives and unable to trust anyone outside their small circle of skilled associates, Decker and Harlow set in motion a risky plan to stop a criminal conspiracy.
---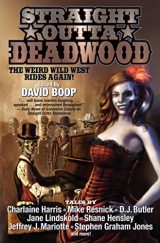 Straight Outta Deadwood – edited by David Boop
Baen's Bestselling Western Fantasy and Horror Anthology Returns for Another Showdown!
Once again, we return to the Old West with a new posse of top authors spin tales of horror, fantasy, and science fiction. We take no prisoners as they explore what really was, and mix in what might have been.
Charlaine Harris [The Sookie Stackhouse Series, Midnight, Texas] shows us a glimpse inside her new series as a tormented gunfighter faces a true demon of her past. Mike Resnick [The Buntline Special] reveals what Doc Holiday thought was so funny on his last day. Jeffrey Mariotte [Desperados, Graveslingers] introduces us to a man who specializes in pictures of the dead who won't stay dead. Jane Lindskold [The Firekeeper Saga, The Star Kingdom Series (with David Weber)] teaches us not to underestimate a schoolmarm when her students are in jeopardy. And Shane Hensley [Deadlands] cooks up a stew that threatens to send every famous lawman in history to their graves!
Plus, a dozen more stories of how the west was wilder than any history book could contain, such as a new Native American legend by Stephen Graham Jones and a Mormon troubleshooter straddling the line between his faith and the supernatural by D.J. Butler.
The west that was rides again with west that could have been in this follow-up to Straight Outta Tombstone!
---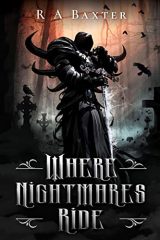 Where Nightmares Ride – R. A. Baxter
When Jack Park received an invitation to Camp Farley, a summer camp promising self-improvement using cutting-edge dream technology, he hoped he'd found a remedy for the repetitive nightmares that had been plaguing his dreams night after night. The camp, however, provided something far different than he'd expected: mysterious visitors, excessive security measures, abusive staff, unexplained technology, and camp courses seemingly bent on leading the campers on a path toward chaos.
Katie Frost had endured too much after losing her adored older sister, Abby, to a freak accident. Not long after that, her mother had taken her baby sister and disappeared, leaving her alone with a neglectful father obsessed with, if not controlled by, Montathena Research, his secretive dream-tech business. When her father's partners demanded that Katie be compelled to serve the company, following a security breach, she stopped caring altogether.
The questions increased when Jack and Katie finally crossed paths, the course of events eventually propelling them into a surreal adventure where the boundaries of life, death, and nightmares meet.